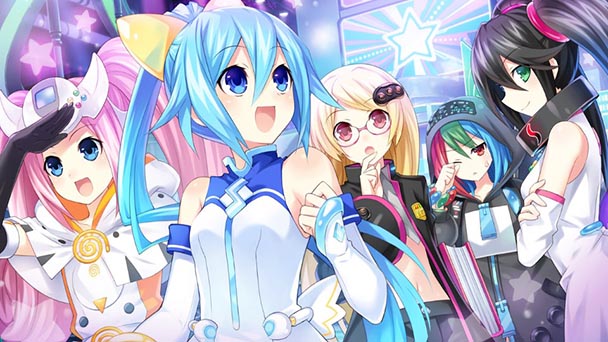 You'd be hard-pressed to find a Japanese role-playing franchise as prolific as the Neptunia series. Beyond a quartet of core entries, a trio of remakes, developers Idea Factory and Compile Heart have also sanctioned a swarm of spin-offs. While some, such as Hyperdimension Noire: Goddess Black Heart have converged on greatness, others such as Producing Perfection proved to be little more than superficial efforts commissioned to capitalize on Nep-Nep and the girls' burgeoning popularity. As such, it's naturally to greet the latest non-canonical derivative with at least of hint of healthy suspicion.
But save for a propensity for recycling assets and an appearance on aging hardware, Superdimension Neptune VS. Sega Hard Girls is a thoroughly entertaining and engaging title that's fated to delight franchise aficionados. It's a game that demonstrates' shrewd understanding of their audience and proves that there's much more material to be mined from the series' congregation of anthropomorphic game consoles.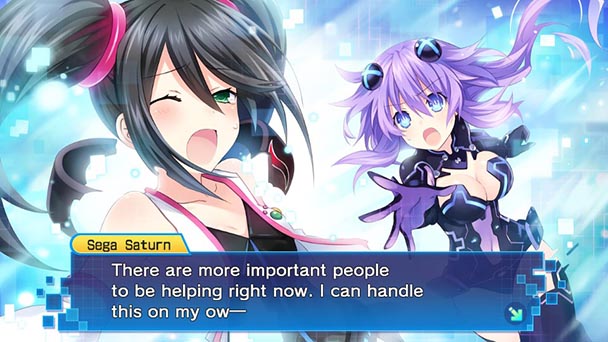 In keeping with custom, the land of Gamindustri is in jeopardy once more. An opening cinematic shows the region in dystopic state, as series mainstay IF rides her motorcycle across desolate lands like some kind of moe Mad Max. Combing the wasteland for answers, she stumbles across a library containing the world's history, finding frequent franchise oracle Histoire serving as an archival custodian. But when fragments of the collection mysteriously start disappearing, Superdimension ushers in the high-concept ideas, sending both IF and an amnesiac acquaintance known as Hatsuni Sega, through a time-traveling jaunt through a collection of memorable milieu. With lands and personalities based on classic Sega hardware like the Mega Drive, Game Gear, and Dreamcast, much of the enjoyment stems from recognizing the game's non-stop succession of references.
Indeed, the plot often seems in service of its humor, extending a whirlwind of a story that's loopy but consistently laugh inducing. However, those seeking a traditional narrative might want to look elsewhere. Indeed, Superdimension is willing to turn Nepgear into a motorcycle just for the sake of telling her friends they get to 'ride her at the same time'. Often, these double entendres are milked for maximum amusement, with the game affirming the audience's eagerness to screencap the proceeding line. Occasionally, the seams do show, and it becomes obvious that the jokes are driving the direction of the story, especially during the longer exchanges of banter. But for many, the self-referential humor will be a sweet dividend for being a dedicated Hyperdimension devotees. For fans, hearing Nep remark about how plentiful her own adventures have become will be a bigger reward than the traditional dungeon crawling.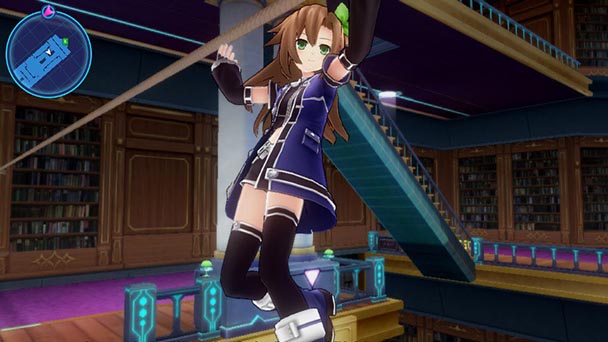 But those who stand by the series for its role-playing rudiments certainly won't be disappointed, with the title making a few shrewd tweaks to its combat system. Unlike the Hyperdimension Neptunia U and MegaTagmension games which envisioned conflict through action-driven, musou mechanics, Superdimension Neptune retains the series turn-based roots. Here, players move party members in pre-set, circular areas, where they're able to utilize skills, consume items, or launch attacks. Initiating the later gradually fill an Action Meter Gauge, and when the meter reaches capacity, a character's turn ends.
Fortunately, there's a bit of nuance built into the system. A continual barrage of strike will eventually put the meter into a crimson-colored hazard zone, pushing the character down the turn-order itinerary. By holding the attack button down, players can even summon a powered-up attack, that can defeat lesser foes in a single shot. Contrarily, leaving the gauge in a green or blue-colored region might not issue as much damage, but allows for rapid retaliation on the next turn.
Another remarkable adjustment involves SP. Now, members gain a small amount with each action, removing the need for consumables to power those powerful assaults. Another change are the navigational abilities of IF, who can sprint across stages, leap skyward to hit floating boxes like Mario, and shimmy across ropes. And yes, she can even crawl through small openings, which serves no function other than to parade her choice in panties. Nearly as insubstantial is IF's preemptive combat strike. When her short reach is combined with fast moving foes, it can be a bit tricky obtaining the upper hand in battle. As such, players will probably want to scout out stages with Segami- the Miku clone, who carries a ranged hammer across the battlefield.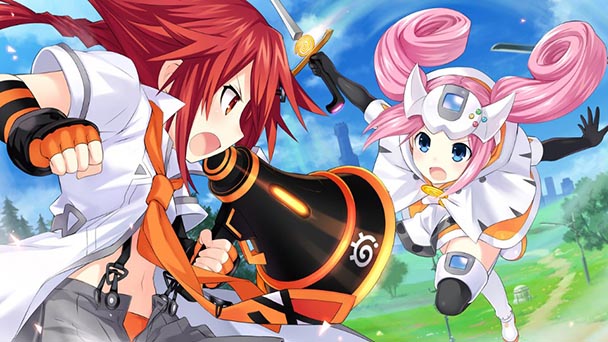 Series tenets like Lily Rankings return- where affinities are embodied when party members adopt specific proxemic arrangements. But less successful is Superdimension Neptune's altered mission system, which extends both compulsory and optional errands. Previously, players could tackle several simultaneous side missions, potentially meeting multiple requirements in a single run-through. But between the title's requirement to accept only a single assignment at a time and the tendency to recycle assets from previous series entries, questing isn't quite as brisk as it should be.
Graphically, Superdimension Neptune VS Sega Hard Girls delights with design, but reveals the occasional executional waver. Expectedly, characters are unremittingly cute, both in character portrait and when rendered in polygonal form. Likewise, the title's 3D environments are richly detailed and sumptuously hued, making exploration consistently enjoyable. On the downside, the level of detail can seem to get a bit too much for the aging PS Vita to handle, exhibiting frame rates that struggle to reach a 30 fps output. Hopefully, the inevitable PC port will mend these blemishes.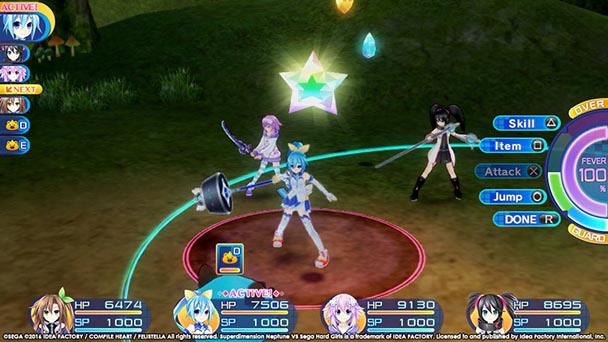 Sure, Superdimension Neptune VS Sega Hard Girls storyline fringes on the absurd at times, with plot points that can feel a bit scattered. But as the Neptunia franchise expands, narratives are less about advancing new stories and more about recursion of the universe. So, while there's nothing prohibiting newcomers from enjoying the game, familiarity with the franchise will influence just how much you'll appreciate IF and Segami's entertaining spin-off.
Superdimension Neptune VS Sega Hard Girls was played
on the PS Vita with review code provided by the publisher.
Superdimension Neptune VS Sega Hard Girls
Platform: PS Vita
Developer: Compile Heart, Felistella
Publisher: Idea Factory
Release date: October 18th, 2016
Price at release: $39.99 via retail or PSN
Review Overview
Summary : With fourth-wall smashing moments as frequent as enemy encounters, Superdimension Neptune VS Sega Hard Girls feels like Compile Heart letting go and enjoying themselves.