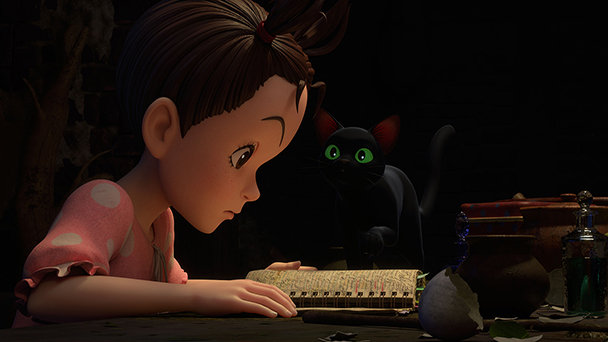 Earwig and the Witch's legacy is both a curse and blessing. The 82-minute feature film was directed by Gorô Miyazaki, son of famed animator Hayao Miyazaki. The senior Miyazaki helped shape the medium of animation into art, with films like Spirited Away, My Neighbor Totoro, and Howl's Moving Castle captivating audiences across the globe. Even the director's less prominent works, like The Wind Rises, have virtue. The 2013 film offered a sentimental rumination on pre-war Japan that's all too rare in modern motion pictures.
Purportedly, the younger Miyazaki was reluctant to follow in his father's imposing footsteps, studying and working as a park designer. But adjacency to dad, as well as Studio Ghibli's other gifted directors, such as Isao Takahata (Grave of the Fireflies, Pom Poko) and Hiromasa Yonebayashi (The Secret World of Arrietty, When Marnie Was There) propelled Gorô Miyazaki into animation. Earwig and the Witch, his third feature film, shows the director committing to the craft, but refusing to mimic the stylings of his father.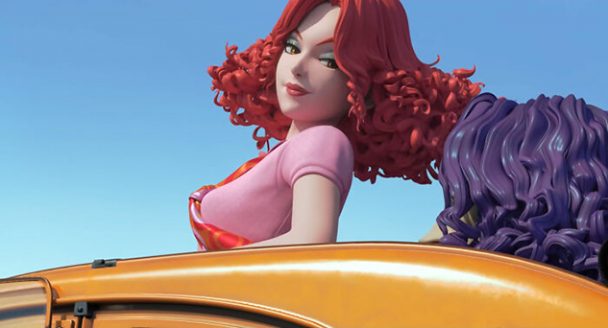 Conspicuously, Earwig and the Witch shirks hand-drawn animation, a process long associated with Studio Ghibli's output. Instead, the film employs computer graphic imagery (or CGI). One of the other foundations is late English author Diana Wynne Jones' book of the same name. Jones was also the author of the Howl's Moving Castle. Like that film, Earwig takes a few creative liberties for the source material.
Whereas Studio Ghibli's 2004 film resembled a vibrantly colored drawing brough to life, Earwig and the Witch recalls the detail of Claymation. There's rich fidelity in the character models and European environments. Undoubtedly, there's also cost-cutting in the use of computers manipulating its models over having humans drawing hundreds of thousands of frames by hand.
Ghibli devotees may feel a tinge of disappoint, but this is Gorô Miyazaki forging his own identify. While Earwig's corpulent Bella Yaga resembles Moving Castle's Witch of the Waste, she's a far more comical character, who delivers wild facial expressions and moves in exaggerated gestures. Her Medusa-like blue mane has a plastic sheen while Thomas, Bella's 'familiar', looks more like a plush toy than an actual cat. Instead of the credible body movement of Hayao's films, everything here is slightly overstated in Earwig permitting younger audiences to easily interpret emotions and reactions.
This is an advantageous trait, because Earwig and the Witch's plot is rather capricious. The film's opening flashback introduces us to the protagonist being dropped off at an orphanage by her motorcycle-riding witch-mom. It's a quint English orphanage, where the staff are compassionate and meals of shepherd's pie look downright delectable. The staff seem horrified by the young girl's name, so they decide to change "Earwig" into the more respectable, "Erica Wigg".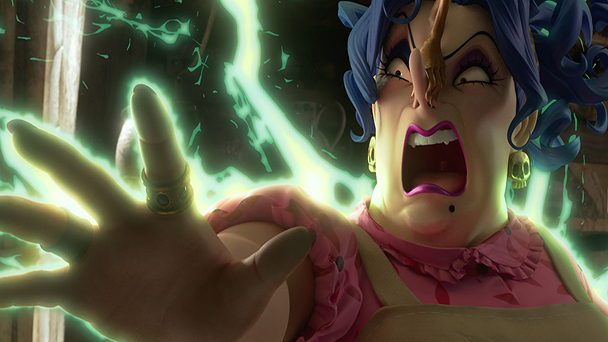 But there's little doubt that Earwig/Erica has inherited some of her mother's mystical genetics. Beyond a propensity for small acts of mischief and a knack for manipulation of orphanage staff, she wears her hair in two small projecting pig tails, that resemble devil horns. Although Erica is a bit of a control freak, she does have a kind heart as demonstrated by her friendship with a young boy nicknamed, 'Custard'. She advices him to make faces when potential foster parents arrive, and it's apparent that Erica appreciates her leadership role at the orphanage.
But her sense of comfort is shattered when two oddballs come looking for a child, with Bella Yaga escorted by a towering man with pointed ears named the "Mandrake". Innately, the couple are drawn to Erica, adopt her, and bring her home to a cottage in town. Idyllic life ends when Bella her puts her to work into her alchemic atelier. Here, she toils for long hours preparing ingredients like snakeskins and belladonna. Although she shows great interest in learning witchcraft, Bella ignores her repeated requests.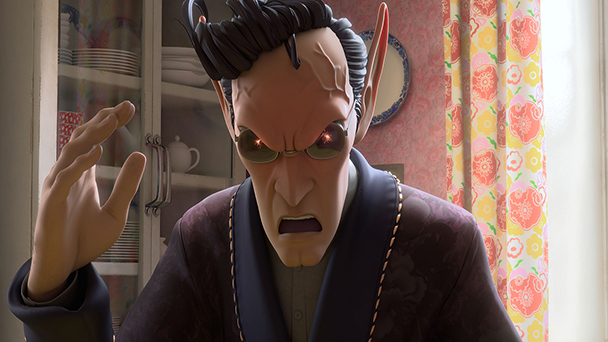 The remainder of the film's running time will likely push audiences in one of two directions. I suspect younger viewers will be engrossed by the rollicking storyline. Adults will wonder where the plot is headed. While Earwig's third act brings a bit of closure to the proceedings, there's a substantial amount of meandering. But the film's biggest flaw might be its soundtrack. Composer Satoshi Takebe's score hints at Joe Hisaishi-like piano ballad beauty with "Talking to Myself". But the film's main rock-driven theme is played with contemptuous repetition. By the time you get to the big set piece, you'll have wished Earwing's boombox batteries have died.
Despite a conclusion that feels rushed, Earwig and the Witch deserves commendation for leaving certain story strands ambiguous and challenging our expectations about characters. Does the film echo the sentiments articulated by Howl's Moving Castle, where outcasts can find solace within non-biological family? Or is the film arguing that nature is more powerful than nature, with Earwig inescapably developing many of the same feelings of those around her as her mother? Interestingly, presumed villains change and grow, challenging the archetypes we might have anticipated.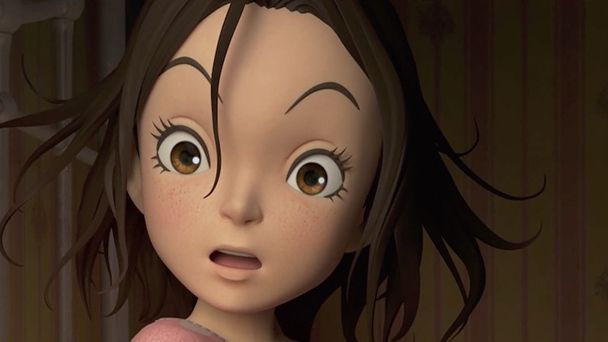 Studio Ghibli producer Toshio Suzuki once stated, "For Gorô, Hayao Miyazaki is not a father but rather a tall wall". As such, it's hard not to read Earwig and the Witch as at least somewhat biographical. Earwig is doggedly infatuated by Bella's craft, but the old master resists instruction, potentially fearing an overthrow. While that won't happen for Gorô Miyazaki, he's got some magic of his own.
Earwig and The Witch is now Streaming on HBO Max. The film will
be available on Blu-ray/DVD and Steelbook on April 6, 2021