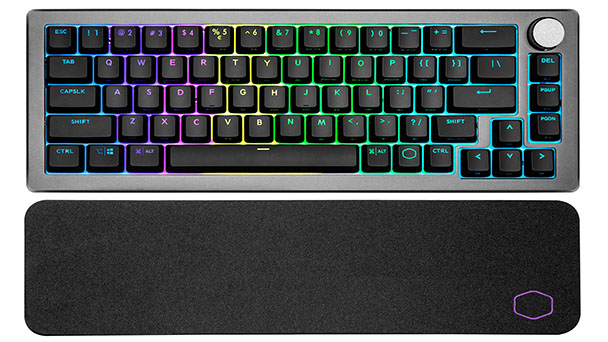 The Cooler Master CK721 keyboard is a functional and futuristic-looking keyboard. While it's not slim or lightweight enough to earn a place in your commuter bag, it might suit home offices, where desk space is at a premium.
For many PC owners, form is just as important as function. Scan social media and you'll find game rooms, home offices, and bedrooms that exude high-tech elegance. In these spotless spaces, nearly every component boasts colored LED lighting, with cooling fans, mice, mouse pads, and keyboards all emitting a stylish pastel glow.
Sure, these devices are all outwardly attractive. But beyond earning social media likes, how practical are these peripherals? That's the question we asked as we put the Cooler Master CK721 Gaming Keyboard through the paces of a rigorous workweek. What we found was an attractive, reasonably-priced performer that could enrich almost any informal living space. Activate the device's lighting and you're in for treat, with the keyboard capable of producing a vivid output. Being able to sync with a multitude of different devices, it's quite a functional performer. But omitting a row of keys to maintain a pintsized footprint is a contentious compromise and might undermine the advantage of mechanical switches.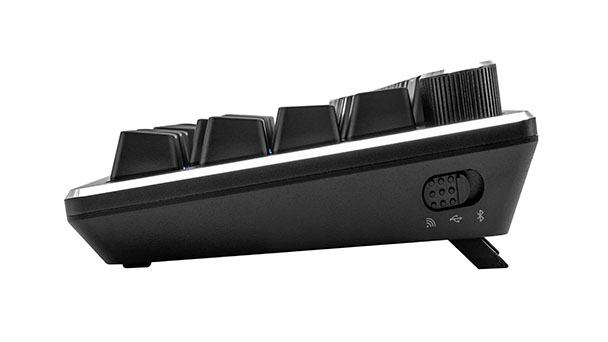 Keeping it Safe and Sanitary
Open up the CK721's cardboard housing and you'll find the keyboard sheltered by a clear plastic shield as well as a thin peel-away band that protects the device's beveled edge mar-free. Accompanying the device you'll find a user manual, 2.4GHz dongle, a foam wrist mat, USB-C cable, along with a key puller. Comparable keyboards often ship with extra keys that can add a bit of style, often highlighting the WASD keys. But there's no such novelty here, with Cooler Master pledging to make PBT keycap sets available as a sperate purchase.
Instead, the key puller is included in case you want to give the mechanical switches a cleaning. Pleasingly, the aluminum top cover is detachable, ensuring the CK721 is always photo-ready for your next Instagram post. And undoubtedly, the device is quite photogenic
Another of the CK271's merits is its ease of use. Windows users can download Cooler Master's MasterPlus App to change individual key lighting to 16.7 different colors as well as program key macros. But those who use other operating systems or users who won't want to install yet another memory-pilfering program can access these customizations with a function key combo. The sides of keys are adorned with the name of the different settings, but you'll probably need to refer to the quick guide at first.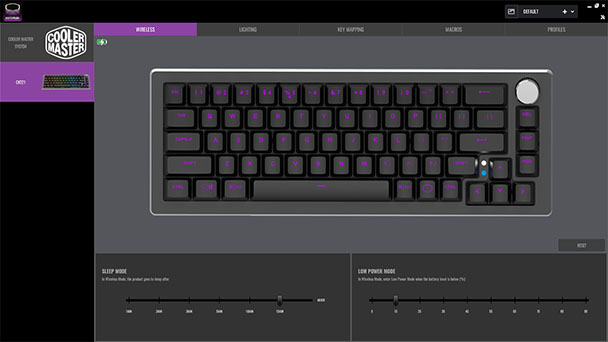 Delighted by the Dial
While the CK271 has little squandered space, Cooler Master did manage to fit a rotating knob on the keyboard's top right corner. This can be programmed to adjust screen brightness or music volume. Agreeably, there's even a discreet "wrrrrr" when you turn it around. Hands down, this was the best feature on the peripheral.
There are three different ways to connect the Cooler Master to your device. Probably the easiest method uses the braided, detachable 1.8M USB-C cable that comes with the keyboard. Alternatively, there's a 2.4GHz dongle cleverly hidden in a port on the side of the peripheral; that makes a quick connection once a switch on the right side of the keyboard is slid into position. Finally, there's Bluetooth 5.1 support, allowing the CK271 to pair with Android and iOS phones and tablets.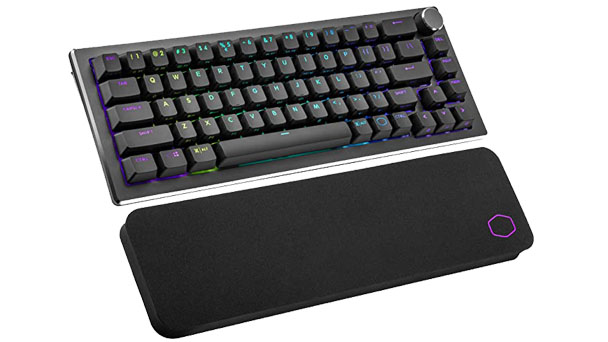 Bright Lighting, Modest Battery
There's only one issue with wireless modes: to get the 70 hours of claimed battery life out the unit's internal 2000 mAh battery, you'll have to turn off the LED lighting. With illumination on, you'll get less than half of amount.
Across a week of work usage, we gradually adapted to the CK721's diminutive size. What assisted with the acclimation was the quality of the mechanical keyboard. Our unit shipped with linear switches that provided smooth actuation and just a hint of noise. But if you prefer clicky or tactile switches, Cooler Master has you covered. In tests, typing speeds with the Cooler Master were quite comparable to full-sized keyboards.
But that's not to say the keyboard will please power users. For one, there are no dedicated function keys, obliging users to use a single dedicated function button that's also shared with customization features. As such, the CK721 was fine for basic typing, but performing tasks like opening the thesaurus in Word, felt a bit unwieldy. Sure, you can use the macros and key remapping to create some shortcuts, but seldomly used keys are a scarcity.
For those who do use the traditional top row of function keys frequently, a larger keyboard would be a better investment. And hopefully, Cooler Master works the kinks of out its MasterPlus companion app. We repeatedly received an error message when starting it up.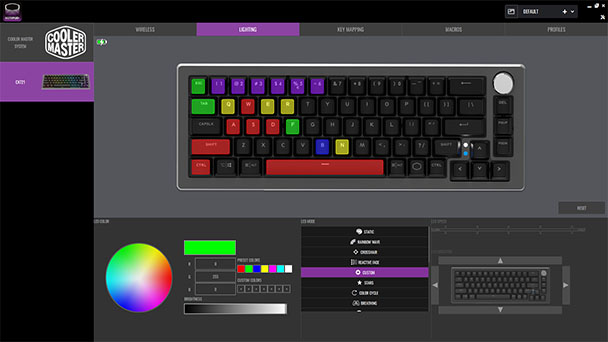 Conclusion
While the CK721 small footprint makes it feasible to fit in a commuter bag, the device's 1.6-pound weight contributes to your encumbrance. Sure, it's lighter that most of its mechanical peers and a better performer that most of those travel-sized Bluetooth keyboards. But we definitely noticed the extra heft when transporting the peripheral to work. If you're a busy typist who travels with a light tablet, the bulk is probably manageable. But if you're already hauling other hardware and just need to perform some touch-typing, a folding keyboard would be recommended.
Save for those with limited desk space, we're not quite sure who the audience is for the Cooler Master CK721 Gaming Keyboard. With mechanical keys, it allows for nimble, responsive typing. But the lack of a dedicated row of function keys can slow things down. But if you're looking for a pint-sized peripheral for basic text entry that has eye-catching lighting, the CK721 might work for you.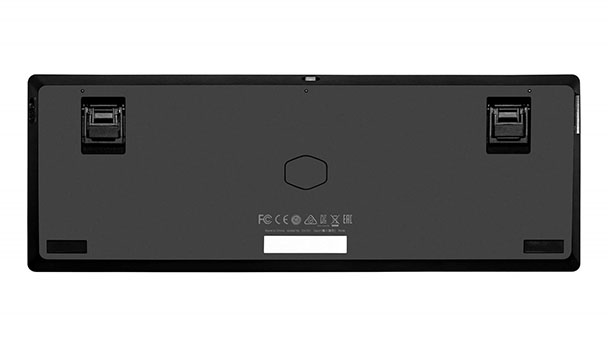 Tech-Specs
Price: 199.99 USD
Material: Aluminum and Plastic
Weight: 1.68 pounds/764 grams
Dimensions:  13.15×4.64×1.46 inches, 334x118x37mm
Keyboard Switches: Mechanical (Red, Blue, or Brown)
Keycaps: ABS Painting and Laser Engraved
LED Coloring: RGB, 16.7M colors
Polling Rate: 1000Hz (Wired/2.4GHz), 125 Hz (Bluetooth)
Response Time: 1Msec (Wired/2.4GHz), 8Msec (Bluetooth)
Battery: 2000mAh
Warranty: 2 years
Review Overview
Summary : Boasting fabulous lighting and the ability to quickly sync with most devices, the Cooler Master CK721 Gaming Keyboard has a number of admirable traits. But the lack of dedication function keys means you might have to rely on macros to get the job done.