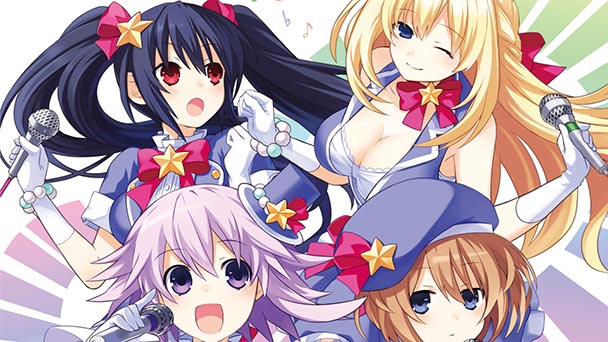 Pundits who claim that the plotlines of Japanese role-playing games have atrophied into a puddle of tired tropes likely overlooked 2010's Hyperdimension Neptunia and its two sequels- subtitled Mk2 and Victory. Throughout the imaginative franchise, players commanded a quartet of anthropomorphic "CPU Goddesses", who symbolized both the machinery and mentality of the industry's power players: SEGA, Nintendo, PlayStation, and Microsoft. In retrospect, co-developers Idea Factory, Compile Heart and Gust provided a collection of absorbing allegories, jam-packed with in-jokes about the industry, an abundant amount of fan-service, and naturally- enough JRPG tenets to appease aficionados of the genre.
The release of Hyperdimension Neptunia: Producing Perfection for the PS Vita reveals more than just Tamsoft (Battle Arena Toshinden, Onechanbara: Bikini Samurai Squad) filling in for Gust. Instead, the title shuns the traditional role-playing mechanics of its console predecessors, extending the rare idol management simulation to Western players. But whereas Neptunia provided a plotline which used the console wars for context, Perfection's ambitions are higher- with the game simultaneously indulging idolatry while at the same time offering a shrewd critique on the whole process. Regretfully, the articulation of such an assessment ends up restraining the game's possibilities.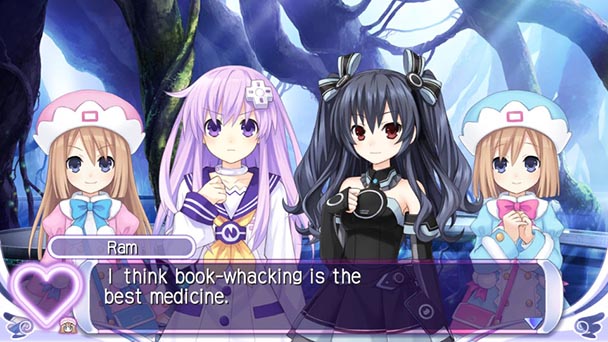 Having successfully saved the realm of Gamindustri from reoccurring antagonist Arfoire, it would seem as if the CPU goddesses would win over a wealth of faithful loyal worshippers. Yet, Producing Perfection's introduction establishes an unforeseen threat to Neptune, Noire, Blanc, and Vert, as a J-pop phenomenon known as MOB48 has seized the attention of Gamindustri- thereby lessening the popularity of videogames. Naturally, the Goddesses can't allow this kind of cultural decay to happen, so they decide to recoup their reign by trying to conquer the idol business. Players assume the role of manager, making day to day decisions, designed to lead each of the goddesses to the peak of popularity.
Given the prologue's steady stream of gags, which will undoubtedly tickle the funny bone of dedicated gamers, it's easy to forgive the fact that idols and videogames aren't direct competitors. Early on, Producing Perfection provides plenty of parody- screwing everything from industry PR practices to Microsoft's copious console size and aspirations of maturity. Regretfully, the flippancy is largely front-loaded, waning as players guide the trajectory of their chosen CPU Goddess.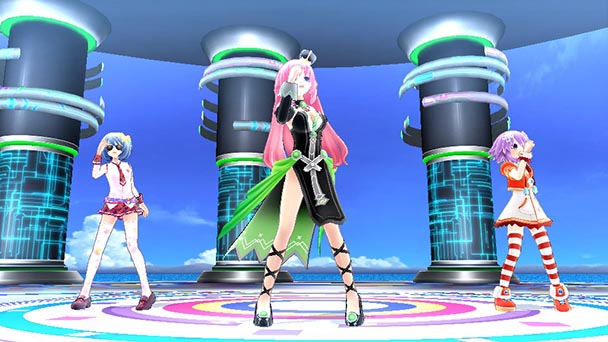 The bulk of Perfection is spent in a fairly spartan menu system, where players balance marketing efforts, training, stress levels, as well as the relationship with their budding idol. Recalling the largely text-based simulations of the early eighties such as The Oregon Trail, gamers determine how the goddess should spend each day, with each choice manipulating a number of variables for their songstress. Fortunately, most of the selections produce predictable results, with scheduled appearances bolstering the Goddesses' fanbase or vocal training augmenting a corresponding statistic. When setbacks inevitably occur, they're fairly easy to remedy- most likely giving your diligent diva a few days of rest from her hectic schedule.
While the road to fame concludes quickly, typically taking no more than three hours of play time, most modern players might feel that there's something missing from the campaign career. Save for concerts, there's no real stick twiddling involved, meaning menu selections are all that matter. Ideally, Producing Perfection would have offered the sporadic minigame to break up the tedium. At the very least, the developers should have provided each protagonist with a bit more dialog. Too often, daily conversation includes identical elements, introducing an irksome amount of redundancy into the campaign.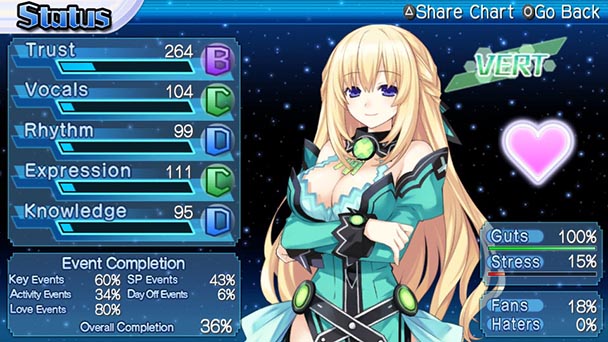 Thankfully, concerts are interactive, allowing players to trigger crowd-contenting elements like spotlights and confetti showers. And while gamers aren't in directly control of their idols' singing or dancing routines, they are responsible for capturing the performance using an in-game camera mechanic. In execution, concerts feel a bit like Dead or Alive Xtreme Beach Volleyball's photography mode- albeit less pervy since the game camera has a strict threshold, preventing any kind of upskirt reconnaissance. While the concerts are Producing Perfection's high point, flaunting breast physics, several pleasing J-pop numbers, and the possibility of eye candy through HDD transformation, these sequences don't offer much in the way of long-term appeal. While different outfits and accessories offer a bit of visual variety, none of these unlockables affect your performance in a tangible way.
Collectively, Producing Perfection's mechanics speak on the manufacture of idols, seemingly commenting on how a meticulous marketing strategy is far more important that actual talent. In essence, the game's thesis plays out like Dale Carnegie's How to Win Friends and Influence People, offering a failsafe blueprint for success. Although Perfection's decision whether to spend each day courting fans or practicing pirouettes might offer condemnation on the culture industry- that doesn't mean the lesson is a consistently enjoyable one. Except for the title's humor, visual aesthetics, and wacky amenities, Hyperdimension Neptunia: Producing Perfection feels too much like a visual novel with a dispensable plotline. As such, the journey to the top of the pops will probably only be enjoyed by the goddesses' most dedicated devotees.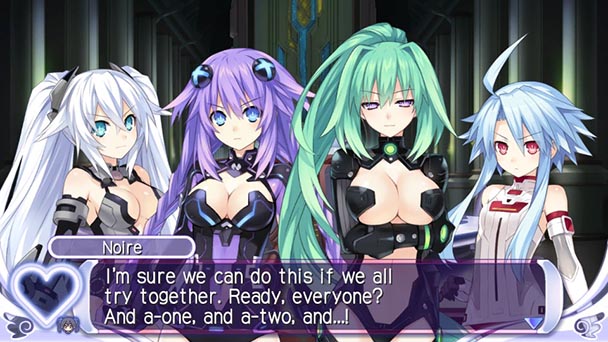 Review Overview
Summary : While the concept of Hyperdimension's Goddesses transforming into singing idols is certainly promising, Producing Perfection's menu driven gameplay makes the journey decidedly downbeat.