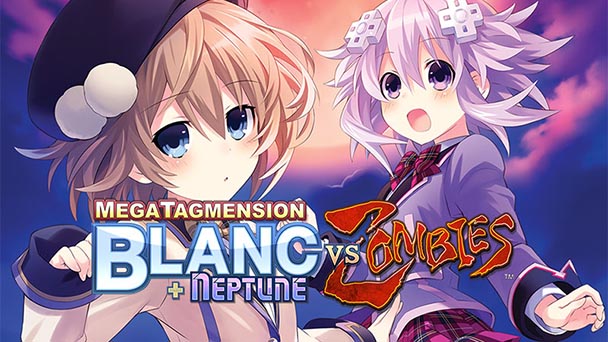 2011's Hyperdimension Neptunia offered an allegorical battle between four anthropomorphized consoles, who fought to become the reigning goddess of a realm called Gamindustri. The franchise mushroomed in popularity, spurring a secession of sequels, remakes, and spin-offs which would entice a fanbase on both sides of the Pacific. But not all of Neptune, Blanc, Vert, and Noire's exploits were equally as enthralling, with a few clunkers like idol-cultivating simulation Producing Perfection contrasted against more compelling titles like Goddess Black Heart's turn-based tactics.
With the PC release of MegaTagmension Blanc + Neptune VS Zombies developer Tamsoft returns to the musuo-mechanics that drove 2014's Hyperdimension Neptunia U: Action Unleashed. A port of the PS Vita iteration, there's an emphasis on tag-team combat and a robust multiplayer element, but there's probably not enough depth to satisfying anyone but the most dedicated Hyperdimension devotees. Additionally, there are a few blemishes with the transition to PC.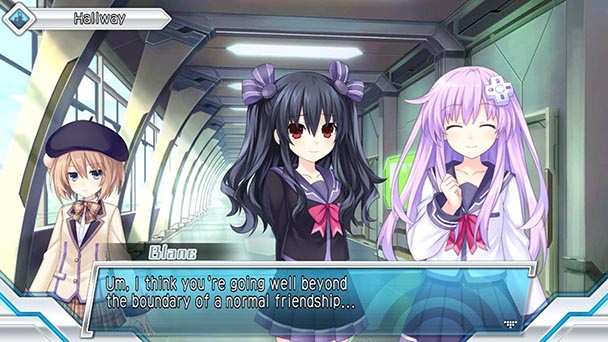 Riffing on the Love Live!'s set-up, MegaTagmension Blanc finds the young goddesses in a high-school setting, with Gamicademi in danger of closing from dwindling enrollment numbers. While the game hints at real issues, citing Japan's sinking birthrates, any gravitas is soon abandoned for comical absurdity. The game's impetus revolves around the cast making a zombie movie to help bring attention to their academy's plight. But when real zombies start invading the school, the girls go all cinéma vérité, deciding to let the cameras roll as the battle the incursion.
Naturally, amusement often stems from the MegaTagmension Blanc's unremitting stream of pop-culture references, yuri playfulness, and a context that allows for sailor-suit school uniforms with impossibly short skirts. But more interesting is the satirisation of film production, with the title having fun with Blanc's role as budding director. With a tyrannical demeanor, she micro-manages scripting, direction, casting, and cinematography, and while Blanc seems to think the end result will be worthy of a Cannes premiere, you know it's all D-grade dreck.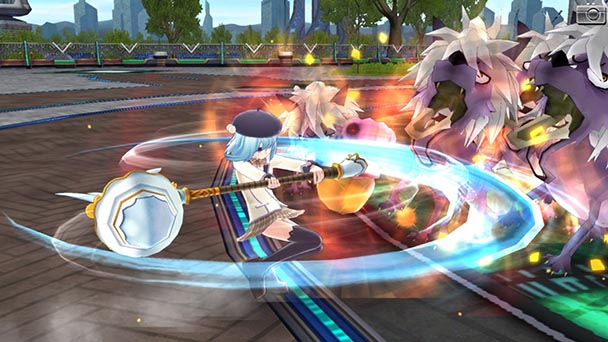 Hopefully, Neptune VS Zombies' developers didn't have the same illusions of grandeur, as the game's combat commit some serious blunders. After experiencing often long-winded dialog between members of Gamicademi's film club, players select two members to enact event for each scene. Following a lingering loading session, players are tasked with defeating dozens of undead dogoo or zombies who toss their skulls Decap Attack-style. Woefully, encounters with pedestrian foes are push-overs that usually last for less than ninety seconds, and mostly serve to boost each character's experience level and the power of the 'Lily Rank' bond between duos.
Sporadic boss battles at least offer the possibility of seeing a Game Over screen, but they're not all that enjoyable. In execution, you'll utilize techniques that expand past the a normal and strong strike. From being able to swap characters while the other recuperates, temporarily changing into HDD form for access to punishing attacks, and issuing elevated assaults with energy from your EXE Drive Gauge, a variety of offensive options exist. But knowing which ones to employ is all too often trial and error, as bosses are unusually hard to read. Instead of trying to look for attack indicators and employing Lust Guard at the right moment, the easiest strategy is to activate HDD mode and wail away at elevated antagonists, reducing the enjoyment of these encounters. What's more, combat allows the consumption of assistive items, but inexplicably each consumable has to be equipped from a detached menu prior to each encounter.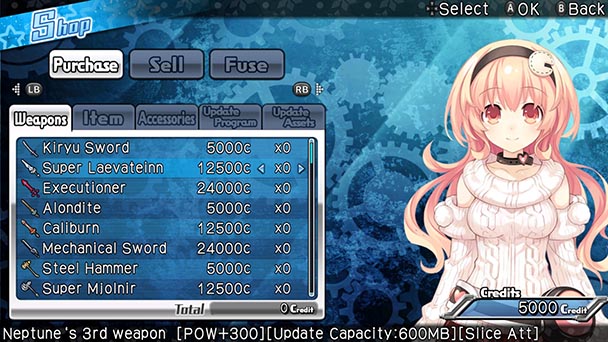 Despite transgressions rooted in reduced levels of challenge and engagement, battles do have a few perks. With 28 unlockable combatants each with their own individual fighting style, MegaTagmension Blanc does offer a wealth of combo-practicing opportunities. Dig into to the setup menu, and you can customize each character, adding up to five accessories, or boosting their basic stats. Pleasingly, the playing the role of Gamindusti stylist isn't for naught, with the title allowing you to pause the action, manipulate the camera and capture a skyward skirt. Finally, those rumors of Nep-nep preferring shimapan can be confirmed.
Another upside is the game's online multiplayer component, which extends the number of environments and enemies. Here, you'll face enemies much tougher than any opponent in the single-player campaign, making cooperative play with up to four local or online comrades a necessity. Generally, it's a breezy, lighthearted, and large free of net lag, making it great way to grind up your characters and earn all those accessories that the shop tempts you with. Thanks to an accessible chat system that keeps exchanges sociable and the lack of any friendly-fire, it's an affable affair that's worth checking out.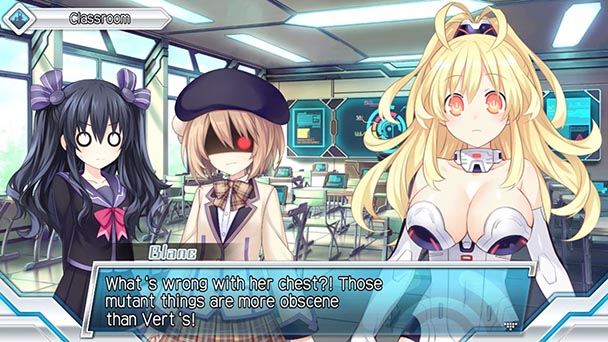 Does the PC version of MegaTagmension Measure up?
In the current 1.02 build, MegaTagmension Blanc + Neptune VS Zombies fixes a few of the issues that plagued the title at launch, but disappointingly a few significant problems remain. The game's Windowed, Borderless, and Fullscreen options work, but take some fiddling to get things right. Right now, changing resolutions is only available when you have the output set to Windowed mode, making things tricky. Those who want additional control over picture quality will be saddened to know that MegaTagmension doesn't extend any antialiasing or anisotropic filtering options. On the upside, the lastest patch radically improves load times, which were exceptionally lethargic when the game was launched. Also, the game's framerate is remarkably smooth, delivering sixty frames per second with even older GPUs.
While the visuals can eventually be coaxing into compliance, the game's matchmaking remains obstinate. Trying to find a co-op match still crashes the game. While some players have reported changing some of the search criteria seemed to remedy the problem, testing proved otherwise. As it stands, if you are thinking about picking up MegaTagmension Blanc + Neptune for its collaborative content, you might want to wait until Idea Factory announces a patch.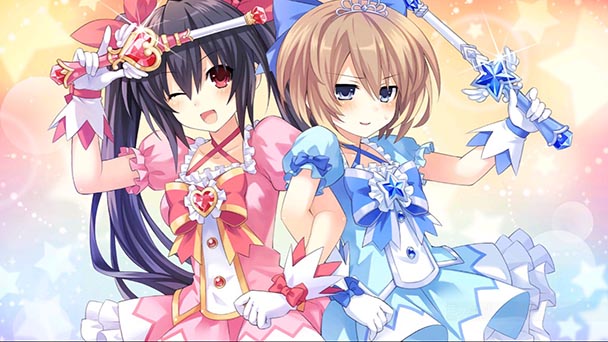 Given MegaTagmension Blanc + Neptune VS Zombies' middling combat mechanics, the game would be hard to endorse to anyone expecting a thoroughly engaging experience. Too often, Blanc's foray into filmmaking just limps along, extending bite-size conflicts without much challenge. As such, the game's prospective audience are those compelled to own every Hyperdimenion off-shoot. Likely, they'll find redemption in the lure to customize, cultivate, and capture each character in action, as well an interact with a like-minded online fanbase.
MegaTagmension Blanc + Neptune VS Zombies was played on the PC with review code provided by the publisher
MegaTagmension Blanc + Neptune VS Zombies
Platform:
 PC
Developer:
 Tamsoft, Compile Heart
Publisher:
 Idea Factory International
Release Date:
 October 3rd,  2016
Price:
$29.99 via
Steam
, currently on sale for $17.99
Review Overview
Summary : While MegaTagmension Blanc + Neptune VS Zombies isn't the franchise's darkest hour, it's hardly the blissful experience you might be expecting. Recommended mainly to Neptunia aficionados.