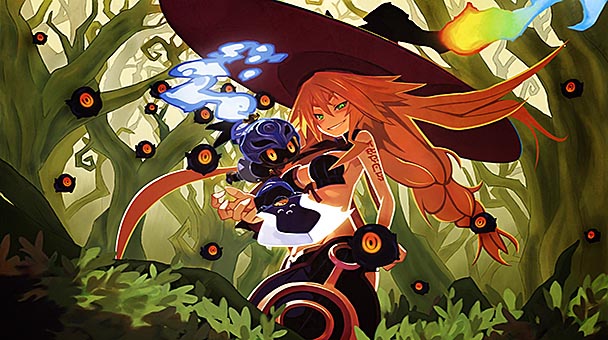 While Nippon Ichi Software has found continued success in the strategy role-playing stylings of the Disgaea franchise, the company has persistently tried to broaden their output. From a pair of Prinny-lead platformers as well as Z.H.P. Unlosing Ranger Vs. Darkdeath Evilman and The Guided Fate Paradox's forays into the Rogue-like realm, establishing another popular property has been an ambition for the Kakamigahara-based firm. Much like the upcoming publishing of PlayStation 3-based brawler, Battle Princess of Arcadias, the release of The Witch and the Hundred Knight seeks attainment through the action genre. NIS aficionados will be pleased to know that the title isn't a complete departure from tradition- with Hundred Knight's gameplay built upon a myriad of interlocking mechanics.
Before players are able to see the game's virtues, they'll have tolerate a duo of drawbacks. The first stems from the depiction of the eponymous character, Metallia, a necromancer who reigns over the polluted Niblhenne Swamp. Like Hour of Darkness' Laharl, she's uncompromisingly tyrannical- determined to spread her noxious wetland through the rest of the world. But where King Krichevskoy's son devious deeds were often presented comically and often only alluded to, Metallia's repugnant behavior takes center stage, and she torments and belittles every character she comes into contact with. Although Hundred Knight does offer late-game redemption for the repugnant anti-hero, its presence comes too late; players will have already formed an indelible opinion of the character. On the upside, witnessing the game's protagonist- the diminutive Hundred Knight, grow from timid cipher to a whirlwind of controlled destruction, is certainly rewarding.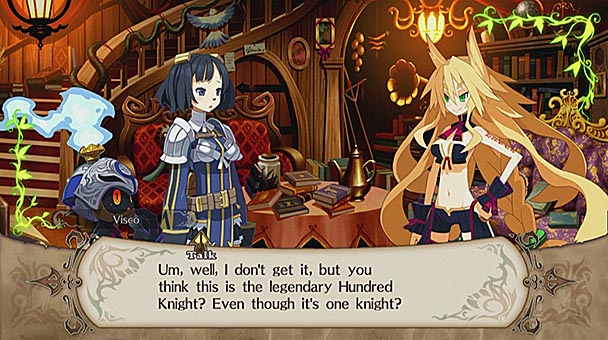 The game's other shortcoming from its tutelage. For the first hour of Hundred Knight, players are treated like gaming neophytes, as the title frequently breaks momentum to explain fairly conventional mechanics. Puzzlingly, this approach is soon abandoned, as players are sent out to complete their first mission. The rapid shift toward full autonomy can be overwhelming at first- especially when multiple meters fill the screen and a multitude of complex gameplay elements arise. Although an in-game reference guide would have been ideal, Hundred Knight does extend knowledge through a compilation of fifty loading screen tips.
Mercifully, both of these issues mend themselves as players persevere, allowing the title's cornucopia of gameplay components to shine. Although combat is supported by a trio of fundamental actions- attacking, guarding and dashing, a substantial amount of menu options add nuance to battles. By equipping up to five weapons, players can build their own combos for Hundred Knight- with each armament having one of three different attack attributes, either Slash, Blunt, and Magic. Naturally, each type of offensive device has its own strengths and weaknesses, with weapons like hammers providing a slow but devastating strike to adjacent foes while the weaker spear is proficient at crowd control. Dig further and you'll discover Magic Die symbols which can increase the power of combos when players put the pips in sequential order.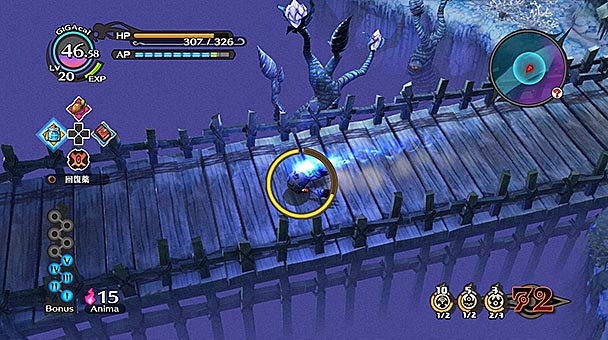 Fallen foes in Hundred Knight bequeath a generous amount of items, compelling players to persist with the promise of better loot. Pleasingly, there's some nice risk/reward elements here as well: although Common items might initially offer bit more attacking power, Epic or Legendary articles provide for a higher level cap. Similarly, Grade Points earned through elegantly executed kills allow for things like temporary stat boosts (recalling Z.H.P.'s two-pronged leveling system) or even or an advance of GigaCals.
Like any respectable killing machine, the Hundred Knight needs a steady intake of nutrients to subsist. Initially, the dwindling GigaCal gauge might seem like an unneeded restriction, putting players on a timer or tethering them to a certain area. Closer inspection shows the ingenuity of the system which goads gamers into doing a bit of resource management. As mentioned Hundred Knight can convert Grade Points in GigaCals or alternatively digest damaged foes. Naturally, consuming enemies has a tradeoff- in this case filling a stomach which is also used to retain loot.  The best way out of this predicament is to use the Bowel Dump or Upchuck commands to reclaim precious gastro-intestinal space.  Much like the Item World, areas prod perseverance, with dividends which correlate to the amount of peril players face.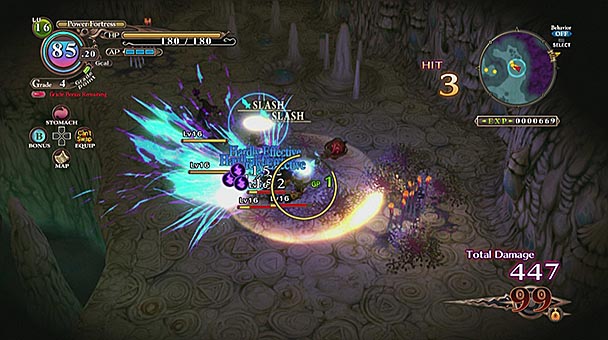 Of course, these are just a few of The Witch and the Hundred Knight's interconnected systems. There's also multiple Facets (classes), boss battles, a minion-summoning ability known as Tochka, the ability to raid houses in villages. Collectively, these elements give the title scalability. Those seeking a simple Diablo-esque adventure can grind their way through stages, while menu-fiddlers will be able to menu-manage their way to success. After years of being forced to talk to tedious NPCs, Hundred Knight's ability to pummel the local populace feels gratifying and within character for Metallia's main minion.
Visually, Takehito Harada delivers once more, elevating Hundred Knights' journey with a roster of captivating character designs. As NIS's inaugural 3D-based title, there's a few blemishes- locales can appear a bit pixelated and the top-down perspective becomes obscured all too easily. However, peer past these issues and its hard not to be enchanted by the games aesthetic- especially the quality of the portraits used during dialog sequences. Musically, the title's tunes wouldn't be out of place in a Diagaea soundtrack, with compositions constructed with similar sound banks. As expected for a NISA-localized title, the delivers dual-language voice acting. Both renditions are proficient, just expect a bit of dissonance when Metallia's name is pronounced "Metallica" in the Japanese version.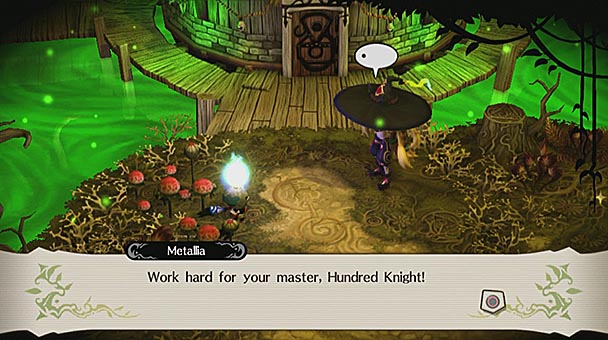 Although NIS's The Witch and the Hundred Knight is destined to be contrasted against Disgaea, in execution two games share several common elements. The difference between action-driven and turn-based combat aside, both titles are built around the type of complex, interconnected gameplay systems which can enchant obsessive-minded gamers. Factor in a chapter-based storyline driven by a roster of thoroughly obnoxious characters, and you might wonder if the game reflects NIS's ambition to cultivate a broader audience. If that's the case, the assignment might be The Hundred Knight's most imperative mission.
The Witch and the Hundred Knight was played on the PlayStatino 3 with review code provided by the publisher.
Review Overview
Summary : The Witch and the Hundred Knights' biggest achievement is its ability to please NIS newcomers and well as the legion of doods.