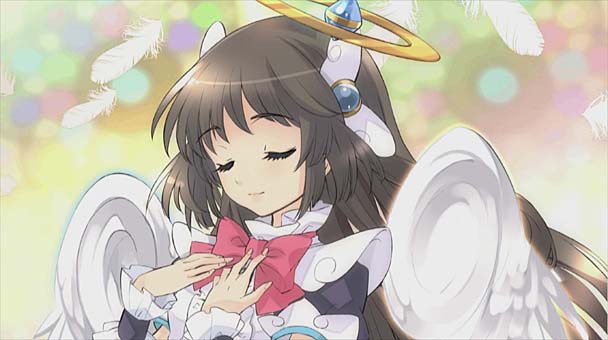 One of the more underappreciated entries in the PSP's oft-beguiling software library is Nippon Ichi Software's Z.H.P. Unlosing Ranger VS Darkdeath Evilman. Paying homage to tokusatsu tenets, players took the role of an unassuming everyman, who inadvertently inherits the role as the world's savior. With a blend of stimulating Rogue-like mechanics, a cornucopia of customization options, and characters who spoofed the goofy affirmations common in the genre, the title was an unconditional success. However, the theme of a triumphant underdog wasn't exactly replicated at retail- the game garnered only a diminutive following in the States.
Touted as a spiritual successor to Unlosing Ranger, the recent release of The Guided Fate Paradox for the PlayStation 3 drops its predecessor's references to Kamen Rider, Ultraman and Super Sentai. In its place, gamers assume the guise of Renya Kagurazaga, an otaku schoolboy who like Z.H.P.'s protagonist has experienced a thoroughly ordinary existence. When the youth enters a retail store, he's approached by a maid-uniform clad Lilliel Saotome, who goads him into entering a lottery. Upon being told that he's the contest winner, Kagurazaga is unexpectedly clubbed by Saotome, and awakens in the afterworld.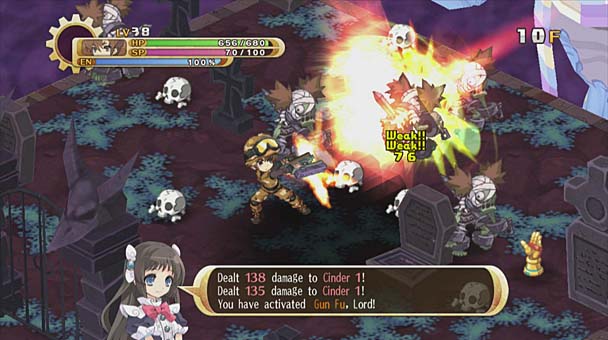 The protracted prologue continues, as Lilliel explains that she's actually an angel, and that the lottery's prize is a position as God. A tour of Celestia allows for a meeting with the seraph's supporting entourage, before Paradox's core premise is revealed. At the heart of this exalted environment is the Fate Revolution Circuit, a machine that creates a copy of reality. By stepping into the simulacrum, players are faced with defeating assemblies of aberrations, culminating in a boss battle. Trouncing this malevolent monstrosity induces a change in the real world, thereby answering the prayers of a disciple.
Although The Guided Fate Paradox's narrative could have easily descended into peachiness, Nippon Ichi, maintains their customary tone- weaving in poignancy, perversion, and a bit of comical irrelevancy. Satisfaction stems from witnessing the progress made on each prayer, whether it's rescuing Cinderella from a clichéd happy ending or zombie that's too scared to humans to eat their brains. For players who don't relish the innuendo-drenched dialog delivered by loli angels, a few existential dilemmas might prove to be more engaging.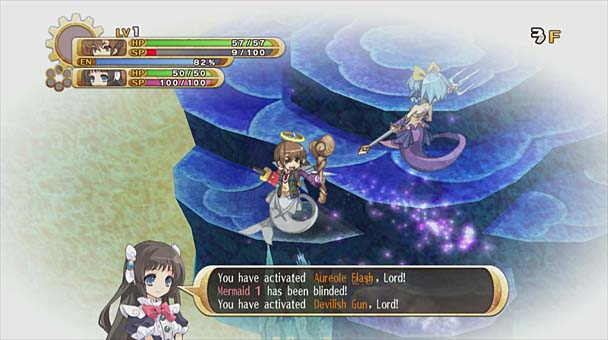 Shifting between the simulated and the actual worlds, it's demonstrated that Renya is actively changing the fate of his followers. Unfortunately, the feeling of independence is expressed, rather that experienced. In execution, players only move the linear storyline forward, not really making decisions about each character's destiny. While the design decision isn't unusual for a Japanese game- where story telling is typically favored over the illusion of player autonomy, the absence of control may bewilder those accustomed to Western games.
That said, once players step foot in The Guided Fate Paradox's randomized locales, possibilities abound. Here, Renya explores thematically divergent stages teaming with foes, loot, and on each floor- an exit gate which allows access to a deeper and more threatening level. Although battles are turn-based, they reflect the design decision of the Shiren the Wanderer and Pokemon Mystery Dungeon franchises, largely shirking the miscellany of menus that are common to the role-playing genre. Although the game's isometric perspective doesn't immediately partner with the cardinal directions of a D-pad, the inclusion of shortcuts using the left and right analog sticks helps to preserve Paradox's pace.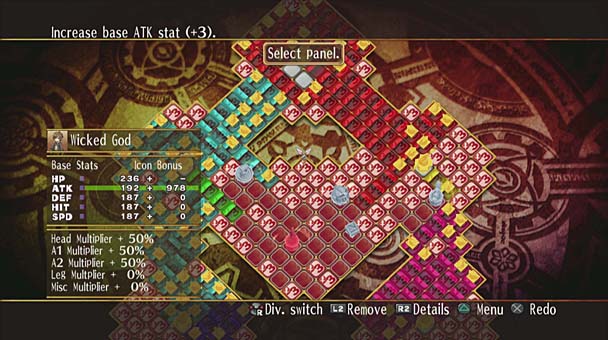 Like most titles which spring from Rogue's ancestry, management plays an important role when skulking through the game's labyrinths. Restoring the HP and SP which deplete during conflict happens gradually, or players may simultaneously press the "X" and "O" buttons to accelerate the process. Of course, replenishment draws from Renya's energy level, which ebbs away until it's renewed by the consumption of edibles. Since items and equipment deteriorate over the time, fitting food items into your inventory is just one dilemma that requires forecasting from players, as they prepare to descend into each setting.
Mercifully, there are a few incentives to the system. Using and wearing equipment pushes items toward Burst, resulting in a Holy Icon- which Renya can use to augment his stats when placed in the Divinigram. Similar to Z.H.P.'s body modification system (or even Final Fantasy X's Sphere Grid), this component is a large grid-based board, and with careful placement of the pieces, not only can be offensive and defensive abilities be improves, but Holy Artifacts grant perks, such as increasing the player's inventory.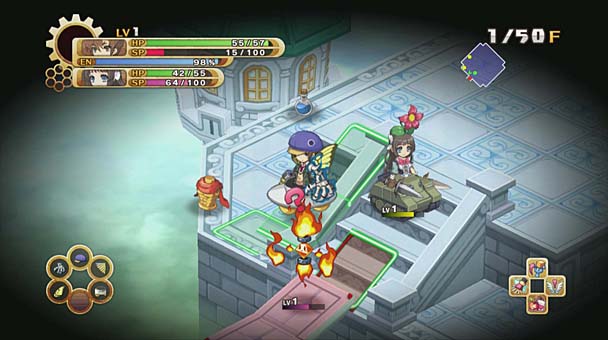 But take no mistake- all these amenities do little to assuage The Guided Fate Paradox's difficulty level. Rogue-like's are traditionally challenging, and they are one type of game where death is often punitive. Dying in Paradox liberates players from their inventory, taking items, weapons, armor, and equipment when they perish. What's more your money is halved and any level progression is adapted into a permanent increase of your basic stats. While dying can initially feel debilitating, it's all part of Paradox's experience- in fact, some elements are locked away until Renya feel's the reaper's wrath.
The one key departure from Unlosing Ranger is that the protagonist doesn't have to prowl through areas alone; for all but boss battles, Renya has the assistance of an angel. Pleasingly, players have control over their subordinates inventory and behavior. When you're inevitably surrounded by aberrations you'll want to micro-manage; otherwise the AI does a commendable job of helping the player out.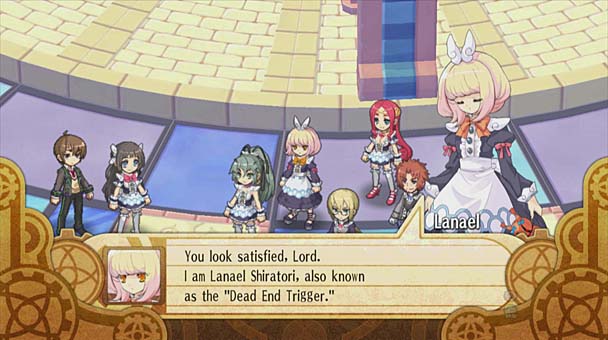 Aesthetically, Noizi Ito's designs are praiseworthy, and complement the timbre of the title. Although characters don't exhibit a multitude of animations, there is an expressiveness that's articulated though the amount of visual detail in each sizable sprite. The Guided Fate Paradox's soundtrack incorporates a range of musical styles which evoke the ethereal though the use of chants. Agreeably, the title's score establishes the ambiance of each chapter, offsetting the occasionally bland battlefield grids.
Once players pass The Guided Fate Paradox's front-loaded tutorial, they'll find a game that's nearly as heavenly as its subject matter. Combining a stimulating storyline with virtuous dungeon-crawling, the game is destined to appeal to Nippon Ichi devotees. While it may not be the gateway drug that Disgaea D2: A Brighter Darkness was, Paradox is appealing enough and undemanding enough to attract a constituency of new N1 fans.
Review Overview
Summary : If the concept of a Rogue-like with lolis and Prinny hats sound appealing, The Guided Fate Paradox belong in your PS3 collection.