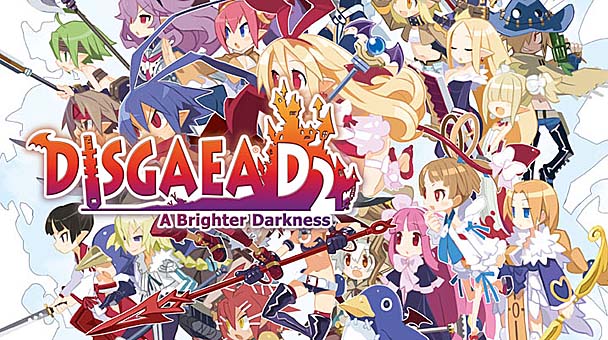 Back in 2003, I took a fifty dollar gamble- buying a game based solely on the pedigree of the publisher. Having purchased titles such as Thousand Arms, Super Robot Taisen: Original Generation, and Persona 2: Eternal Punishment, Altus' previous selections for stateside adoption were remarkably adept, representing some of the era's best role-playing experiences. Within hours of breaking the shrink-wrap, Disgaea: Hour of Darkness revealed itself to be Atlus' apogee.
It was a game of enchanting incongruities-buried within its myriad of mechanics was an ocean of stat- obsessed minutia. Yet, despite the obsessive detail to each system, the title never felt unapproachable. As players absorbed one component, new particulars emerged- each awaiting mastery. Cleverly, Disgaea concealed its statistical infatuation around a quirky storyline and charming characters. From the tyrannical Prince Laharl, his oft-conniving vassal Etna, as well as Flonne- an angel obsessed with wringing virtue from the hearts of her callous colleagues, the game's oddball personalities prohibited the grid-based battles from coasting too far into seriousness. The formula was proficient enough to spawn three sequels, two platforming spinoffs, a visual novel, and even an anime.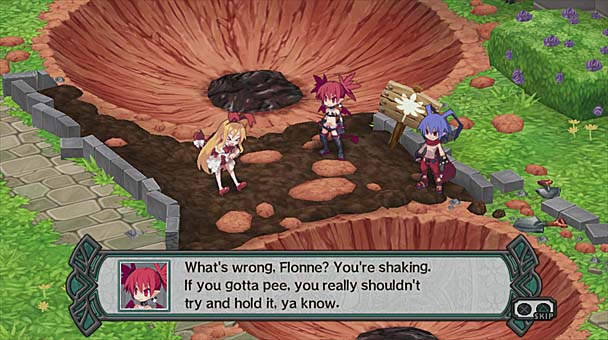 The release of D2: A Brighter Darkness for the PlayStation 3 revalidates the strength of the Disgaea franchise. Beyond high-definition assets, little has changed since the series' commencement a decade ago. While stagnancy might seem like the kiss of death for most ten-year old IPs, Disgaea's foundation is uncommonly sturdy- robust enough to support play spanning at least two console generations. Fortunately, this substructure shows little sign of weakening and is poised to persist, as long as Nippon Ichi Software's development team maintains core tenets.
Although A Brighter Darkness' combat maintains Disgaea's signature turn-based tactics, take a closer look and you'll discover a handful of beneficial tweaks. Team attacks- initiated when an striking character has one or more allies in adjoining squares, were always a bit of mystery- contingent on imprecise elements such as associations and participant movement. Now, relationships are fortified with continued use, giving players more than just the master/student dynamic to bolster their squads.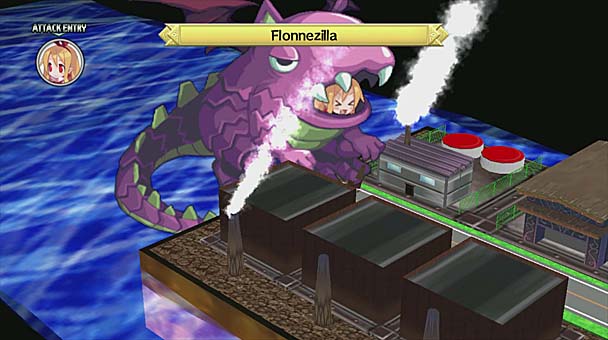 Across Absence of Justice and A Promise Unforgotten, gamers could use the Magichange system to transform monsters into powerful weapons which could then be used by humans. The downside is that the ability was short lived, concluding after a few turns. For A Brighter Darkness, the system has been adapted into a mount mechanic, permitting players to ride atop monsters, with the beasts bearing the brunt of attacks. Mercifully, restrictions are few, save for the exclusion of weapon skills. The upsides are that both units earn XP and spells can even be cast, converting priests and mages into fearsome 'cast and dash' combatants. Bow users can even ride monsters up to lofty perches, plunking away at enfeebled, ground-based enemies.
At its heart, A Brighter Darkness' battles are still as engaging as ever, compelling players to exploit the ever-growing arsenal possessed by each party member and developer a harmonized team of healers, magic users, and brute force. Naturally, Geo Panels, those color-coded switches capable of creating stat-shifting zones, make a return. Endowing both the pre-made and randomized battlefields with the sporadic conundrum, shrewd players can turn the panels against foes, gaining an upper hand. Item Worlds, those sectors where players can jump into any piece of equipment to augment its stats, are now populated by pirates. These brawny buccaneers are able to pocket your party's possessions, adding an additional menace to these treacherous, but tempting realms.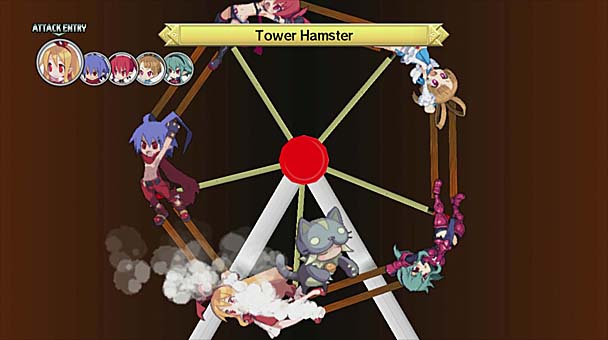 Unsurprisingly, your base of operations has received a few changes as well. In order to broaden the personalization of your custom characters, players now select an Evilty trait when a new team member is created. With class-specific attributes such as increased movement speed for ninjas or elemental affinities (and accompanying resistances) for magic users, the characteristic proves to be a welcome addition- giving players an additional bearing during the character cultivation process. Correspondingly, the new Demon Dojo and Cheat Shop give players a bit more autonomy. The former allows players to strengthen a pre-determined character stat as they level up; ideal for sharpening the effectiveness of individual team members. The latter allows gamers to tweak the distribution variables of XP, HL, and Mana to their liking.
For Disgaea devotees, the return of Laharl, Etna, and Flonne, elevates expectations to a precarious summit. Fortunately, A Brighter Darkness largely delivers, exhibiting its customary blend of irrelevance, satire, and impishness. Although the banter is a bit measured in the first few chapters, and D2's dénouement is a bit disappointing, the title hit a pleasing, protracted stride during its midsection. Although some might be disappointed that the game didn't unite every Nippon Ichi character into a superlative SRPG spectacle, it's gratifying to see mediums not routinely follow Hollywood's summer sequel structure. Quite possibly, shoehorning in minor characters would have diminished A Brighter Darknesss otherwise suitable plot device. One refreshing addition is dialog during battles, which conciliates the divorce between story and battle sequences.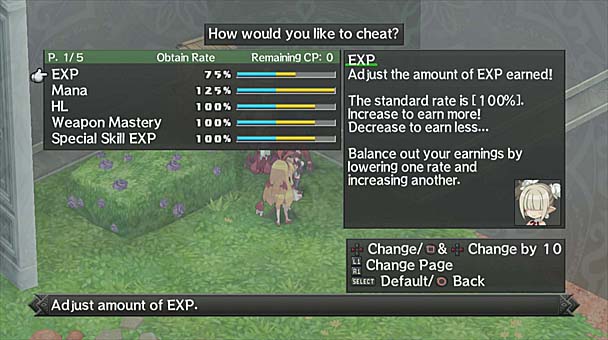 Echoing A Promise Unforgotten's output, Disgaea D2's HD characters remove the pixilation of the original characters, while preserving Takehito Harada's persistently charming aesthetic. The one lingering downside is the restrained number of frames devoted to each character. Although Prinnys twirl with an appropriate amount of elation, details such as Laharl's renowned red scarf move with the fluidness of a flip-book animation. Sonically, D2 is commendable, offering NISA's traditional dual language support. Although the publishers would reunite the entire roster of voice actors from the original game, the stand-ins do a commendable job of bringing each character to life.
Shunning the user-generated and online functionality of A Promise Unforgotten, Disgaea D2: A Brighter Darkness is a methodical return to form for Nippon Ichi. Although a decade has passed since the first game, the title's beloved triad of characters have changed little, ensuring a visit to the Netherworld is every bit as joyous at that inaugural journey. The chief deviation is that players have more control over the fate of their characters, which is gratifying considering the game's forty-hour adventure and ancillary trek through New Game+ territories.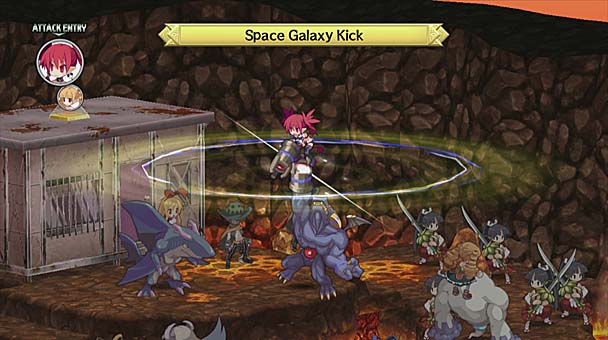 Review Overview
Summary : Disgaea D2: A Brighter Darkness substantiates N1's position at the apex of the strategy role-playing genre by delivering an addictive, gratifying experience that is guaranteed to please.