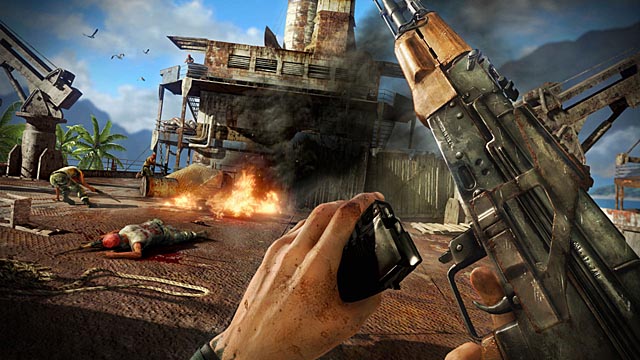 With the holiday shopping season now in full swing, the number of new releases is stating to dwindle. Despite this drop is quantity, quality remains. From expansions for Battlefield 3 and Skyrim, a port of the first Mass Effect title for PlayStation 3 owners, to Ubisoft's eagerly anticipated sandbox shooter- Far Cry 3, a number of notable titles await both retail channels and digital distribution services.
360
Battlefield 3: Aftermath (XBLA, Premium subscribers only)
Far Cry 3
Guardians of Middle-Earth (XBL, $15)
Power Rangers: Super Samurai (Kinect required)
The Elder Scrolls V: Skyrim-Dragonborn (XBL, $20)
PS3
Art Camion Sugorokuden (PSN, PSOne Classic)
Chulip (PSN, PS2 Classic, $9.99)
Far Cry 3 (PSN, PSOne Classic)
Finger Flashing
Guardians of Middle-Earth (PSN, $14.99)
Guilty Gear XX Accent Core Plus (PSN, $4.99)
LUP Salad (PSN, $4.99)
Makeruna Makendo 2 (PSN, PSOne Classic)
Mass Effect (PSN, $14.99)
Mass Effect Trilogy
Page Chronica (PSN, $10.99)
Resistance Collection
Rotastic (PSN, $9.99)
Vehicle Cavalier (PSN, PSOne Classic)
Zanac X Zanac (PSN, PSOne Classic)
Wii
BurgerTime (Virtual Console)
Wii U
007 Legends
Family Party: 30 Great Games Obstacle Arcade
Marvel Avengers: Battle for Earth
Rapala Pro Bass Fishing
Rise of the Guardians
3DS
Christmas Wonderland 2 (eShop)
Crystal Adventure (eShop)
Harvest Moon 3D: A New Beginning (eShop)
Might Bomb Jack (EShop)
Murder of the Titatic (eShop)
DS
Christmas Wonderland 2 (DSiWare)
Crystal Adventure (DSiWare)
Vita
DJMAX Technika Tune (PSN, $44.99)
Uncharted: Fight for Fortune (PSN, $4.99)
PC
Battlefield 3: Aftermath (Premium subscribers only)
Family Party: 30 Great Games Obstacle Arcade
Far Cry 3
FORGE
Rosh Online: The Return of Karos
Robert's Pick: While linear FPSs can offer arousing thrill rides, they're no match for the ambitious freedom of a mammoth sandbox shooter. After spending ten hours absorbed in Far Cry 3's single player campaign, I can safely declare the title to be a game of the year contender. Think of the expansive, autonomous gameplay of Skyrim built around an arsenal that would make John McClane envious, and you'll recognize the game's allure. Players who relish using recovered gear to develop their own devious methods (ala Red Faction: Guerrilla and Just Cause 2) of destruction will want to add Far Cry 3 to the top of their wish lists.
Sean's Pick: Since I was not of this generation when the first Mass Effect hit shelves 5 years ago, this week's release of the original title will mark the first time that I will have access. I'm looking forward to seeing what I missed out on, and finally understanding why everyone hates Ashley so much.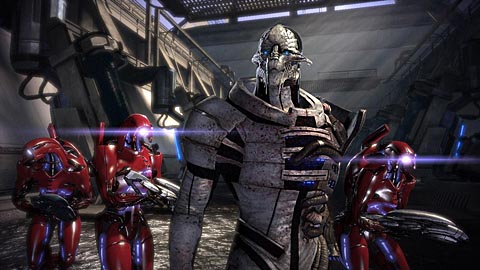 Sage's Pick: If I had a Wii U, or any desire to buy one, I'd be putting in my pick for 007 Legends.  However, since nostalgia for Bond isn't an option, my pick this week is for Far Cry 3.  It was one of the better games I saw at E3 and our wonderful editor Deagle got to play it this week.  His impressions were pretty stunning and I like the creating of a new genre- sandbox shooter. So this week I'm deferring to Deagle's judgement. Plus its a far cry better than anything else. hah.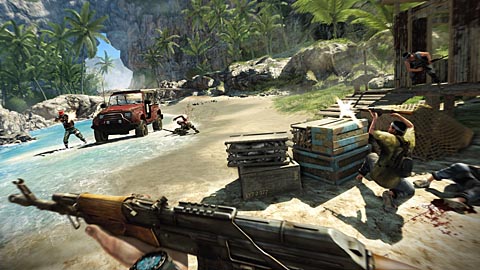 Eric's Pick: Color me jealous. Guilty Gear: Accent Core Plus comes out on the PS3 this week for $10 less than the Xbox 360 version. I recommended that version when it was released a month or so ago, so there's no way I can't give it the okay when it's only a fiver. Fans of BlazBlue should consider GG:ACP a must-buy on account of the continuum shifting fighter being a spiritual successor to the Guilty Gear franchise. Like BlazBlue, Accent Core Plus is filled with guitar-shredding tracks by Daisuke Ishiwatari, the creator of the Guilty Gear series. At $5, you shouldn't think twice about buying it.