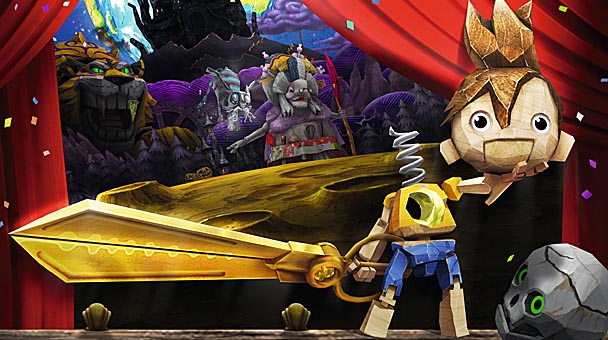 From Scrooge McDuck's exodus from PlayStation Network exclusivity, a tag-team attack of Dungeon & Dragons and Giana Sisters for the Wii U, and a Kingdom Hearts high-definition revitalization, the coming week is filled with crossovers and familiar faces. Fortunately, for those craving originality, a few new IPs are inbound. From SCE Japan Studio's quirky sidescroller, Puppeteer, to indie hack-and-slash, Volgarr the Viking, several games look to infuse a bit of innovation into traditional genres.
PlayStation 3
Carnivores: Dinosaur Hunter HD (PSN, $12.99)
Dragon Fantasy Book II (PSN, $14.99, $11.99 PS+, Cross-Buy with PS Vita version)
Hunter's Trophy 2 – Australia (PSN, $9.99)
Kingdom Hearts HD 1.5 ReMIX
Mystic Heroes (PSN, PS2 Classic $9.99)
NHL 14
Puppeteer
Sanctum 2 (PSN, $14.99)
Xbox 360
DuckTales Remastered (XBL, $14.99)
NHL 14
Wii U
Breath of Fire II (Virtual Console, $7.99)
Dungeons & Dragons: Chronicles of Mystara (eShop, $14.99)
Giana Sisters: Twisted Dreams (eShop, $14.99)
Spot The Differences: Party! (eShop, $5.00)
3DS
Boulder Dash-XL 3D (eShop, $4.99)
Darts Up 3D (eShop, $2.99)
Sonic Generations (eShop, $29.99)
Summer Carnival '92 RECCA (Virtual Console, $4.99)
Young Justice: Legacy
DS
Jewel Adventures (DSiWare, $4.99)
PS Vita
Dragon Fantasy Book II (PSN, $14.99, $11.99 PS+, Cross-Buy with PS3 version)
Killzone: Mercenary
PC
Aarklash: Legacy
Amnesia: A Machine for Pigs
Arma III
Legend of Dungeon
Sanctum 2
The Elder Scrolls Anthology
The King of Fighters XIII: Steam Edition
Volgarr the Viking
Young Justice: Legacy
Robert's Pick: Before arcades were downsized into wastelands filled with swindling claw machines and broken light-gun cabinets, titles like Black Tiger and Rastan allowed players to release their inner barbarian- slicing through processions of pugnacious enemies. Although these games had a challenge level that could be devastating, players were forced to become discerning- studying the patterns of foes, and distinguishing the tells of their attacks. This week, Volgarr the Viking opens its Valhalla campus, allowing a new class of aspiring warriors to study these ancient arts. While the beta initially kicked my butt, I slowly mastered sword and spear handling, giving a bevy of belligerent goons a well-deserved death. This week, I plan to fill my drinking horn with a mighty mead, and take aim at antagonists (let Odin sort 'em out!)  as the final build hits Steam this week. Also: Arma III !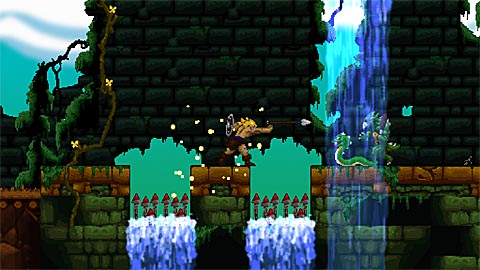 Say's Pick: Last April, Robert and I had the pleasure of first discovering Volgarr The Viking, while the game was in beta. Even though the game was unfinished, there was an undeniable amount of promise, and we discussed the game during an IndieOutlook segment.  Beyond the shell of arcade nostalgia, there was a lot to appreciate- diversity in gameplay mechanics, complicated levels, and a true sense of accomplishment once you completed the build. It's little wonder this indie gem was picked up by Adult Swim Games. Now, the final build is going to be available on Steam, everyone can appreciate Volgarr's hack-and-slash charms. For Valhalla!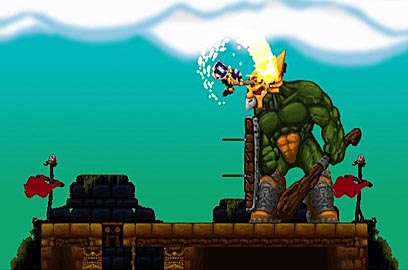 Eric's Pick: The all-to-common message board troll phrase "Vita has no games" is rapidly becoming as timely as references to "the cake is a lie". This week, the Vita gets its biggest release since Soul Sacrifice. Killzone: Mercenary is, like the home console entries in the series, an epic first-person shooter. Unlike the disastrous Call of Duty: Black Ops: Declassified, however, Mercenary is the product of a dedicated effort instead of the pursuit of a quick buck. Simply looking at the game in motion will hammer that point home. The game is stunning visually and even manages to rival the graphics found in some home console games. With a single player campaign and online multiplayer, Killzone: Mercenary has plenty to offer. 'How much', you ask? So much so that a day one patch will add in over a gigabyte of extra content that Guerrilla Cambridge couldn't cram into the Vita game card due to size constraints.