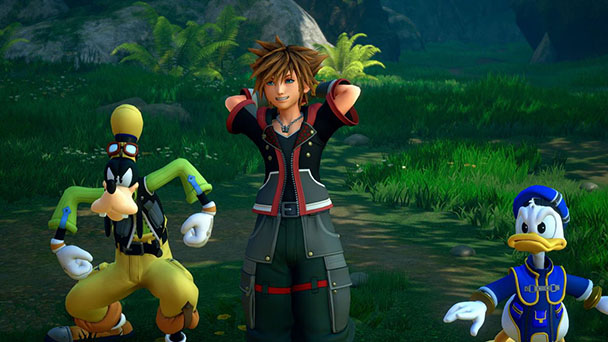 After years on anticipation, it's time for Sora, Riku, Mickey, Donald, and the gang to team up for Kingdom Hearts 3, just one of this week's new releases. For those not excited by Square Enix's love letter to the House That Walt Built, fear not there's plenty of other notable titles arriving across the next seven days. From the remake of Resident Evil 2, a Switch port of Cursed Castilla, and even a collection of Dirk the Daring's exploits, even Disney despisers might find something worthwhile.
Header image: Kingdom Hearts III, PlayStation 4 and Xbox One
PlayStation 4
Genesis Alpha One (physical and digital, $29.99)
JackQuest: Tale of the Sword (digital, $9.99)
Kingdom Hearts III (physical and digital, $59.99)
Resident Evil 2 (physical and digital, $59.99)
The Council (physical and digital, $19.99)
Switch
#killallzombies (digital, $13.99)
ACA NeoGeo Ninja Master's (digital, $7.99)
Achtung! Cthulhu Tactics (digital, $24.99)
Asdivine Hearts II (digital, $12.99)
Bad Dream: Coma (digital, $8.99)
Cinderella – An Interactive Fairytale (digital, $5.99)
Collidalot (digital, $12.50)
Color Zen Kids (digital, $3.99)
Cursed Castilla (digital, $13.99)
Doodle God: Evolution (digital, $6.99)
Dragon's Lair Trilogy (digital, $19.99)
Drowning (digital, $2.54)
GetAmped Mobile (digital, free)
Goat Simulator: The GOATY (digital, $29.99)
Fishing Universe Simulator (digital, $8.99)
Heroes Trials (digital, $5.99)
Hyperride (digital, $1.99)
Inops (digital, $9.99)
JackQuest: Tale of the Sword (digital, $9.99)
Legrand Legacy: Tale of the Fatebounds (digital, $19.99)
Mages of Mystralia (digital, $17.99)
My Exotric Farm 2018 (digital, $9.99)
My Memory of Us (digital, $14.99)
Piczle Colors (digital, $12.99)
Pikuniku (digital, $11.69)
Smite (digital, free to play)
Unruly Heroes (digital, $19.99)
Unworthy (digital, $12.99)
Utopia 9 – A Volatile Vacation (digital, $5.99)
Venture Towns (digital, $12.99)
When Ski Lifts Go Wrong (digital, $12.74)
Xbox One
Genesis Alpha One (physical and digital, $29.99)
JackQuest: Tale of the Sword (digital, $9.99)
Kingdom Hearts III (physical and digital, $59.99)
Resident Evil 2 (physical and digital, $59.99)
The Council (physical and digital, $19.99)
Wii U
Azure Snake (digital, $0.99)
3DS
Azure Snake (digital, $0.99)
Dragon's Wrath (digital, $4.99)
Phasmophobia: Hall of Specters 3D (digital, $2.99, New 3DS only)
PC
Battlefleet Gothic: Armada II ($39.99)
Earth Atlantis ($TBA)
Genesis Alpha One ($29.99)
Heat ($TBA)
JackQuest: Tale of the Sword ($8.49)
Mages of Mystralia ($TBA)
Offside ($TBA)
Pikuniku ($12.99)
PlanetSide Arena ($TBA)
Resident Evil 2 ($59.99)
Sakura MMO 2 ($TBA)
Sister Travel ($TBA)
Super Gerry ($8.99)
Transport Services ($6.99)
Robert's Pick: I haven't experienced this much trepidation since consenting to that kale cookie, but this week I'm going with Kingdom Hearts 3. Part of me feels like I'm succumbed to the growing hype, another part manipulated by the game's assemblage of Disney lore. And yet the travesty of mixing Utada with Skrillex was almost enough to shake me from the shackles of complacency.
Here's the thing about the Kingdom Hearts series (at least for me) The overarching storyline transcends rational thought and threatens to get loopier with each succession. Knowing this, I still surrender to Tetsuya Nomura's intoxicating brew of enjoyable hack-and-slash action, childhood nostalgia, and promise of sailing the Gummi Ship into the next Disney brand-world. I should be critical of the artificial sentiment, yet I'm desperately craving another dose of it, poised to wipe away a tear or three.
I'm sure Kingdom Heart 3 narrative will be all over the place, but at least the promise of LCD mini-games based on Disney properties, the thrill of exploring San Fransokyo's recesses, and the swells of 'Chikai'. Collectively, that just might make me able to turn off part of my brain and just enjoy the journey.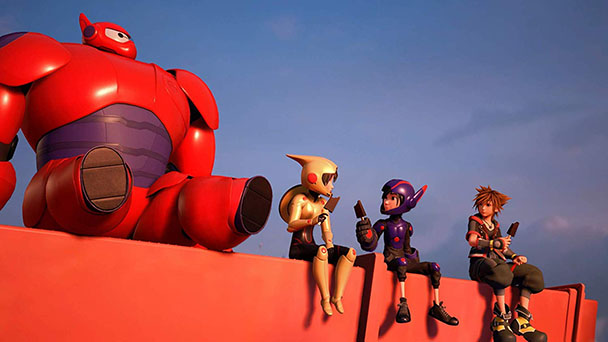 Matt's Pick (Editor, DigitallyDownloaded): I don't have the time to take a master's degree in Kingdom Hearts to understand that series, so I'll be passing on KH3. Also, back in the day, when the first one came out, I was so excited, because I expected Final Fantasy with Donald Duck. What I got was… not that, but rather some weird action game with terrible platforming mechanics, and I couldn't even control Donald. I've never forgiven Square Enix for that.
While I'm warning people, if you're looking at Legrand Legacy, thinking that it looks like a developer with a love for PlayStation One-era Final Fantasy has created a game in that vision, do yourself a favour and gouge your eyes out so you can never play that game and be that disappointed by it.
But, with all apologies to Robert, this is mean to be a positive, uplifting article about games we love and are looking forward to. Please play Achtung! Cthulhu Tactics on Nintendo Switch. It's an XCom-like game, based on a tabletop property, where you get to shoot Nazis and Lovecraft monsters. It's not perfect because the random number generator for in-game dice rolls is a bit borked, but it's amazingly playable, hugely entertaining, and a perfect fit for the Switch, which hasn't really had a proper XCom-like yet. And you shoot Nazis and Lovecraft monsters.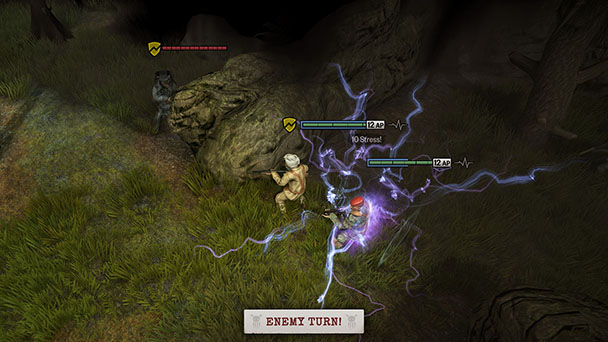 Ryan's Pick: I lived in Japan at the tail end of the PS2 era, and vividly recall all of the promotions and seeing Kingdom Hearts literally everywhere. It was absolutely a huge game for the time period over there. Like the rest of the world, Japan loves Disney, and the collaboration between them and Square Enix created something very special that brought the East and West together and let Japan share something special with beloved Disney characters. The most memorable part of this series for me personally, and undoubtedly for a lot of people, was hearing Utada's Simple and Clean and or Hikari at the end of the first game. This song helped define the series and was used in multiple earlier Kingdom Hearts games and still is relevant. Even Porter Robinson mixed it in to his setlist last year on his Virtual Self tour.
Kingdom Hearts III will undoubtedly attract new players to the series, especially with the Disney cast that they have included this time. Graphically the game looks pretty much on par with Dragon Quest XI and seems like it will provide plenty of gameplay with new worlds to explore. I'm also quite curious to see how the free running mechanic will pan out. Lastly, Utada has returned again with an interesting collaboration with Skrillex for the opening song. While it is definitely a departure from the deep bass growling dubstep from his earlier works, it definitely retains some elements which is an interesting change of pace for her. It is well done, and no doubt was on purpose to try and attract new audiences. If they don't have keyblade plur yet, I think there is a pretty good chance there will be from now on. A second Utada track also makes its debut titled Don't Think Twice which undoubtedly will used to bring out some emotional moments in the game. I believe this is a solid choice for this week, and if you are a Disney or Square Enix fan, you really can't go wrong.