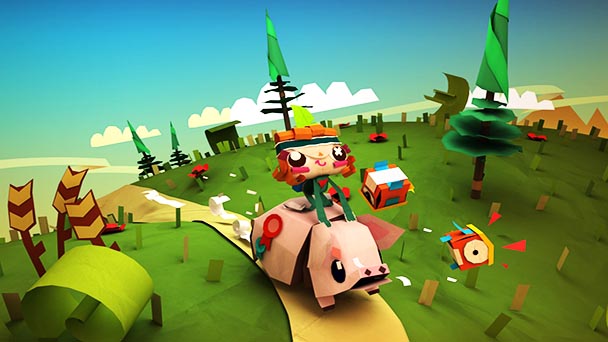 From Mario Golf and Excitebike's appearance on the Wii U to Leo's Fortune and Tearaway Unfolded's jump from portable to console, this week's schedule of new game releases offers quite a few familiar faces. If it's new experiences you're seeking out, you better look on the Xbox One or PC, with Lovers in a Dangerous Spacetime extending a large dose of creativity, as co-op partners (or a single player with an AI pet) protect a giant pink spaceship from a non-stop bombardment of threats.
Header Image: Tearaway Unfolded, PlayStation 4
PlayStation 4
Arcade Archives A-Jax (PSN, $7.99)
Ascendant (PSN, $9.99)
Beyond Eyes (PSN, $14.99)
Broken Sword 5 – The Serpent's Curse (PSN, $24.99)
Hyper Void (PSN, $15.99, cross-buy with PS3)
Leo's Fortune (PSN, $6.99)
Tearaway Unfolded (also on PSN, $39.99)
Wii U
Gunman Clive HD Collection (eShop, $3.99)
Mario Golf (eShop, $9.99)
VS. Excitebike (eShop, $4.99)
Xbox One
Leo's Fortune (XGS, $6.99)
Lovers in a Dangerous Spacetime (XGS, $14.99)
3DS
Are You Smarter Than a 5th Grader? (eShop, $29.99)
Hatsune Miku: Project Mirai DX (also on eShop, $39.99)
PS Vita
Fat City (PSN, $12.99)
One Piece: Pirate Warriors 3 (PSN, $39.99)
Rugby World Cup 2015 (PSN, $TBA)
PC (all available via Steam unless noted)
Alice Mom's Rescue ($3.99)
Almightree: The Last Dreamer ($TBA)
Armikrog ($22.49)
Between Me and the Night (Early Access, $TBA)
Bowl Bound College Football ($14.99)
Burgers ($2.69)
DungeonUp ($TBA)
Fate Tectonics ($TBA)
Game Corp DX ($TBA)
Gunman Clive 2 ($2.99)
Impulse Revolution ($TBA)
InCell VR ($4.24)
Legends of Atlantis: Exodus ($5.24)
Lovers in a Dangerous Spacetime ($14.99)
Master Spy ($TBA)
Mayhem Triple ($TBA)
Mooch ($TBA)
Noctropolis ($8.99)
Rubber and Lead ($TBA)
Rugby World Cup 2015 ($TBA)
Shift Happens (Early Access, $TBA)
Snik ($TBA)
Sword Coast Legends ($34.99)
The Facility (Early Access, $8.99)
The Prism ($9.99)
Wild Island Quest ($TBA)
Robert's Pick: If you want to see a creative, engaging title stumble at retail, give it to the Sony PR team- they'll be sure it won't receive much attention and quickly plummet in price. Snark aside, that was the fate of poor Tearaway, one of the most creative title's to grace PS Vita screens. Thankfully, Media Molecule's paper-craft based title is getting a second chance on the PlayStation 4 with Tearaway Unfolded. This time out the developers are sidestepping SCEA, allowing an in-game GIF creation suite to do the marketing for them. Smart move.