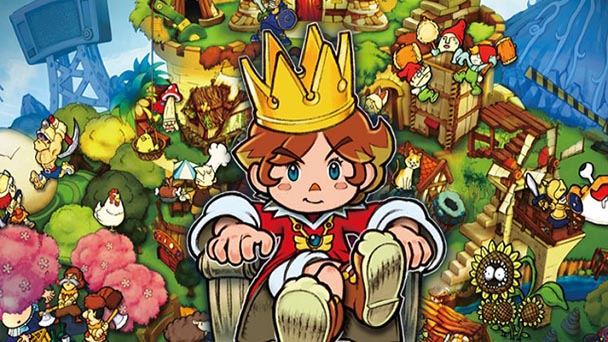 From a trio of 16-bit era Disney classics to a PC port of Little's King's Story the 2009 amalgam of real-time strategy, simulation, and role-playing elements, this week's schedule of new game releases has a number of notable titles. But arguably, the most anticipated effort is Guildford-based Hello Games' No Man's Sky. A procedurally-generated sandbox with over 18 quintillion planets, Sky hopes to provide every gamer with a completely unique play experience. Unfortunately, it looks like PC owners will have to wait until the twelfth to begin their space expeditions.
Header image: Little King's Story, PC
PlayStation 4
Breach & Clear: Deadline (PSN, $19.99)
No Man's Sky (retail and PSN, $59.99)
Indigo Prophecy (PSN, $14.99)
OlliOlli: Epic Combo Edition (retail, $29.99)
Wii U
Dragon Skills (eShop, $7.99)
Overworld Defender Remix (eShop, $5.99)
Pokémon Ranger: Shadows of Almia (eShop, $9.99)
3DS
Stickman Super Athletics (eShop, $2.49)
PC (via Steam unless noted)
A Week of Circus Terror ($TBA)
BlackSmith HIT ($TBA)
Blade Ballet ($TBA)
Disney's Aladdin (GOG, $8.99)
Evil Robots From N1M ($TBA)
Extreme Forklifting 2 ($1.59)
Framed Wings ($TBA)
Grand Pigeon's Duty ($0.98)
Konrad the Kitten ($6.99)
Lethal Brutal Racing ($5.39)
Little King's Story ($22.49)
One Night Two Crazies ($TBA)
Platformica ($TBA)
Random Access Murder ($TBA)
Ray Gigant ($TBA)
Reptilian Rebellion ($TBA)
Road to Balhalla ($14.99)
The Jungle Book (GOG, $8.99)
The Lion King (GOG, $8.99)
Valkyrius Prime ($TBA)
World VR Competition ($11.99)
Robert's Pick: With centerpiece showings at the 2014 and 2015 Electronic Entertainment Expos, dozens of previews extoling the game's scope and autonomy, the push surrounded No Man's Sky has reached a fever pitch. Naturally, when something gets hyped to the stars and back, there's the inevitable backlash, which the game is currently experiencing in the days leading up to the release. Hopefully, the reports of instability and brevity are eager grasps at online attention. But even if there are merit to the claims, Sky's sense of ambition is intriguing. Personally, I'd rather reward lofty ambition with a few flaws than a carbon-copy sequel.