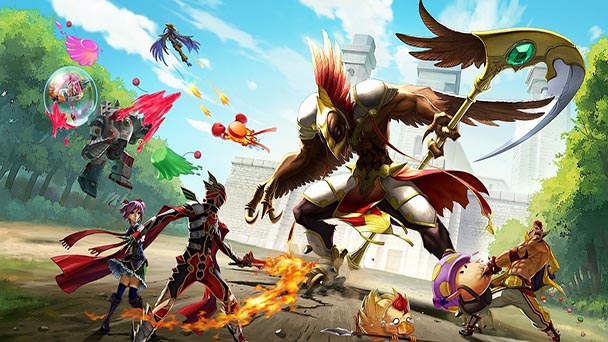 In Hollywood, January and February are known as 'dump months', the period which follows the lucrative holiday season, where lesser-known or low-budget films are released. In the game industry, a similar period has customarily existed between Black Friday and continuing through mid January. That said, a few publishers are betting on the interactive equivalent of counter-programing, releasing titles into an arena seemingly devoid of cutthroat competition. One of the best examples of this is Nintendo, who scheduled Captain Toad: Treasure Tracker, NES Remix Pack, and Ultimate NES Remix next week. For this week, the company is betting on the availability of a large number of digital releases for Wii U and 3DS systems.
PlayStation 3
Kingdom Hearts HD 2.5 Remix
PlayStation 4
Secret Ponchos (PSN, Free for PS+)
The Crew (also on PSN, $59.99)
Wii U
GetClose: A game for RIVALS (eShop, $4.99)
Heptrix (eShop, $1.99)
Mario Pinball Land (eShop, $6.99)
Mighty Final Fight (eShop, $4.99)
Shiny The Firefly (eShop, $6.99)
Thomas Was Alone (eShop, $10.99)
Xbox One
The Crew (also on XGS, $59.99)
3DS
Chat-A-Lot (eShop, $7.99)
Mighty Final Fight (eShop, $4.99)
My First Songs (eShop, $4.99)
My Life on a Farm 3D (eShop, $19.99)
PS Vita
Fantasy Hero: Unsigned Legacy (PSN, $TBA)
Final Horizon (PSN, Free for PS+)
PC
1Quest (Steam, $TBA)
Club Manager 2015 (Steam, $TBA)
CubeZ (Steam, $TBA)
Game of Thrones: A Telltale Games Series (Steam, $26.99)
Lumino City (Steam, $TBA)
Potatoman Seeks the Troof (Steam, $TBA)
Myths of Orion (Steam, $TBA)
Neocolonialism (Steam, $TBA)
Reverse Side (Steam, $TBA)
Rugby Union Team Manager 2015 (Steam, $TBA)
The Crew (Steam, Uplay, $59.99)
The Deer God (Steam, $TBA)
Robert's Pick: If you're looking at this and wondering "what in the hell happened to all the PC releases?", the short answer is we are in the midst of the Steam Exploration Sale that's running through December 2nd. Undoubtedly, there are some great deals to be found, with a number of requisite titles at up to seventy-five percent off, so I'd have to recommend picking up any titles that you've had your eye on. As for me, I'll be adding Total War: Rome II, Endless Legend, and probably more than a few other impulsive pickups to my digital library.