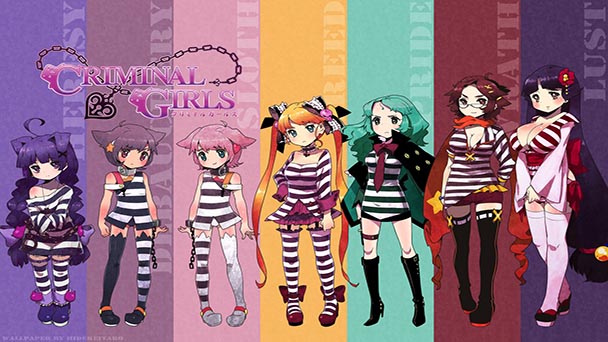 I can't help but feel a smidgeon of culpability for the stateside appearance of Criminal Girls. Several years ago, lascivious PS Vita games like Monster Monpiece, Akiba's Trip: Undead & Undressed, and Senran Kagura: Shinovi Versus seemed like inconceivable releases for puritanical Western gamers. As such, meetings with NIS America representatives were routinely punctuated by a flippant enquiry of when Imageepoch's mix of beast slaying and impish sadism would get localized. At last year's Anime Expo, the Santa Ana-based publisher rode the sea-change of suggestiveness, announcing that Criminal Girls: Invite Only, a remake of the original PSP title, was headed toward the U.S. Excitement quickly metamorphosed into fear, as players expected much of the game's more risqué content to be excised. Fortunately, it's mostly there- with fan service shrouded behind a perplexing and seemingly sound-proof, pink curtain.
Farcically, the game's premise draws just as much from Dante Alighieri's Divine Comedy as it does from good-humored harem echi. Players assume the role of a nondescript guide, tasked with directing a troupe of seven deceased maidens afflicted with faulty DNA. Unfortunately, this defective double helix strands makes the girls candidates for delinquency.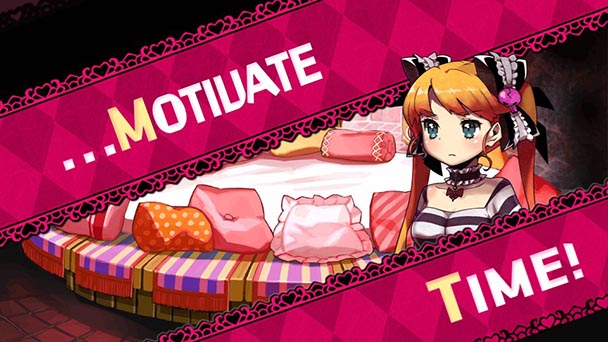 On the bright side, the team's potential for redemption offers a slim opportunity for liberation if players can usher the girls through the four boroughs of the underworld. Doing so won't be easy, with players confront not only with a regular succession of random encounters, bosses, and light puzzles, but also convincing the girls that salvation is found in obedience and an ample supply of punishment. As such, Invite Only's storyline is a faultless setup for a rewarding character arcs.
While the septet of standoffish ladies might evoke familiar tropes, there's some interesting quirks to be found in Criminal Girls' depiction of the seven deadly sins. Ran is the embodiment of anger, a tomboy likely to punch any male who gets in her way, while Shin's prodigious intelligence makes her unnaturally prideful. Meanwhile, Alice is the resident weirdo, an unabashed introvert who speaks in truncated phrases and alludes to beings that might be imaginary. Invite Only habitually capitalizes on these traits, offering dialog that might not always produce audible laughs, but is consistently amusing. One element that is quite comical is the role Miu. As your superior officer, she likes to bookend every exchange with an insult and slap.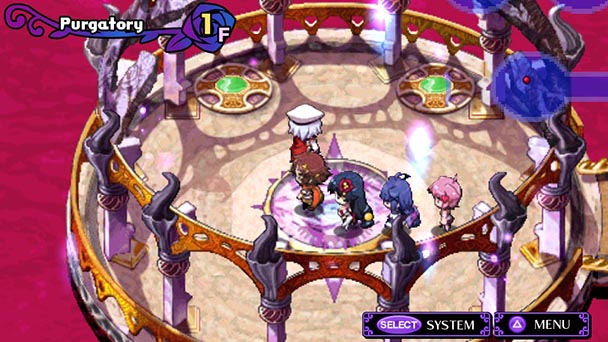 When you first meet a part of the antisocial pack, disdain is evident, with the girls unwilling to even follow the player through the netherworld. Cleverly, this isn't just a plot device, but plays into one of game's core components: combat. In most games, players micromanage every action of a party members, as each individual automatically follows orders. With Criminal Girls, this tenet is turned on its head. In battle, each girl suggests a suggested move, extending an invitation to do things like attack, heal others, steal treasure, guard, or using a magic spell. Each turn, players decide which girl's actions should be executed, as well as whether an item should be used or whether a girl should be switched with a member of the secondary team.
In should be noted that the delinquents aren't exactly delighted with the prospect of authority. At first, a majority of your team refuses to even attack, defiantly watching battles. As such, each girl needs provocation, which is "nurtured" by a trip to the motivation room, where the collected points are used for rounds of attitude adjusting punishment. After selecting a type of motivation and an option, players are ushered toward a mini-game, where the application of castigation is administered. Successfully completing these mini-games help level up the girls in a variety of areas, essentially adding to their pool of combat options.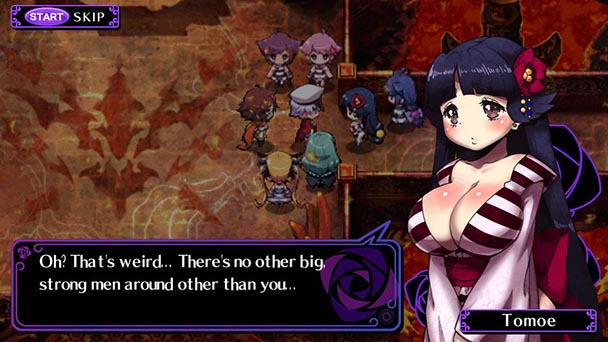 Essentially, reprimanding asks gamers to whip, spank, or electrocute the girls by tapping and drawing on the Vita's touchscreen. At first, reproach starts off easy, which a finger applying a flail to an icon. Soon, things get trickier, with the game demanding simultaneous front- and rear-touch, diagonal swipes, or tap and hold maneuvers. Over time, the difficulty intensifies, as gamers have a shorter period to execute an escalating number of punishments.
While these are unquestionably one of the main draws of Criminal Girls, the specter of Western censorship alters these segments. Some of the adjustments are minor, such as the zoom applied to some of the cosplaying lolitas, which help to push some of the more objectionable body parts off-screen. Slightly more noticeable is the veil of cherry-colored steam which obscures the mini-game. Although the condensation gradually dissipates, since it's mostly translucent, the addition seems unnecessary. Worse is the comprehensive elimination of sound bites from the whipping and spanking. With the absence of whimpers and cries, now the girls seems unaffected by your chastisements, embowing the mini-game an inadvertently creepy feel.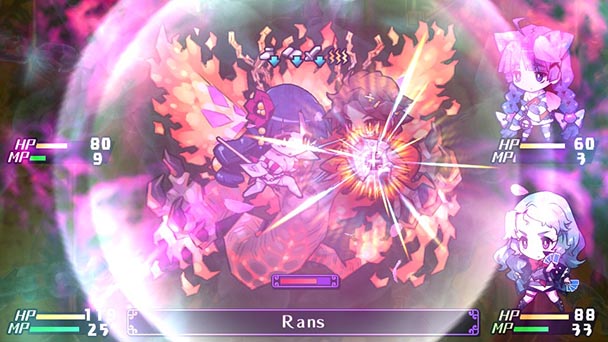 On the upside, Invite Only's other components remain untouched. Aiding by an on-screen mini-map, dungeon skulking is largely enjoyable, as players complete both main missions and the occasional side-quest. They'll encounter the occasional blockade that needs opening, which helps to keep the party advantaging into areas that are above their current stat levels. When conflict does erupt, the title's battle system encourages experimentation, since players can't fall back on a proven technique. Instead, they are at the mercy of the girl's motivational level, removing conventional min/max strategy from combat.
For the most part, Criminal Girls handles this admirably, offering the option to heal and guard at the proper times. Strategy lurks in the affinity system, with players able to nature connections between the budding convicts. Regrettably, the combat system isn't quite as effective in boss battles, where major strikes are almost always telegraphed by a power-charge.  A second blemish can be found in the inability to fast-forward through battles, as Invite Only likes to exhibit each deduction of HP. As such, the pleasure of regular random encounters is diminished by the plodding pacing.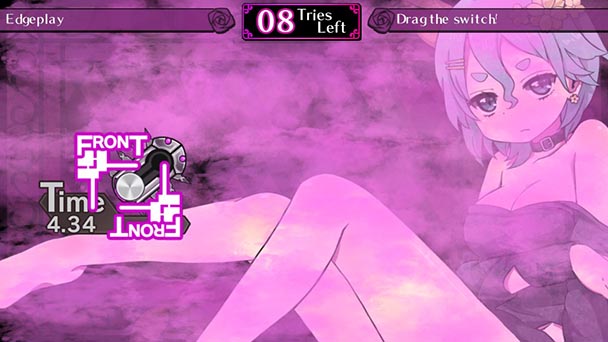 Visually, Invite Only eschews any polygonal rendering, using super-deformed sprites to represent the party during dungeon crawls. Although the method might not sear retinas, the aesthetic does have its charms, evoking the 32-bit generation of gaming. Two dimensional character portraits, battle avatars, and reprimand recipients are rendered with more fidelity, helping bring the girls to life. While the game offers only a subtitled Japanese voiceover, the acting is delivered quite well, offering a number of comical quips. Musically, the title offers a gamut of melodies, from plodding dungeon dirges to high-spirited post-battle fanfares.
Despite some blemishes with the original games and a few additional transgressions with the localization, Criminal Girls: Invite Only remains a diverting journey through the underworld. Sure, the game's battles might be plodding, but the pace might be forgivable for those hoping to experience a bit of Eastern-influenced kink. It's just a shame that NIS America didn't push the envelope a bit more, as it stands bowdlerizing the girls isn't criminal, just a bit discouraging.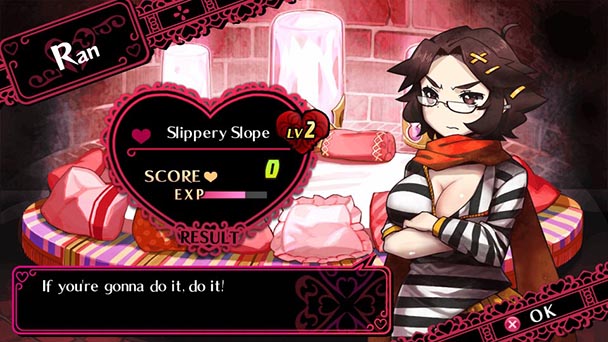 Criminal Girls: Invite Only was played on the PS Vita with review code provided by the publisher.
Criminal Girls: Invite Only
Platform: PS Vita
Developer: Imageepoch
Publisher: NIS America
Release date: February 3rd, 2015 (US)
Price: $39.99 via retail and PSN
ESRB: Mature
Review Overview
Summary : By default, Criminal Girls: Invite Only is the best spanking simulator on the PS Vita. The rest of the game shows moments of promise in the battle system and characterization.