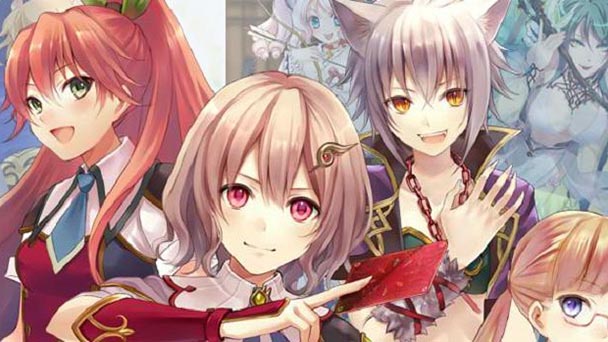 Periodically, it seems developers enjoy putting players in embarrassing situations. From Feel the Magic: XY/XX's simulated CPR, which prompted gamers to blow into their DS microphones to No More Heroes' beam katana recharges that forced us to jerk our Wiimotes and Move controllers in a suggestive manner, we've been asked to perform some pretty awkward acts. Undoubtedly, the recent release of Monster Monpiece for the PS Vita will be remembered as the game that encouraged a bit of simulated self-pleasure in public. Certainly, for snobbish players this obligation will undoubtedly be a deal breaker. But for those who can glean humor in this silly and unapologetically sophomoric leveling up system, Monpiece proves to be an engaging card battler as well as a fountainhead of indulging fan-service.
A perfunctory scrolling text-based sequence expresses the game's backstory, articulating a shifting tide of tensions between mankind and monster in a realm called Yafaniel. Long ago, humanity's ruthless dominance was punished by the release of monsters into the world. When these beasts began committing atrocities of their own, they were castigated and forced to live in the bodies of humans, thus limiting their powers and sowing the seed for an alliance between the two factions. Realizing the potential for a symbiotic relationship, academies began to emerge, where humans learned to utilize the abilities of beasts through card-based battles.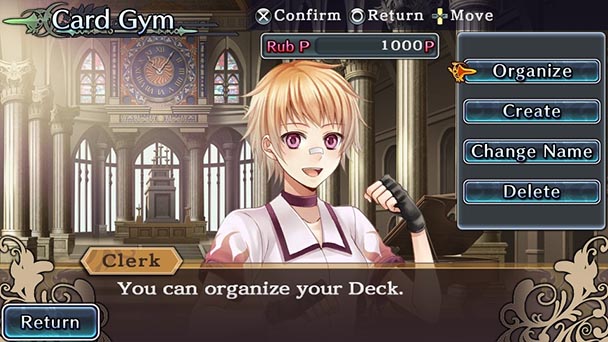 The game's plotline extends a quartet of likable principals, with character development and exposition handed through mercifully germane and adeptly localized dialog sequences. Within the first half-hour the game reveals the substance of its storyline- which involves the self-actualization of a second-guessing character as well as another protagonist becoming cursed, thereby endangering Yafaniel's fragile balance. While the plotline's trajectory is fairly predictable, that decision proves to be beneficial, allowing gamers to devote their attention to Monpiece's combat component.
Moving along an overworld map of networked nodes, players encounter locations which bestow currency, cards, conversation, or combat. The latter transports gamers to a seven by three grid, with ally and enemy bases located on opposing peripheries. Drawing from a mana pool, each opponent takes turns placing monster cards on their section of the battlefield, with their selection transforming into four types of characters: melee, ranged, healer, and buffer units. Naturally, sword swinging melee characters have strong attacks against an enemies in an adjacent square, while ranged units carry bows which allow them to pierce outlying opponents. Meanwhile, healers and buffers function as supportive units, restoring health or improving the power of attacking characters directly in front of them. Remarkably, units aren't locked into a singular position on the grid, and if there's no enemy in front of them- they'll advance toward their rival's headquarters. Allowing a unit to reach the enemy endzone deducts hit points- and enough are HP are removed, the owner of the besieged base loses the match.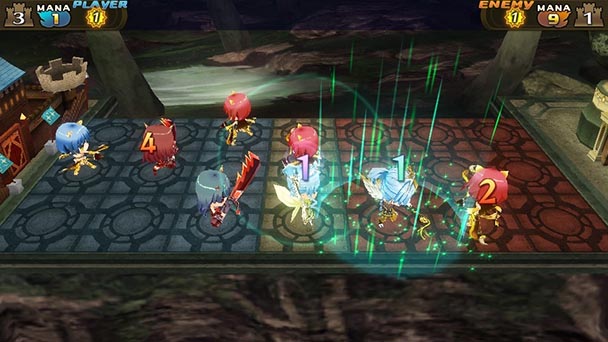 Wisely, Monster Monpiece doesn't frontload explanations of additional mechanics, favoring a slow tickle of instruction. Gradually, players will discover many new nuances, from the ability to fuse together two of the same units into a statistical powerhouse to bonuses bestowed by laying down a succession of multiple cards of the same color. While Monpiece forsakes the customary non-character boost or burn cards, the game does provide nuance in two types of unit skills as well as customizable item usage. Largely, the title does a great job at educating the player without having to sift through a torrent of tutorial screens. Likewise, the game's learning curve is especially generous, leisurely increasing the level of challenge so players won't collide into an impenetrable wall of challenge. For gamers who'd prefer to confront online contestants, Monpiece offers an online component to determine the effectiveness of your deck building and strategic approaches.
Whether enjoying the lengthy single-player campaign or facing opponents online, constructing an effective collection of cards is undeniably advantageous. Pleasingly, customization imposes only three limitations: your deck must have between thirty and forty cards, can have no more than three of the same units and must have no more than three rare-ranked cards. Mirroring combat, players can use either the touch screen or directional-pad (strangely, the analog stick is limited to map navigation) to assemble their deck, while the intuitive interface allows for straightforward grouping and sorting options. Thoughtfully, gamers can built, name, and tweak a number of separate decks, allowing for a multitude of strategic approaches.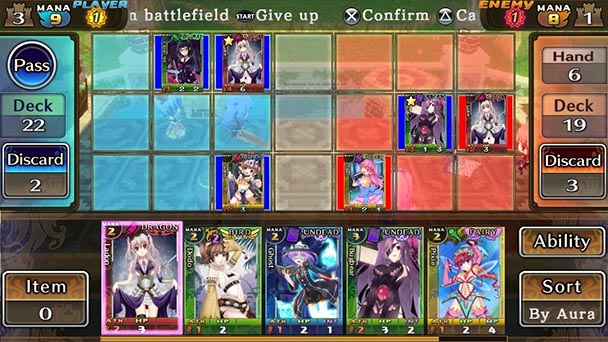 Once players enter the game's second chapter, they become privy to First Crush Rub. Here players can increase the stats of any of the cards by paying a premium of in-game currency (compassionately, Monpiece shirks any in-app purchases). Once a card is selected and the proper price is paid, a timer gives gamers a limited amount of time to increase a tension gauge. Stroking, tapping, and pinching in certain erogenous zones (using both front- and backtouch) issues an eruption of hearts, stars, as well as orgasmic utterances, elevating the meter. Successfully locating and lavishing the amorous areas can summon Otton the self-proclaimed "wandering panty hunter" Seal of Monpiece sequel Moero Chronicle for a mode referred to as Extreme Love mode, where the gauge's summit can be reached faster. Reaching this apex not only increases a card's base stats, but has the side effect of removing a few articles of clothing. Solitary gamers would be aware that some cards require a seal stone to rub, which can only be optioned through ad-hoc or online battles.
In execution, First Crush Rub requires some vigorous stroking, making the mode a bit unsuitable for public play. Fortunately, Monster Monpiece never forces to play the mini-game at a specific time, meaning you can rub away in the confines on your own home. For those absolutely opposed to the idea of stroking their system, there is a power-up which allows players to power-up without tarnishing their touchscreen.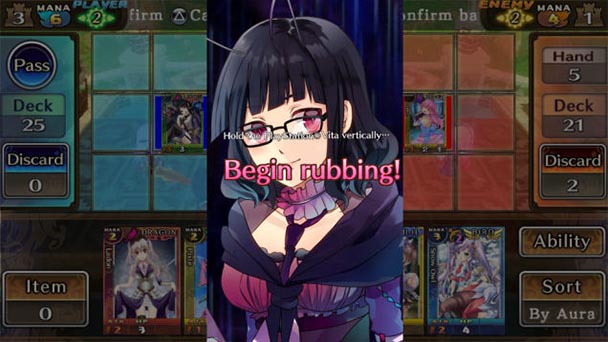 Compile Heart's console offerings are often plagued with graphics hitches, such as low-resolution textures and sluggish framerates. Thankfully, Monster Monpiece reveals few of those snags, save for a tiny bit of lag amidst the end game explosion. When displaying 3D models on the PS Vita's screen, the game is competent- but the visual quickly elevate into risqué elegance once the title's card portraits are displayed. From a maiden/monster who gradually steps out of her the confines of her kappa costume, an captivatingly cute antgirl, several shimapan showing characters, and even cameos from Compile's other titles, the game is nothing short of a visual feast, exhibiting the prowess of a number of Japanese artists. Although Monpiece's sonic palette isn't quite as prodigious, the game does provide a span breadth of ear-pleasing musical styles.
Monster Monpiece's signature mechanic is a double-edged sword. On one hand, it's poised to provide the game with a great deal of attention, few games have you stroking lolis until their clothes come off. Alternatively, the hook isn't really representative of the other ninety percent of the game, which is an otherwise innocuous collectible card battle game fueled by a contenting storyline. Chances are, most otaku will be delighted by Monpiece's premise, making this quirk title an easy recommendation.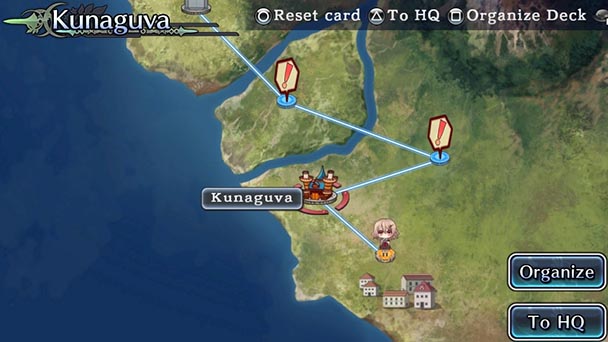 Monster Monpiece was played on the PS Vita with review code provided by the publisher.
Review Overview
Summary : If the idea of Magic the Gathering outfitted with a lavish quantity of moé sounds good, you'll want to pick up Monster Monpiece immediately. Although hardly revolutionary, the game's impish charms and solid mechanics are bound rub fan-service enthusiasts just the right way.