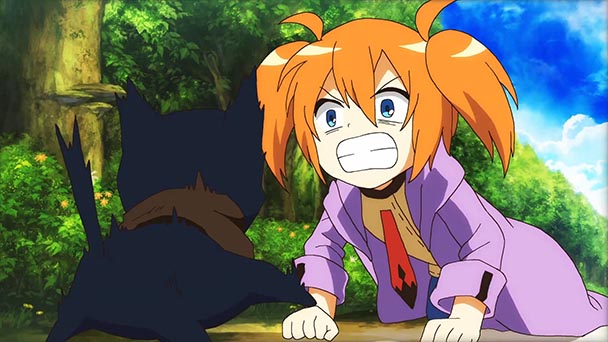 With titles like Clannad HD Edition, NEKOPARA, and WORLD END ECONOMiCA, Los Angeles-based Sekai Project is probably best known for their localizations of popular visual novels. But gradually the publisher has been striving to expand their catalog, moving into the action and puzzle genres with games like Rabi-Ribi and Reverse x Reverse. With the Steam release of Resette's Prescription ~Book of memory, Swaying scale~ Sekai diversifies even further, offering a distinctive point-and-click based blend of plot and puzzle that is likely to draw comparison with Level-5's prodigious Professor Layton series.
A brief set-up demonstrates the tension between feisty protagonist Resette and her feline assistant Gaede, as the famished frienemies make their way through a dense forest. Following an impassioned exchange, the lead character kicks her companion, launching Gaede on a high tree branch. From the elevated vantage point, the cat spies a food-carrying traveler, and strikes a deal with Resette, offering to divulge the wanderer's location if she rescues him.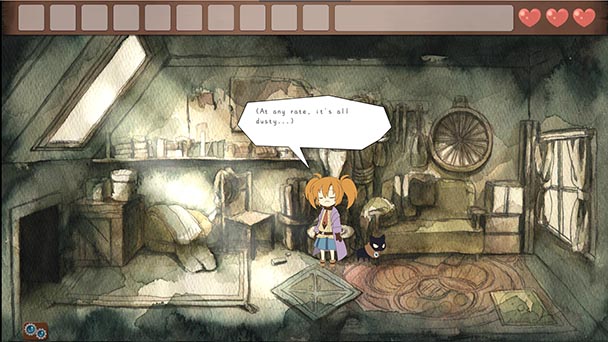 Following Prescription's introductory brainteaser, the pair find the young boy passed out. Auspiciously, Resette is versed in the metaphysical, and the two jump into the unconscious lad's psyche, which takes the form of an enormous library. Each memory is part of a book, and the precocious para-physician determines that by skulking around in the cerebral collection she can help the ailing Achille overcome his condition.
Play is divided into a three components. The first, drives the plot along, with the interplay between Resette and Gaede providing light comic relief as the two bicker like a long-married couple. For some, the shtick might wear thin before there's an inking of character actualization, with the exchange of pun-downs being Prescription's main method of exposition. Fortunately, when the plot reveals more about Achille, the game becomes more compelling.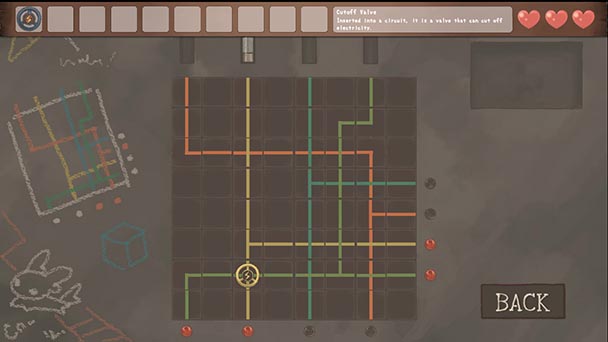 Navigation can also exhibit a bit of insipidness. Using the mouse pointer, players direct the on-screen character through traversable areas, with a boot icon revealing accessibility. Once Resette or Gaede is adjacent to an interactive object, the cursor changes into a quill. For items that can be acquired, Resette's Prescription follows convention, offering an item tray where players can store and select objects for interaction. Although mostly effective, having to guide the character from point to point can make things seem dawdling, at least until players increase the game's speed. Hover areas also seem small, forcing participants to mouse around areas of interest a bit.
But beyond these two components, Resette's Prescription shines with its succession of conundrums. The basis for these posers are rooted in a variety of disciples, from mathematics to logic. Depending on your critical thinking skills, each enigma can take anywhere from several minutes to a quarter hour to solve. Unlike Layton, which contained a currency-based hint system, there's no assistance here, which could possibly induce a bit of frustration. But if you're well-rested and feeling invigorated, Book of memory, Swaying scale's puzzles are gratifying, especially when you feel yourself inching toward the solution.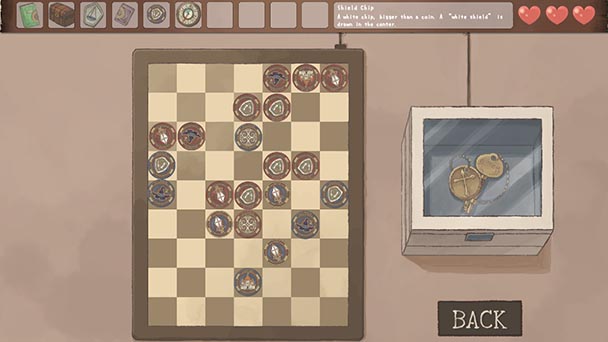 With deliberately hand-drawn aesthetic cast in vibrant, happy, hues Resette's Prescription is poised for comparison with Studio Ghibli's body of work. Although developer Liz-Arts doesn't endow the game with a wealth of animation, emotions are well-expressed, with characters offering a pleasing range of facial expressions and postures. Comic-style speech bubbles convey the conversational bits- and while Sekai Project's translation is solid, text positioning inside the symbol can be skewed. One of the game's best elements is its score, extending a playlist of poignant tracks which are crucial in creating the game's tone.
With a playtime of three to four hours, Resette's Prescription ~Book of memory, Swaying scale~ extends a equitable cost-to-content proposition. Players enamored by puzzlers, especially those who appreciate anime-inspired visuals are encourage to give the title a try. Although the game has a few issues, Resette's Prescription might just be the cognitive remedy you're hoping for.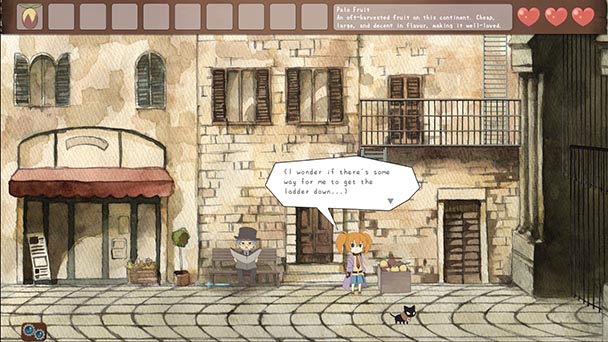 Resette's Prescription ~Book of memory, Swaying scale~
was played on PC with review code provided by the publisher.
Resette's Prescription ~Book of memory, Swaying scale~
Platform:
 PC
Developer:
 Liz-Arts
Publisher:
Sekai Project
Release Date:
 May 30th, 2016
Price:
$12.99 via
Steam
, $11.69 through 6/6/2016
Review Overview
Summary : Sekai Project' latest is an attractive point-and-click puzzler poised to pacify players seeking to solve Professor Layton-style brainteasers.