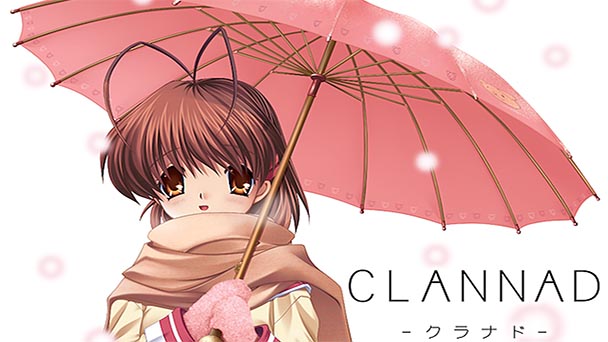 There's good reason why Clannad remains relevant nearly eleven years after its original release- the visual novel's emotionally charged plot has lost none of its impact during the interval. What begins as an unassuming high school romance story, gradually grows in consequence, offering a poignant portrait of how tribulations can affect a person's disposition. Later, the novel's ambitions intensify even more, with Clannad exploring the dissonance between the innate transmission of behavior across generations and a deliberate decision to break the tragic cycle of dysfunction.
Given the heady subject matter and the sophisticated way the material is approached, it's little wonder than Clannad has spurred its own industry, generating light novels, anime, manga, each medium offering its own distinctive interpretation of the original work. Given the significance of the work, it's surprising that the Clannad's multitude of story arcs hasn't been given an officially sanctioned, localized release in the U.S. But thanks to Sekai Project (Sound of Drop – fall into posion -, G-senjou no Maou- The Devil on G-String) that transgression has been rectified.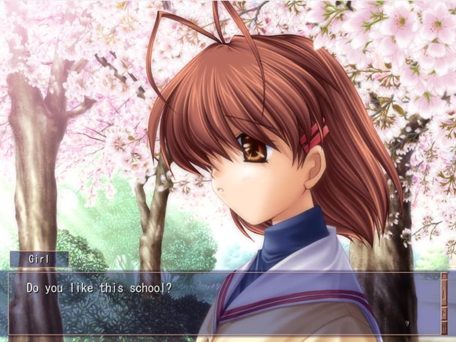 Upon completion of the 5.15 GB download from the Steam client, readers are introduced to protagonist Tomoya Okazaki, as he listlessly makes his way to school. With most of his colleagues already in their classrooms, he takes notice of Nagisa Furukawa, a young girl who was forced to repeat her final year due to lingering health complications. Initially, the two seem like an uneasy pair, with Tomoya's delinquent demeanor cultivating a small, but strong social circle, while Nagisa is noticeably withdrawn.
As heartwarming tales frequently demonstrate, the unlikely pair develops a symbiotic relationship. Nagisa's dream is to revive the school's drama club, which endows Tomoya with a determination lacking is his educational and vocational endeavors. Typical for the medium, the protagonist doesn't have to settle for Nagisa, with Clannad's School Arc offering a selection branching relationships determined by player decision.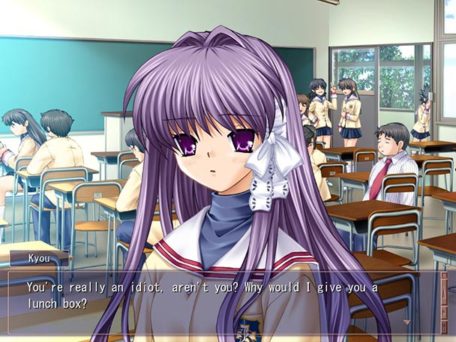 Each path not only offers exposition for each one of the novel's characters, but also gives insight into the lead's troubled past. Initially, players might find it a bit difficult to empathize with Tomoya, but steadily we're given pieces of his backstory, and develop an appreciation for the protagonist, mirroring the standpoint of the game's leading ladies. While not being heavy-handed, Clannad's message of growth cultivated through the benevolence of others, will reverberate long after the first arc is completed.
And if the School Arc represented the entirety of the game, Clannad would be worthwhile, but not quite essential. It's the After Story plotline that really plows poignancy, showing Tomoya married and with a child. While it's widely known that Clannad is a tear-jerker, most accounts don't articulate the amount of emotional impact the novel has in store. Given the quality and quantity of characterization, it wouldn't be an exaggeration to call Clannad one of most moving VNs ever made.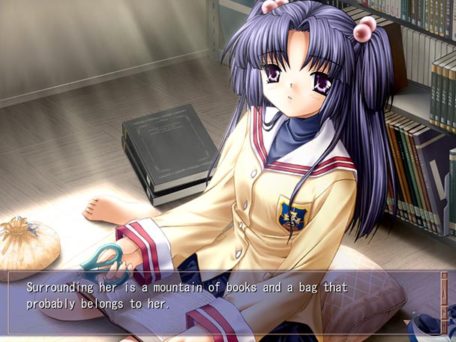 Unfortunately, a few elements detract from the overall experience. Most troubling is the method of witnessing the novel's true ending. Playing through each of Clannad's narrative branches is necessary to obtain orbs of light, which represent actualization for each character. Until enough of these spheres have been collected, the After Story will be locked away. Once players journey through the second major arc, multiple playthroughs will be needed to achieve closure of the events. While the conclusion delivers a substantial payoff, the journey is diminished by the obligation of playing with a FAQ handy, which is essential not only for the proper in-game responses, but will also alert readers to the sequential order needed to advance one plotline.
Certainly, Clannad's distinct art style is poised to impede immersion for those accustomed to contemporary aesthetics. Characters are drawn with enormous eyes, reminiscent of mid-grade, '90s anime, making the VN seem quite dated. While players might eventually come to terms with the visual design as focus is shifted to a character's personality, the look of Clannad's cast can be jarring. Fortunately, Sekai Project has given to makeover to the novel backdrops which now sport a 960p upgrade. As such, fidelity is pleasing, with details showing few of the side-effects that accompany corner-cutting upgrades in resolution.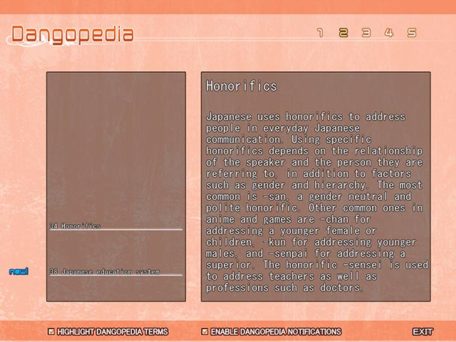 Pleasingly, Clannad runs well on nearly any PC, showing no performance hitches when playing on a modest tablet or a meager Asus X205TA. Players have full control over screen size and resolution and are able to charge the color of the dialog window background. They can even toggle the Japanese voicework for any of the twenty characters, but there's little reason to mute it, the dialog is consistently well-delivered. For the localized version, Sekai even created a "Dangopedia" to help those unacquainted with some of the terms that Western readers might be unfamiliar with. The only real omission is the lack of any Mac support, leaving Apple aficionados unable to enjoy the title.
Although some might balk at Clannad's fifty dollar MSRP, there's a plethora of story and sentiment to be found in the download. Simply put, the novel is one of the most moving experiences in the medium, and should be experienced by VN fans. While the price might seem lofty, you're getting as much literature as the entire Harry Potter series, as well as some attractive CGs and a soundtrack that converges on the exquisite.
Clannad was played on the PC with review code provided by the publisher.
Clannad HD Edition
Platform:
PC
Developer:
VisualArts, Key
Publisher:
 Sekai Project
Release date:
November 23rd, 2015
Price:
$49.99 via
Steam
, Currently on sale for $42.49
Review Overview
Summary : Release over a decade ago, Clannad's storytelling prowess has not been topped. This is one of the medium's seminal works, and is an obligatory effort for VN fans.