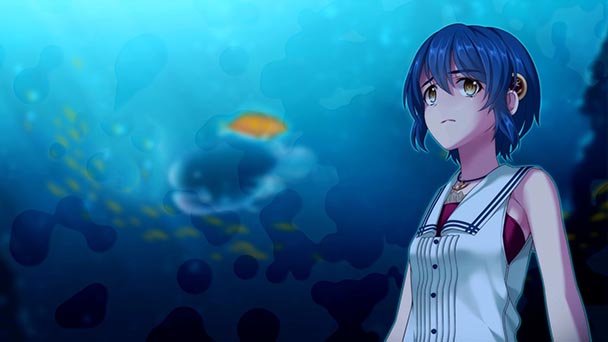 Good horror has the ability to transform the conventional into something quite scary. Whether it's The Texas Chainsaw Massacre's ability to make the rural seem menacing, Ringu's haunting representation of past technologies, or Final Destination's fatalities by way of benign household objects, the genre often finds menace lurking within the innocuous. In Sound of Drop – fall into poison – (Shizuku no Oto), threat lingers at the nearby Aozora Aquarium, an exhibit hall that's nestled in the heart of Tokyo.
Typically, aquariums emit feelings of tranquility and an appreciation for nature. Giant tanks radiate a soothing azure glow, as marine animals glide by, offering a sanitized, safe portrayal of underwater life. But in this remastered version of AiueoKompany's inaugural doujin, the venue possesses an unsettling legend. If lore is to be believed, on nights of a full moon people disappear in tanks of crimson-colored water, fish with human faces swim about, and purportedly- attendees who visit a specific exhibit mysteriously disappear.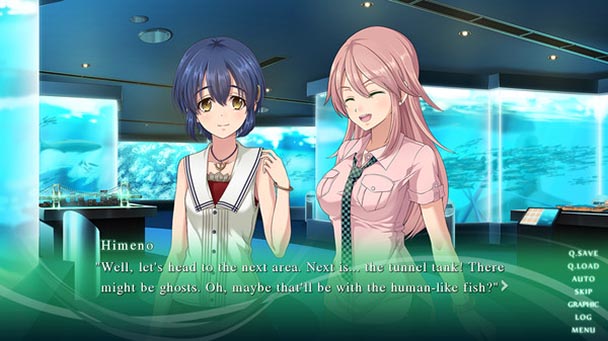 Our chaperones through the Aozora Aquarium represent the customary divergent personalities. Middle schooler Himeno Tamagawa is an energetic and excitable- and is drawn to the location by an ardent curiosity of the alleged events. Mayumi Nakanobe, on the other hand, is a prototypical introvert, reluctant to visit the Aquarium after she was affected by an incident that had happened when her family visited five years earlier. While there's not much room for crafting an elaborate, fulfilling character arc in the novel's three-hour time span, a mounting sense of dread is capably constructed.
Sound of Drop's journey is dotted with branching paths. Out of the thirty-one possible outcomes for the protagonist, the majority are what are referred to as 'bad ends', delivering conclusions which range from the dour to the downright dark, as the duo navigate the aquarium's evocative interiors. Narratively, Mayumi's actions might seem impulsive, but like many works in the horror genre- her recklessness is used to push the protagonists into peril. While her behavior might not reflect the most logical of actions, there's a discomforting sense of dissonance as she we observe her flirting with a precarious fate.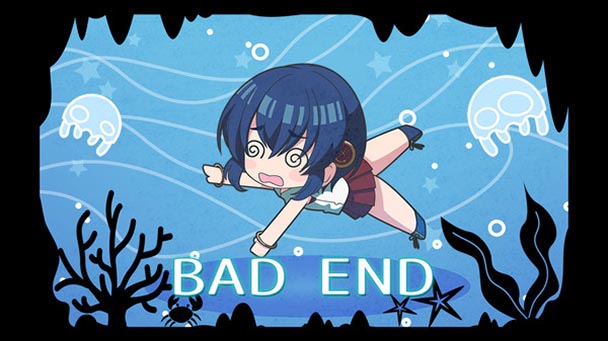 But her flights of imprudence aren't without payoff, with errant decisions often having deadly repercussions. While some might be saddened that Sound of Drop doesn't quite live up to the warnings of graphical violence delivered on the visual novels' opening screens, discretion isn't without merit. Although there are some visual depictions of bloodshed, often the novel uses text-based description and sound to conjure up imagery far more gruesome that a still image could muster.
Completing the vividly-described viscera are sound effects that ratchet up the unnerving sense of apprehension. As such, it's recommended that you make your way through the title with a pair of sound-isolating headphones. Although the novel's soundtrack contains a few aural missteps, with truncated tracks that loop too soon, most of the game's music helps cultivate the mood- whether it's a soothing piano melody, or an inharmonious piece that signals threat. The one real aural transgression is Sound of Drop's lack of voice acting; hearing the novel's conversations and screams could have elevated the emotion of the story.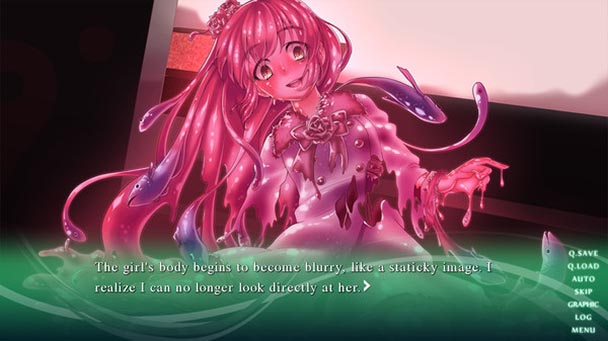 Visually, the title largely excels. Although the title has a limited cast, each is well-drawn and displays a reasonably-sized range of emotions. Flourishes like a gradient transition region around the dialog box might seem trivia, but present a sense of polish. Likewise, the novels CGs are attractive while not wilding divergent from the detail exhibited by the portrait art. Sporadic screen effects help to offset the tedium of text, while not seeming too jarring.
Given that most of Steam's current selection of visual novels focus on romance, Sound of Drop – fall into poison is an appreciated addition, demonstrating the medium's capacity to transcend humorous harem romps and quixotic otome. Pick it up and you'll likely find yourself absorbed on your monitor, as each imminent decision inches you through a harrowing minefield of mortality.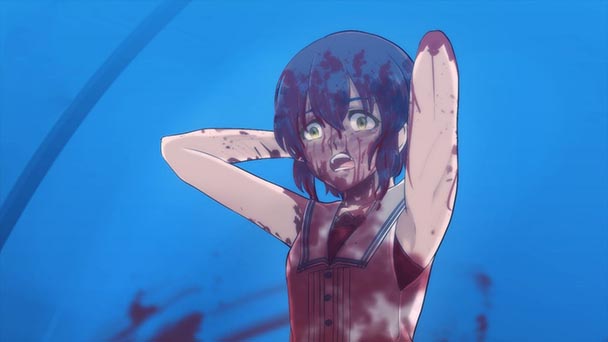 Sound of Drop – fall into poison – was played on the PC with review code provided by the publisher.
Sound of Drop – fall into poison –
Platform:
PC
Developer:
AiueoKompany
Publisher:
 Sekai Project
Release date:
October 30th, 2015
Price:
$12.99 via
Steam
Review Overview
Summary : Sound of Drop – fall into poison – casts readers in the lead of a brooding, enigmatic J-horror adventure. As such, genre fans won't want to overlook Poison's well-crafted expedition.