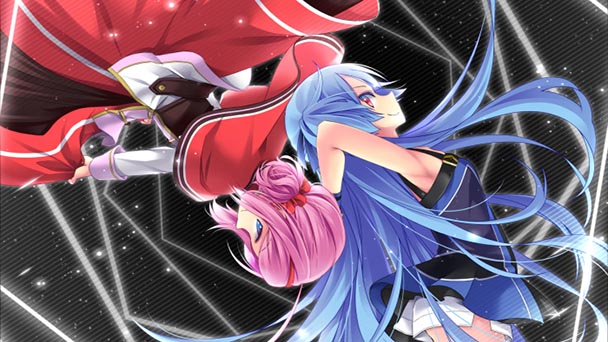 Twice a year, over a half million otaku converge on the Tokyo Big Sight convention center for Comiket, the world's largest dōjinshi fair. While manga, music, light novels, and handicraft undoubtedly dominate the show, navigate through the swarms of shoppers and you'll find a room devoted to games. Not long ago, the general quality of these fan-crafted efforts was a bit middling, with players having to look past unadorned visuals and simple mechanics. But progressively, dōjin games have been making advancements (exhibited in this compilation trailer from last December's convention), with hardworking development circles converging on the quality of professional releases.
Sold at Comiket 81, Tobari and the Night of the Curious Moon (Fushigi na Tsuki no Yoru no Tobari) demonstrated the potential for fan-made games. Blending Super Mario Bros. styled platforming with the ability-thieving capability that pushed Kirby into popularity, the game felt like a lost gem from the sixteen-bit era. Reuniting Desunoya with the localization duties of Sekai Project, the recent Steam release of Reverse x Reverse persists the circle's love for platforming.
But whereas Tobari paid tribute to gaming's Golden Era, Reverse x Reverse is focused on creating a distinctive play experience. A prologue introduces players to the inseparable duo of Code and R, two anthropomorphic code analysis tools. Luckily for gamers, the two aren't just a collection of plain plugins, taking on the appearance of two kawaii girls with a dialectical rapport. While their communal goal of collecting disks unites the two girls, their divergent personalities provide the energy for plenty of whimsical banter.
Each of the game's 81 levels offer a well-defined rule set. Stages are all split in the center of the screen with and start with Code on the top half, while Rithm's world is inverted below. Using the keyboard or a controller, players can control each protagonist separately, gradually moving toward the Big Disc. If this grey circle is touched by either girl before a time limit expires, both heroines are ushered to the next stage. Button presses allow you to switch control between the girls, or alternatively move both at the same time. To keep the game from being excessively punishing, only one of the heroines under direct control can be harmed by one of the wandering monsters culled from Tobari's bestiary.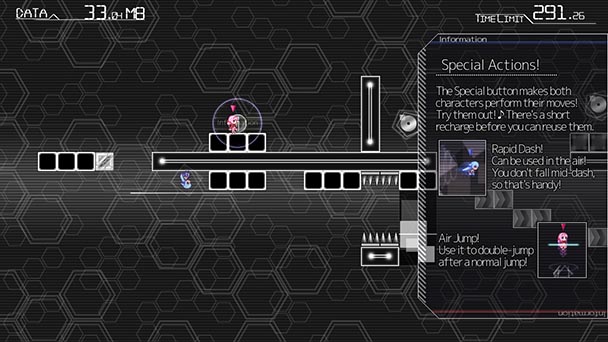 Like any good puzzler, the tenets are easy enough to understand, but actually making it through each stage is a consummate test of a player's cognitive capabilities. For the most part, the platforming isn't too difficult, with Code's dashing ability and Rithm's capacity for double jumping not any more challenging than your average Genesis/Mega Drive hop-and-bop. Sure, Rithm's realm might be a bit more testing, as players probably aren't accustomed to upturned platforming, but it's the analytical elements that are bound to send players restarting stages multiple times.
Save for Reverse x Reverse's very first stage, each subsequent levels throws intricacies that are built upon the fundamentals. From falling platforms, breakaway blocks, conveyor belts, and switches that scroll the screen for a predetermined number of seconds, gradually navigation becomes increasingly treacherous, pushing players to take it slow and analyze every jump and gate trigger. While the title can frustrate, especially with the inability to skip stages, success offers an agreeable reimbursement for all those time you felt like hurling the controller.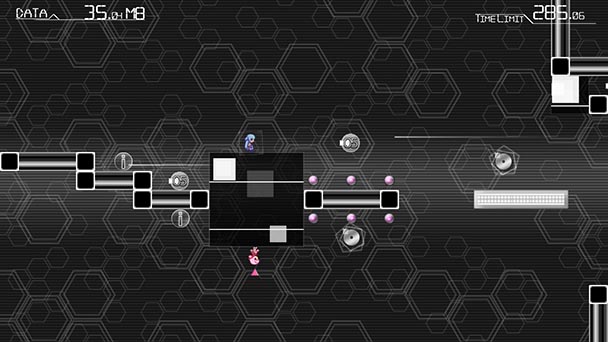 Demonstrating the game is more puzzle than platformer, subsequent attempts typically prove prosperous. The incentive for replay isn't too strong, but those seeking to earn a better ranking or a place on the local leaderboards might want to revisit each masochistic level. In light of the game's linear path through its stages, it would have been contenting to be able to witness others navigating each area via in-game replay.
Aesthetically, Reverse x Reverse's modest visuals allow the game to be enjoyed at sixty frames per second on even underpowered netbooks. But get past the diminutive sprites and vector-looking environmental construction and there are a few eye-grabbing elements, from gates that pulse in glitch-like fashion to revolving indicators that help to highlight switches. Aurally, the game's pulsing electronic beats help drive the action and picking up an object will elicit a refrain that'll be nostalgic for anyone whose rode a Japanese subway. Meanwhile, the game's voiceovers contribute enough charm to bring Code and Rithm to life. However, it's a bit unfortunate that English speakers might not understand their endearing quips.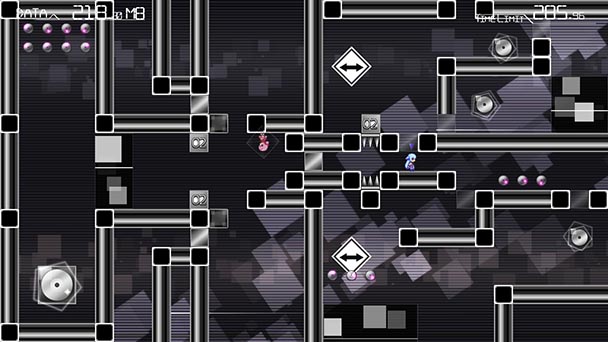 Unlike mediocre efforts from big publishers, it's easy to give dōjin games a free pass. They're created by hardcore, hardworking fans who usually work in their free time. But Reverse x Reverse needs no such empathy. While not extraordinary, the game offers an innovative take on the puzzle/platformer that's poised to keep players engaged for hours.
Reverse x Reverse was played on the PC with review code provided by the publisher
Reverse x Reverse
Platform:
PC
Developer:
Desunoya
Publisher:
 Sekai Project
Release date:
December 10th, 2015
Price:
$9.99 via
Steam
Review Overview
Summary : Reverse x Reverse's platforming isn't difficult, but its intricate puzzles are certain to test your analytical skills and perhaps even your fortitude.