What is the concept? 2014's Nekopara Vol. 1 introduced readers to Kashou Minaduki, an aspiring chef born into a long line of confectioners. Hoping to cultivate his own brand of success, he moves out of his parents' house, determined to operate his own French-style bakery. But when he begins unpacking items in preparation of the store's grand opening, he discovers that his family's catgirls were inadvertently shipped to the business. Thus the impetus for Nekopara forms, with the felines pleading to work at the patisserie, bringing a dose of eccentricity while serving up a selection of éclairs and finger cakes.
Volume 2 finds the La Soleil bakery enjoying a steady flow of business- thanks to the addition of four additional neko and photos that are starting to go viral. Whereas the first episode lavished exposition on Chocola and Vanilla, Volume 2 does the same for kitty-siblings Azuki and Coconut. Naturally, there's a healthy amount of disagreement between the two. Azuki is a Napoleonic Munchkin Cat with an abundance of energy who can be remarkably curt. When she's promoted to manager, her harsh criticisms invoke a heated rivalry with her klutzy younger sister, prompting a literal catfight in front of the customers. The five hour read sees Minaduki continuing his culinary pursuits, while keeping familial pursuits amicable, if not occasionally amorous.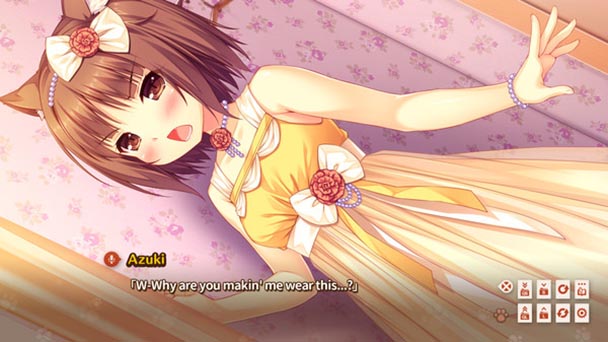 What are the novel's strengths? While the genre regularly uses static sprites to convey conversation, Nekopara employs Live2D models, bringing the title's fastidiously drawn felines to life. During dialog, characters move and emote stunningly, with the title's graphical output exhibiting just as much exposition as the novel's text. Similarly, backgrounds divulge just as much detail, extending impossibly clean, visually alluring environments. Developer Neko Works clearly knows their audience appreciates fan-service; here's a title where tropey cat-girls wear maid attire and there's an instance of heterochromia. Moreover, there's a menu slider to adjust bosom bounciness and a pat button that allows for feline feedback. Meow.
Thematically, Nekopara provides a refreshing spin on feline fetishism. Generally, cat girls are little more than humanoid maidens with pointy ears and a tail. But in Nekopara's universe, the girls actually have cat-like traits. As such, this explains their lascivious behavior, as cats aren't exactly monogamous creatures. Narratively, it's a bit of a risk, as some readers might be turned off by the sexualization of non-humans. But it's also forms the foundation of Nekopara's humor with the girls going into heat and being irresistibly tempted by tuna. While the title isn't unrelentingly funny- succumbing to a few mundane moments, there's enough humor to keep the momentum going.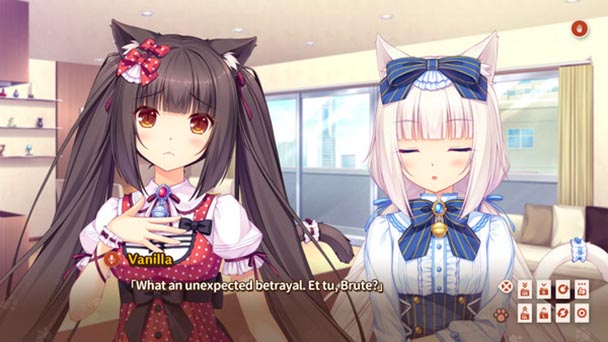 What are the novel's weaknesses? Like the inaugural volume, the second part of NekoPara is a kinetic novel, meaning the storyline lacks no player interaction. Whereas branching dialog permits readers to revisit key plot points and observe the repercussions of their decisions, here there's little incentive to return to La Soleil Patisserie beyond the requisite supplements such as CG galleries as well as the music and movie players. For newcomers to the Nekopara universe, Vol. 2 forgoes the traditional recap of preceding events. While it's not difficult getting up to speed on things, you might feel that you're missing out some of the jokes that revolve around Neko quirks.
Given the novel's origins (more on that in a bit) and Steam's prudish policies, readers won't see NekoPara Vol. 2's lewder content. The result of this editing means that during several times during the story, the title will fade to black, indicating that Kashou has made a coital 'cat-nection' with one of the felines. In execution, the transition is noticeable, especially after interaction is growing increasingly steamy.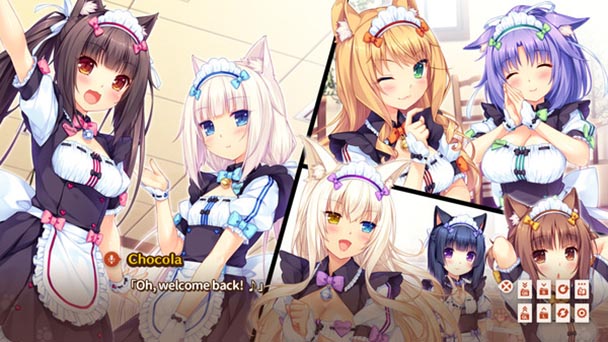 Is it worth the money? A $9.99 purchase of Nekopara on Steam grant reader access to the edited version of the game. Buying the $9.99 patch from Denpasoft unlock the title's mosaicked but still lascivious H-scenes, which adds another twenty percent to your completion time (your speed, of course, will vary). As such, if you're approaching Nekopara with the expectation of visualized feline frolicking, the additional price needs to be factored in. That said, if feline fatales are your thing and you like VN's whimsical, Nekopara will give you plenty to purr about.
Nekopara Vol. 2 was played on the PC with review code provided by the publisher.
Nekopara Vol. 2
Platform:
PC
Developer:
Neko Works
Publisher:
 Sekai Project
Release date:
February 19th, 2016
Price:
$9.99 via
Steam
Review Overview
Summary : Can a H-game without the explicitness still be fun? Nekopara Vol. 2 demonstrates the unlikely, with a visual delivery that's downright delectable. But much like the La Soleil's desserts, just don't expect to feel satiated by the title's frothy formula.