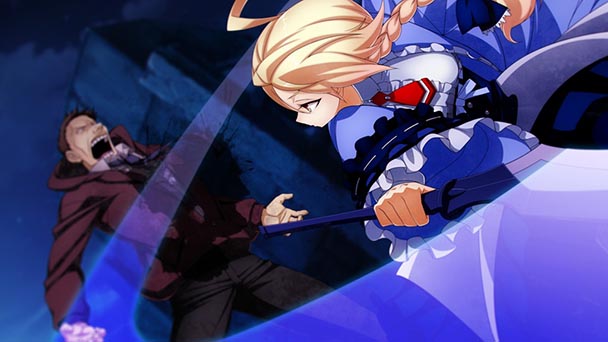 Not long along, its was rather difficult for Westerners to play a localized visual novel. As former Nippon Ichi Software president (and now CEO of Idea Factory International) Haru Akenaga once explained, Sony Computer Entertainment of America wasn't interested in granting publishing licenses for games with a substantial text-based component. On the PC front, things fared no better. Although requisite works like Sakura Taisen, Kanon, and Clannad were developed for Windows-based machines, only the later has been granted a Steam release.
But in the succeeding years, stances softened- likely in response to a growing audience of readers abroad. While current localization efforts represent only a small fraction of Japan's total output, recently console, portable and PC owners have seen an upturn in releases. One of the firms behind that effort is Aksys Games, the publisher behind titles such as Nine Hours, Nine Persons, Nine Doors and Zero Escape: Virtue's Last Reward. Originally released for the PlayStation 3 and PS Vita in 2014, Aksys' XBlaze Code: Embryo has made the journey onto Steam. Not only will VN fans be presented with an exceptional experience, but newcomers are poised to acquire a passion for the burgeoning medium.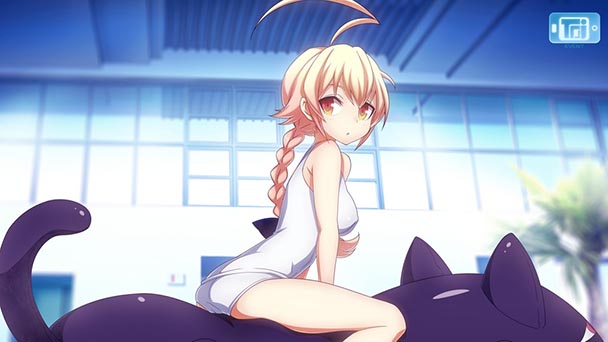 Narratively, XBlaze Code makes a number of deft decisions to entertain both camps. While the story is set in the BlazBlue universe, a knowledge of the mythos isn't a prerequisite for play. But for gamers who have worked their way through Chrono Phantasma's character campaigns (as well as explored Blaz's Teach Me, Miss Litchi! segments), references to the Takamagahara System and The Azure are destined to delight- fleshing out some of the intricacies of the complicated cosmos in a method that's mechanically similar to the story mode's cutscenes.
Since XBlaze Code's plotline is situated nearly 150 years before Calamity Trigger's proceedings and a half-century before the Phase Shift light novel, XBlaze Code: Embryo's self-contained plotline centers on a new, unknown cast of characters. This choice means that players who've never heard of the Black Beast or even Ragna the Bloodedge will be able to enjoy the title's plotline without carrying out a cornucopia of research. Adeptly, XBlaze Code also amplifies its accessibility by not pigeonholing its plotline into one of the conventional visual novel types. While the protagonist is a high schooler, and there's the obligatory romantic rudiments- the story also mixes in elements of comedy, intrigue, and suspense. With a seeming unwieldy mix of momenta, XBlaze Code handles each constituent competently, and provides transitions between major tonal shifts.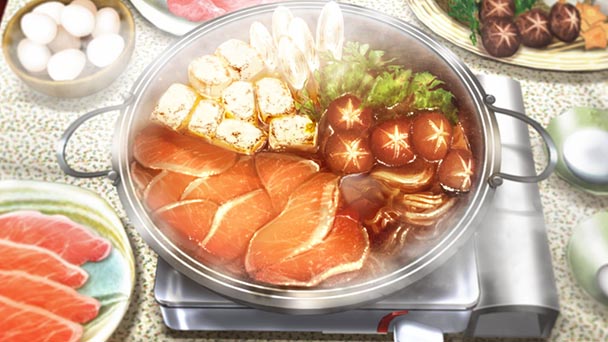 Most proficient is the title's choice of protagonists. Undoubtedly, lead Touya Kagari is a character that naturally elicits identification; he's unswervingly friendly, considerate, and constantly tries to resolve any conflict that he comes across. We first meet Touya at his place of residence, where he rents a room from sisters Hinata Himezuru and her adoptive older sister Yuki. On the way home after his shift at a local curry shop, Touya passes by the Ward, a zone around the derelict Wadatsumi Research Facility, which has been abandoned since an accident ten years ago.
Hearing a distant chime, Kagari investigates the source of the sound and is approached by a delirious man. Compassionately, the protagonist offers assistance, but when the stranger destroys a nearby wall with a sonic emission, it's obvious that Touya is in peril. Auspiciously, an attractive young woman named Es comes to the character's aid, attacking the man, but injuring Kagari in the process. When the adolescent returns home, he finds Es there, along with a members of a research team. Seemingly, Touya's ability to hear the chime makes him an ideal associate for the investigators, who are hunting down the "Union"- the name given to Wadatsumi's infected.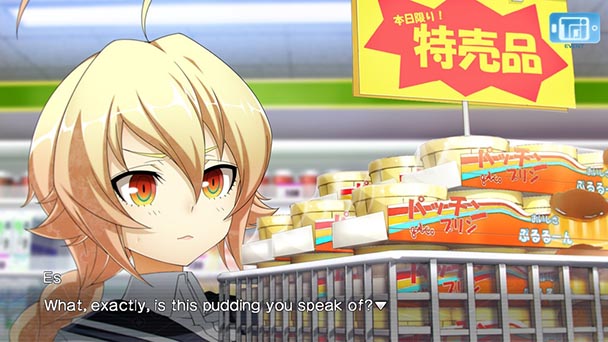 Initially, XBlaze Code: Embryo's set up can be overwhelming, with the story's setup beginning in medias res. But if players can relax amidst the prologue, they'll find that the title offers plenty of insightful exposition and an ample amount of character background. Soon, readers will be introduced to Embryo's signature mechanic, the TOi. Described as "easy to use as a toy", the Technology of Interest system simulates intelligent RSS feed gathering, allowing players to glean more information about key places, events, or figures.
Remarkably, XBlaze Code: Embryo's storyline branches depending on what articles are read, often commencing conversations inspired by Touya's newly gained knowledge. Additionally, sifting through the blog-style system is the key to earning affinity with other characters. While the first playthrough of XBlaze might instill uncertainty in readers- as they have little insight into the repercussions of their readings, subsequent runs reveal character associations. Beyond TOi, players are also a button press away from an expanding database which provides a synopsis of vital information.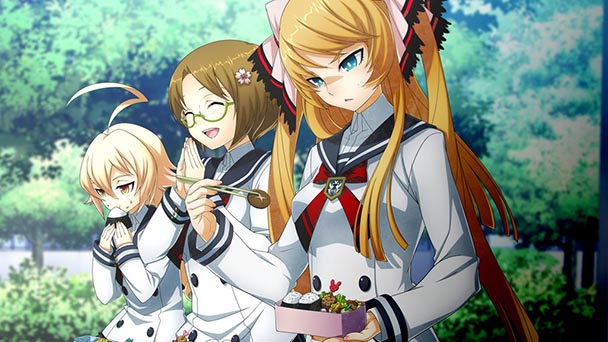 Given developer Arc System Work's prodigious oeuvre, its little wonder that XBlaze Code: Embryo is a fine exemplar of the visual novel medium (only bested by Nekopara's incorporation of 2DLive models). Beyond a massive amount of voice acting for every character and a soundtrack that underscores, not overpowers every scene- the title offers a gorgeous visual delivery. Largely, character and background detail are fastidious with assets flaunting CG-like finesse. Even more astounding is the developer's effort to make XBlaze Code's scenes as arousing as possible. From sinuous camera movement, lifelike facial animation, and a variety of one-time visual effects, at times the title can resemble an anime.
Enigmatically, reading through Embryo is easier when a controller is plugged in. With our Xbox 360 controller, a tap of the left trigger brought up the backlog, allowing for review of conversational elements. Although a keyboard equivalent might exist, we were unable to find it, since a trio to the control menu only exhibited controller inputs. Pleasingly, the title allows players to automatically advance dialog without interaction- ideal for players grabbing a meal. Beyond the main story, Embryo bestows Blaz's traditional gallery, extending a collection of unlockable scenes, cinematics, and songs.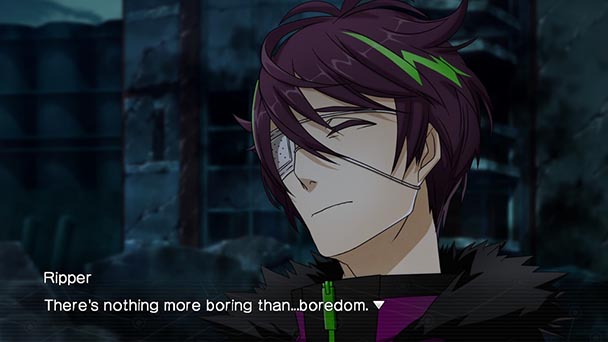 With an adept localization, lengthy and involving storyline, as well as an unsurpassed visual output, XBlaze Code: Embryo easily stands as a benchmark for the visual novel medium. Although the title makes a perfect companion title for the recently released PC version of BlazBlue: Chronophantasma Extend those who have eschewed the fantastic fighting series will be able to enjoy every bit of this engaging experience. Considering the ambitions and aptitude of XBlaze Code, the visual novel seems destined for an upsurge in acceptance.
XBlaze Code: Embryo was played on the PC with review code provided by the publisher.
XBlaze Code: Embryo


Platform:
 PC, previously released on PlayStation 3, PS Vita
Developer:
 Arc System Works
Publisher:
 Aksys Games
Release date:
 March 1st, 2016
Price at release:
 $19.99 via
Steam
Language(s):
 Japanese with English subtitles
Review Overview
Summary : XBlaze Code: Embryo is about as close as the visual novel comes to emulating the aesthetics of anime. Peer past the sounds and visuals, and you'll find a storyline that should satisfying a wide swath of fans.