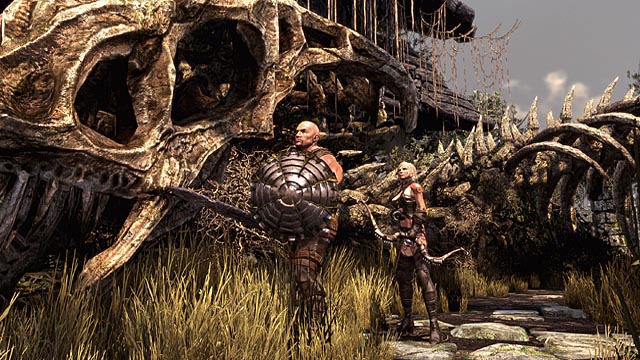 Sure, this week's inventory of new releases may seem meager, but when you consider that the talents of both Xena: Warrior Princess's Lucy Lawless and Treasure Island author Robert Louis Stevenson have contributed to this week's titles, there's no denying the sheer amount of star power involved. Unfortunately, fame doesn't extend to Point Blank clone, Wicked Monsters Blast. Longtime recluses Dr. Don and Dr. Dan couldn't be bothered to make even a fleeting cameo.
360
♦ Hunted: The Demon's Forge
PS3
♦ Hunted: The Demon's Forge
♦ Outland (PSN)
Wii
♦ FAST – Racing League (WiiWare)
♦ Super Adventure Island (Virtual Console)
♦ Wicked Monster Blast
3DS
♦ BlazBlue: Continuum Shift II
DS
♦ B Team – Episode 1: Dust & Steel (DSiWare)
♦ House M.D. – Globetrotting (DSiWare)
♦ The Mysterious Case of Dr. Jekyll & Mr. Hyde
♦ Valet Parking 1989
PSP
♦ BlazBlue: Continuum Shift II
PC
♦ Back to the Future: The Game-Episode 5: Outatime
♦ BioShock 2: Minerva's Den (Expansion)
♦ Fortix 2
♦ Hunted: The Demon's Forge
SeanNOLA's Pick: Generic murky-brownness aside, Hunted's mix of medieval horror and dungeon-crawling action has me intrigued. The interviews with the team lead me to believe that a lot of love went into creating little details to flesh out the world – let's just hope they didn't forget to concentrate on the fundamentals while they were at it.
DesertEagle's Pick: While I'd love to recommend BlazBlue: Continuum Shift II, the lack of online play (especially on the 3DS) is concerning. That said, I'm looking forward to helping E'lara and Caddoc find that elusive artifact in Hunted: Demon's Forge. Like my colleague SeanNOLA, I'm eager for a good dungeon skulk.
Samurage's Pick: I like Bethesda-  given the great work they do, and the pitiful amount of options this week (and of course how cool the demons look) I'd be down to give Hunted: The Demon's Forge a try. I may wait a week or so to see how reviews for it go though, since I'm in California getting ready for E3.