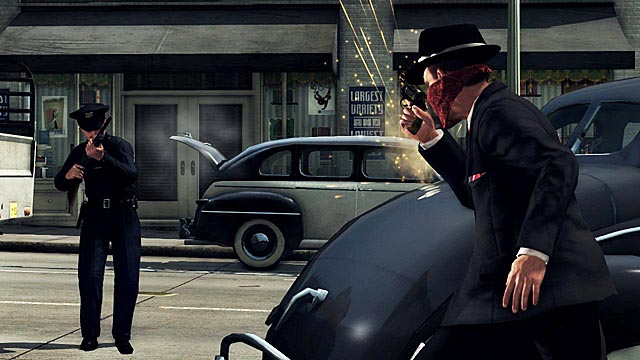 This week the anticipation ends. After an aeonian wait of four years, L.A. Noire is finally hitting store shelves, bringing its series of post-war murder mysteries onto our high definition consoles. Likewise, Chrono Trigger hits the stateside Virtual Console, ending an uncomfortable duration for Wii owners. For gamers apathetic toward both titles, solace can be found in the cake-baking exploits of Jill Evans, who (spoiler) through diligence, just might be able to afford that second cupcake machine.
360
Fallout: New Vegas: Honest Hearts (DLC)
L.A. Noire
The First Templar
PS3
Fallout: New Vegas: Honest Hearts (DLC)*
Streets of Rage 2 (PSN)*
L.A. Noire
Wii
Chrono Trigger (Virtual Console)
Wicked Monster Blast
3DS
Deca Sports Extreme
SpongeBob SquigglePants
DS
Cake Mania: Main Street
Picture Puzzle Collection
PSP
No Releases
PC
Detour
Fable III
The Witcher 2: Assassins of Kings
Two Worlds II: Castle Defense
DesertEagle's Pick: Role-playing fans who haven't experienced Chrono Trigger- this week you'll get to see what all the fuss is about. From improving on FF IV's Active Battle system, delivering multiple endings, and aptly integrating time travel, the title's innovations became genre staples. Speaking of time travel, I'm looking forward to seeing a post-war depiction of the City of Angels, where I intend to visit my future residences.
Samurage's Pick: While I'm excited for Fallout: New Vegas DLC and L.A. Noire, my pick is the one which I've been looking forward to close to a year now- Witcher 2. Hopefully, the game will grab and thrill me as much as it's predecessor did. Word to the Witchers!
*Digitally distributed PlayStation 3 titles hinge on the availability of the PlayStation Network.