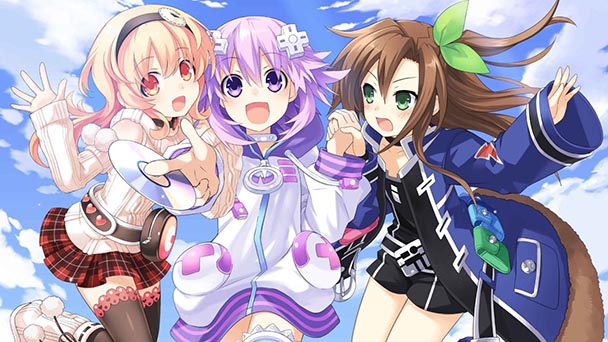 Fan service is generally regarded as lascivious-minded pandering, whether through a playful peek at pantsu or a bit of racy repartee. 2011's Hyperdimension Neptunia certainly proved those types of indulgences, with suggestive dialog offered by its jiggling cast of characters. But the title also provided another type of contenting treat: its plot was a fantastical allegory centering on the seventh generation console war. Filled with a steady stream of industry jokes and references to otaku-culture, Neptunia persistently tried to please its audience.Unfortunately, a number of mechanical issues prohibited players from becoming invested in its impish aspirations.
One of the chief problems was found in the game's inconsistent graphical delivery. While character portraits demonstrated the quality of a top-tier visual novel, as soon as lead character Nep-Nep stepped onto a stage map, the title's framerate would sputter to a distressing cadence. But, Hyperdimension Neptunia's problems weren't just external. A design decision that transferred control of crucial party management tasks to AI members proved to be incredibly frustrating. Still, many tolerated these transgressions based on the creativity of the main premise.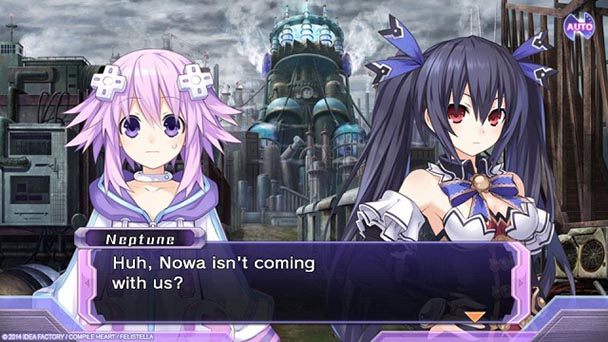 With the release of Hyperdimension Neptunia RE;Birth1 for the PS Vita, developers Idea Factory and Compile Heart (along with Felistella) set out to rectify many of the original game's obstructions, putting the title in line with the evolved mechanics of follow-ups Mk2 and Victory. Knowing that merely mending problems might not create a strong enough stimulus for a double-dip, the studio also ushered in a substantial amount of alteration.
Largely, RE;Birth's narrative hits the same major plotlines as the inaugural game, although a few interesting, alternate routes are chosen. A opening sequence Re;Introduces players to Neptunia, the goddess of Planeptune, a territory which symbolizes SEGA's unreleased Genesis/32X hybrid console. After a conflict knocks the dainty deity unconscious, Nep-Nep finds herself in the home of Compa- a budding nurse as well as signifier of Hyperdimension Neptunia creator, Compile Heart. The subsequent storyline sends Nep-Nep, along with a swelling ensemble of other secondary characters through the four continents of Gameindustri. As each of these realms represents a different console, the plotline helps to introduces players to the figurative console wars which serve as a reoccurring motif for the series.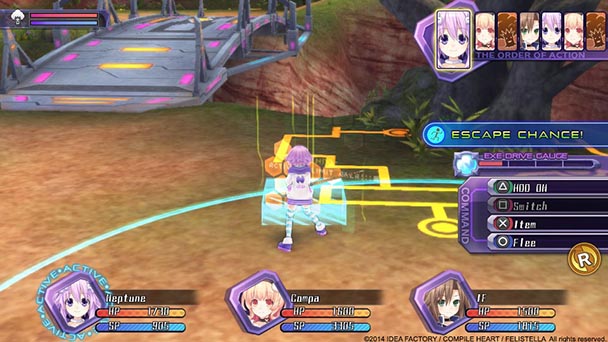 With the announcement that Hyperdimension Neptunia Re:Birth2: Sisters Generation would be headed to Vita screens during the first quarter of 2015, it's understandable that the developer wanted to craft a bit more consistency between each entry. For RE;Birth1, that means efforts were made to make the story more cohesive though additional expository elements and a better articulation of character motivations. Purists might balk at the removal of a number of minor characters, but since their involvement in successive series entries was reduced, their absence is justifiable. For returning fans, the moments were RE;Birth forks from the original game are bound to be a delight. Breaking down the fourth wall has always been a fundamental element of the franchise. Here it's elevated by the game knowing- and deliberately disrupting your expectations.
Consistency is also cultivated by bringing RE;Birth1's battles closer to the system exhibited by Neptunia Victory. Instead of settling skirmishes by constraining characters to prearranged rows, the title allows characters to establish their attack positions within a sizeable circle. The beauty of this method is best demonstrated when characters are given weapons which modify their reach, such as a long spear which can strike several aligned opponents. With the adjustment, players have to think about the placement of their party members so they can maximize damage while minimizing the chance of a communal clobbering by a foe. Most pleasingly, battles play out at a quicker tempo, which is gratifying as Neptunia still compels the sporadic pre-boss grind.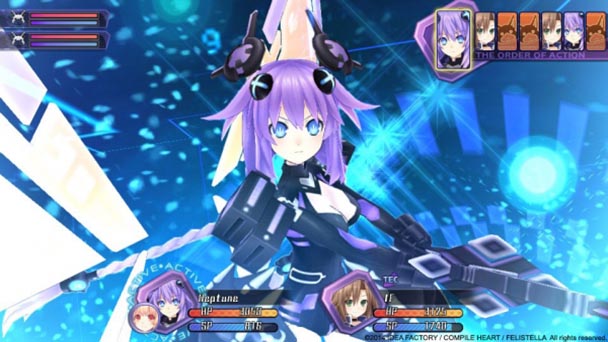 Dishing out extra damage is possible through the use of the EXE Drive. As each successful attack fills a multi-tiered gauge, players can choose to spend some of this Kinect energy on an onslaught that brings punctuating punishment to the end of your combos. Of course, when the goddesses transform into their signature Hard Drive Divinity (or HDD) forms, the meter can be used to execute the type of overwhelming super-moves that can beat a defiant boss into submission while issuing a bit of visual gratification.
For returning players, RE;Birth1's Remake System proves to be an intriguing new element. A cross between Disgaea D2: A Brighter Darkness' Cheat Shop and a GameShark/Game Genie, players must acquire plans from either NPCs or at predetermined harvest points. Once these collectables are acquired, an agreeable amount of amenities await gamers- from being to adjust the difficulty and drop rate inside of dungeons to using the plans as blueprints for new items. Pleasingly, the Remake System also is the egress to a number of unlockable areas, from additional dungeons to a coliseum that's an ideal venue for augmenting your allies, recalling the Item World. The inclusion of Mk2 and Victory's traveling system eliminates the scheduled commutes of the original game, allowing transcontinental journeys via button press or touchscreen tap.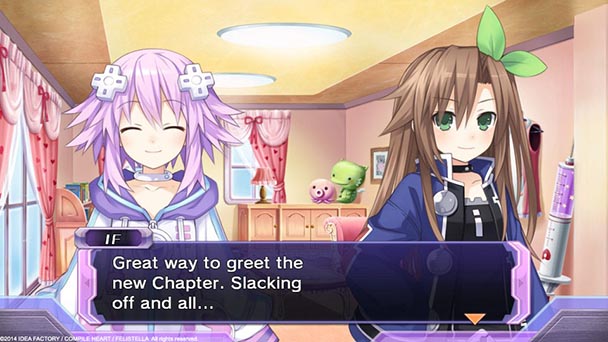 Aesthetically, RE;Birth1 easily outshines its console-based predecessor. From redrawn character portraits which ooze moe-infused appeal and emote with feverish anime charm to the enemy design which pay homage to industry icons, the game is a consistent visual pleaser. More importantly, the framerate issues have largely been remedied, offering a fluid perspective when skulking each dungeon. Sonically, the game's dual language Japanese and English voice work is largely faultless, offering an improvement on the already competent performance of the PS3 title.
Remakes can often feel like cash grabs, applying a fresh coat of paint over a corroded frame. Pleasingly, Hyperdimension Neptunia RE;Birth1 bucks that trend by offering an experience that not only adeptly transports the console game onto portable hardware, but makes a myriad of improvements in the process. RE;Birth1 plays, looks, and feels markedly better than its predecessor, in the process suggesting that Idea Factory, Compile Heart, and Felistella have the potential to become role-playing royalty.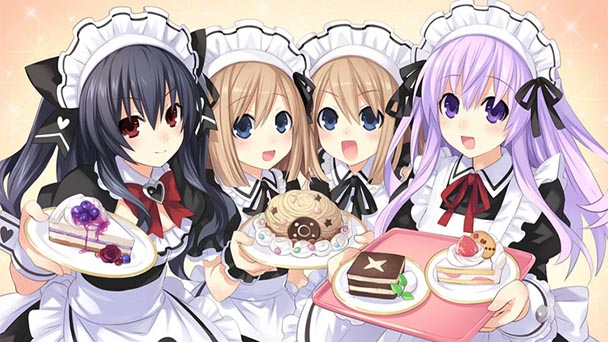 A copy of Hyperdimension Neptunia RE;Birth1 was provided by the publisher.
Hyperdimension Neptunia RE;Birth1
Platform:
 PS Vita
Developers: 
Idea Factory, Compile Heart, Felistella
Publisher:
Idea Factory
Release date:
 September 26th (US)
Price:
 $39.99 Retail or via PSN
Language(s):
 English/Japanese voice, English/Japanese text
ESRB:
 Teen
Review Overview
Summary : Hyperdimension Neptunia RE;Birth1 intertwines the franchise's best mechanics into a rewarding remake of the original PS3 title. Fan service rarely feels this polished.