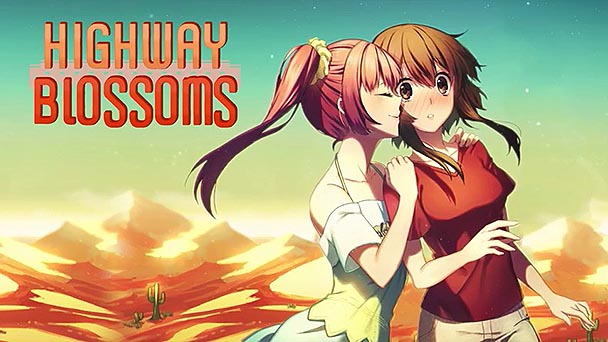 Visual novels tend to be a hit-or-miss affair for most, with gamers being drawn to the strong narrative which often accompanies these titles or turned off by a lack of player input. Highway Blossoms takes the latter to an extreme by completely foregoing anything resembling gameplay or branching paths. Yes, Highway Blossoms follows a strictly linear storyline with no deviations, though luckily, this is offset by an appealing art style, fitting soundtrack and a generally well executed lesbian romance plot.
Set in the American Southwest, Highway Blossoms tells the tale of two girls in their late teens searching for buried treasure while following clues by an old prospector in his journal. I will admit the prospecting theme does little to entice my imagination, however, one could argue the game uses this backdrop as an excuse to portray the flourishing love of two women. Now granted, there is nothing inherently wrong with that, in fact, the romance and interactions between our two main characters are Highway Blossoms' greatest strength. The affection they feel between them is slow to grow, though multiple obvious hints are given early on with much its cast assuming them to be lovers before their infatuation blossoms.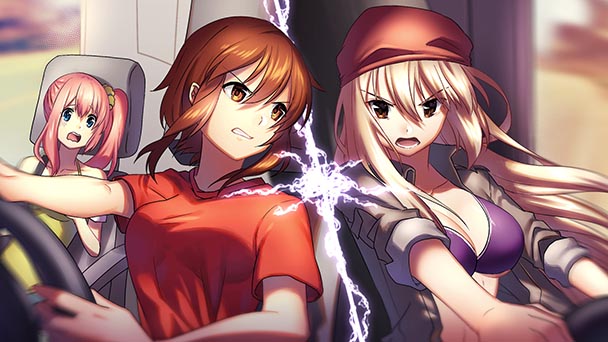 My issue though, is that all other interactions feel stale by comparison. Other characters may join in and important plot-points may take place, but there is no real sense of urgency or drama. This issue is further exacerbated by Highway Blossoms' insistence on filler dialog and events. Regardless, when the narrative returns to the romance perspective, it seems to almost make up for any of its flaws. This is made all the more interesting by having a character run from her past while the other provides her with an opportunity for happiness and redemption. The fact these topics are handled with such care and attention to pacing make for an immersive experience for those willing to read its lengthy text.
Interestingly enough, though Highway Blossoms falls squarely into the Yuri genre, one could easily switch the gender of the main character so easily that the story would still fit all the same. At times it even feels as if Amber were originally written to be a male but then her gender changed halfway through due to unknown reasons. Ironically, for all the praise I've given, the story's tone is decidedly anime-inspired in nature, with much of the supporting cast falling for well-known tropes and archetypes. Perhaps even worse is the fact few of them are ever given a chance to truly shine.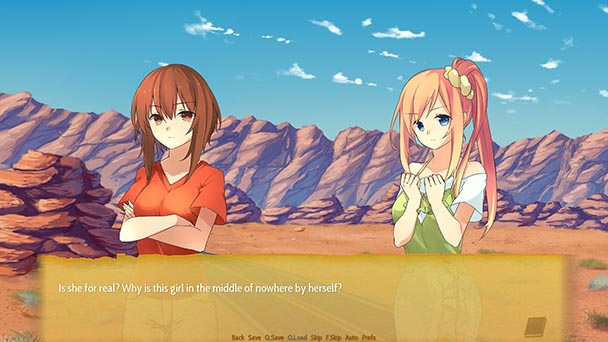 Highway Blossoms doesn't shy away from crowd pleasing content either as it includes a couple of erotic scenes which were toned down for the steam release. However, it seems the developers weren't happy with this turn of events as they encourage players to install a patch which restores all of the original content and even rewards them with an achievement for it.
Experience visual novel players will likely enjoy Highway Blossoms' lengthy writing, though the lack of any alternate paths is disappointing. On the other hand, a total lack of player input makes it hard to recommend to newcomers of the genre. In the end, its main strength is a well-developed love affair, with all other considerations treated as secondary.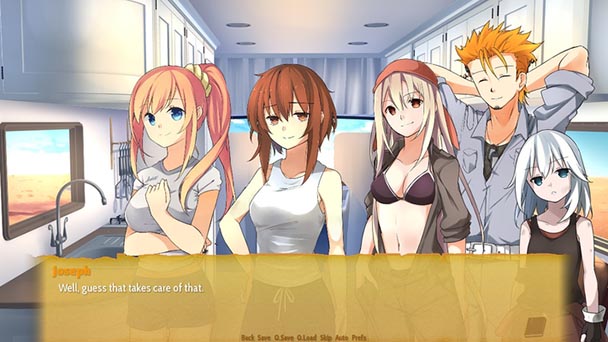 Highway Blossoms was played on the PC with review code provided by the publisher.
Highway Blossoms

Platform:
 PC
Developer:
 AlienWorks
Publisher: 
Sekai Project
Release Date:
 June 17th, 2016
Price:
$9.99 via
Steam
, currently $8.49 through July 4th
Review Overview
Summary : The complete lack of player input or branching paths give way to a well written, endearing romance between two young women. Sadly, the rest of the story did not receive similar levels of care and attention.