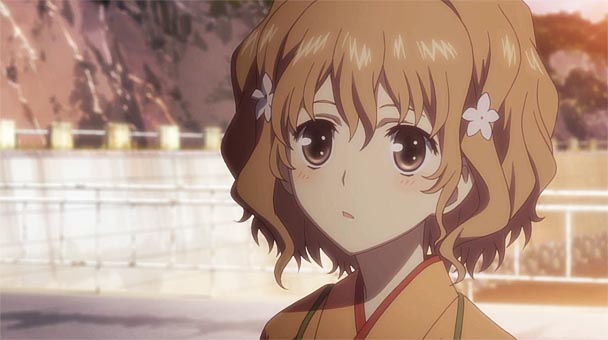 The last four entries in the NIS America-published Atelier series are a rarity in gaming. While industry pundits plead for less formulaic representations of women, a quartet of female protagonists have quietly squashed stereotypes. Contrasted against conventional stagnant depictions, the journeys of Rorona, Totori, Meruru, and Ayesha traced the inspirational self-actualization of each character, permitting players to witness the progression of each of these perpetually optimistic alchemists.
While the release of Hanasaku Iroha: Blossoms for Tomorrow shuns the Atelier series' affection for item crafting, the first season's portrayal of maturation and social growth is remarkably similar. As a product of her self-improvement, the protagonist emerges as a catalyst for a number of relationships, echoing a theme that is depicted through the GUST-developed game series. While Hanasaku Iroha can't quite match up to NISA's most fulfilling slice-of-life localizations (such as Anohana: The Flower We Saw That Day or bunny drop), the anime is consistently entertaining and often raucously comical.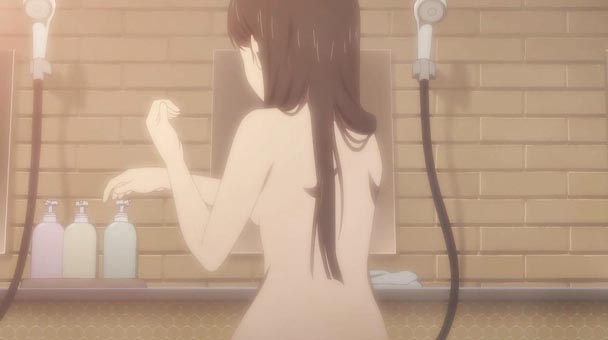 Viewers first meet series lead Ohana Matsumae in Toyko, where the sixteen-year-old is living a conventional metropolitan experience.  When the bubby teenager soon learns that her self-involved mother is eloping, forcing Ohana to stay at her grandmother's Taishō-era hot springs inn, she embraces the opportunity. Unfortunately, the protagonist's eagerness is tempered by a stony welcome- her grandmother eschews any type of nepotistic privilege, exhibiting the same stern demeanor given to the rest of the staff. Coworkers fail to embrace the new employee as well, especially after Ohana's quirkiness and inexperience leads to a few amusing gaffes. Throughout the first few episodes of Hanasaku Iroha, it appears as if the lead is fated to be comically inept.
Consistently, Ohana resolves to improve her deficiencies- channeling her mother's industrious behavior to perform landscaping duties and creating a few delectable meals which begin to win over the staff. Much of Hanasaku Iroha's charm comes from watching the workforce unite as new conflicts arise. From coping with a pervy writer, handling a wave of unruly gamers, to managing a scathing review of the inn, a number of pleasing quandaries drive the season's thirteen episodes. Initially, several of the anime's secondaries seem like simple caricatures, from archetypical tsundere Minko to withdrawn Nako. Gradually, the Hanasaku Iroha provides more depth for these characters, as each begins to entrust   Ohana. One of the most satisfying elements of the anime is watching grandmother Sui Shijima thaw her icy demeanor- allowing viewers to perceive the inn owner's motivations.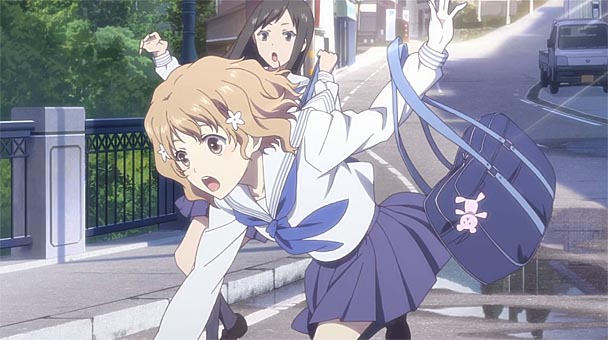 Complementing Hanasaku Iroha's plot development is one of the most opulent animation efforts in recent memory. Commemorating P.A. Works tenth anniversary, Mel Kishida's original characters are enchantingly rendered while backgrounds are drawn with a meticulous attention to detail. Whereas the fusion of traditional animation and CG artwork often results in a disjointed pairing, here the integration is near seamless, exhibit details such as falling Sakura petals or the momentum of a speeding train. Shirō Hamaguchi (arrangement for Final Fantasy VII, composition for One Piece) aural contributions are deft, with genial guitar-driven refrains and poignant orchestral pieces. The anime's ambient noises are equally as adept, unobtrusively articulating the buzz of the city, the din of insects in the countryside, or a handful of bubbly insert songs.
Mirroring NIS America's previous publishing efforts, the first season of Hanasaku Iroha: Blossoms for Tomorrow comes bundled on both DVD and Blu-ray media. While the 480i picture of the digital video disk is typically artifact-free, the lossless transfer of the high-definition version is a visual stunner. Inside the sturdy cardboard collector edition box, views will also find an accompanying hardbound book. Imitating Hanasaku Iroha's vibrant color palette, the supplement includes character designs models, interviews with key P.A. Works staff, and a compilation of key locations in the series. About the only section that's missing from the book is a listing of episode summaries, which will likely accompany the season two release.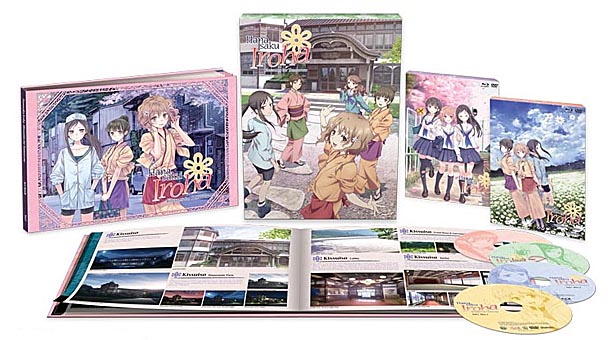 Although Hanasaku Iroha: Blossoms for Tomorrow flaunts a few instances of leering fan-service, these moments don't detract from the anime's core strength. Undeniably, viewers will be rooting for Ohana, as the teenager's infectious good spirit and sociability inspires improvement for those who meet her. Don't be surprised if Ms. Matsumae's unassuming charms have the same effect on you, too.