Although platformers, shmups, and beat 'em ups may have dominated the game industry during the 1980's, the decade also witnessed the rise of another enduring genre: the first-person dungeon crawl. Faithful adaptions of pen-and-paper pastimes such as Dungeons & Dragons abounded, extending plenty of grid-based, loot quests with protracted names, like Wizardry: Proving Grounds of the Mad Overlord, Might and Magic Book One: The Secret of the Inner Sanctum and Digital Devil Story: Megami Tensei. Although the recent release of Demon Gaze for the PS Vita adds modern amenities such as high-resolution visuals and a vocaloid- infused soundtrack, the title is very much entrenched in the tenets of the era. While that also means that difficulty spikes are part of the experience, the title's cycle of mechanics are involving enough to overlook any sporadic snags.
The game's prologue offers only a peek of what's in store for players. When we first meet Demon Gaze's protagonist, Oz is suffering from the conventional role-playing malady of amnesia. He's also in a bit of a bind, taunted by the manic laughter of an encroaching fiend. Fortuitously, a nearby woman hands the hero a weapon to defend again the imminent attack. The ensuing encounter provides insight into the protagonist's past, with Oz demonstrating the abilities of a gazer- the rare individual capable of conquering and controlling demons.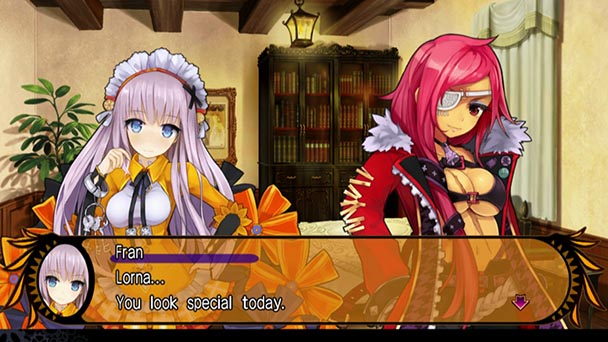 This ability denotes one of Demon Gaze's deviations from the convention dungeon crawl. Beyond taking a varied party of adventurers into each labyrinth, players can also bring along any captured akuma. In essence, the demons are semi-autonomous. Outside of combat, they grant passive abilities such as the knack for seeing hidden doorways. During battle, they occasionally act on their own, striking against the fixed and randomized enemies. More remarkably, they can be summoned during a fight, where they provide assistance by healing players, casting spells, or attacking foes. Yet, support comes with a major caveat. Every combat turn gradually ebbs away at a Demon Gauge. Should players allow this meter to completely empty, your subordinate will become enraged- lashing out indiscriminately and damaging antagonist and ally alike.
The relationship you have with your roster of roguish demons is quite interesting. Each one grows independently of the main adventuring party- gradually increasing the size of their demon gauge, ability set, health bar, and level of loyalty. With their raw power, demons can be the most crucial component of your team- but they are also the proverbial wildcards that can usher overly reliant players back to the main menu.
Another of Demon Gaze's notable additions are magic chalk notes. Recalling the user-generated messages of Demon/Dark Souls, players can leave advice for their online companions by crafting short messages from a word bank. As such, the system functions as a crowd-sourced help system, typically revealing some of the intricacies of each dungeon. Most players will likely appreciate the help- although parties revisit the game's set of six locations, each dungeon gradually modifies elements, allowing players to explore new areas filled with one-way hallways, spinning floors, and the intermittent deceptive element. To keep gamers from becomes lost, Demon Gaze provides an auto-mapping function which remembers your progress from previous explorations.
Scattered throughout each labyrinth are Demon Circles, which impart a number of opportunities for gamers. Beyond serving as save and load points for players, they are also the location of the games mid- and area bosses. By laying down collected gems, players summon the game's meanest beasts. Nicely, the type of sacrificial offering players make influences the type of quality of the loot drop. In execution, players will want to collect as many valuables as possible, since they'll have to pay rent for Oz and each optional party member. While a simulated bill is about as enjoyable as a real-life debt, in execution the obligation adds a bit of resource management to Demon Gaze's repertoire. Since the cost of rent continually escalates, the system also prohibits gamers from grinding their way through the story.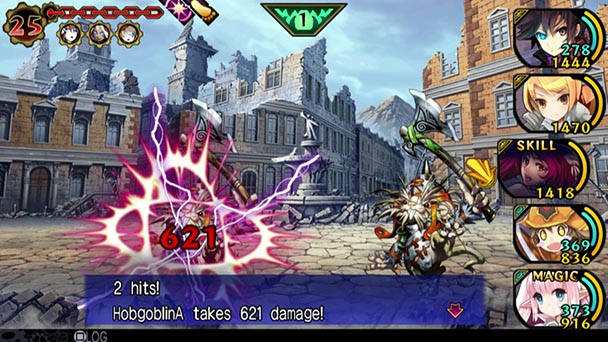 In between jaunts, players will return to their base of operations- The Dragon Princess Inn. Beyond the requisite role-playing item and weapon shops the establishment also extends a wealth of expository elements. Pleasingly, the boarding house is full of interesting personalities who provide an array of often comical situations that complement the dungeon crawling as well as fill in the details of Oz's past.
Certainty, some players might balk at Demon Gaze's scantily clad female characters, which seem clad for fan-service rather than functionality. In the title's defense, it's an equal-opportunity exposer, with at least one male character who shuns clothing as much as Aikurō Mikisugi. Largely, the title mainly uses static images to tell Oz's tale, which might be a bit disappointing for players accustomed to a bit more fluidity in their games. Another quibble is the disconnection between the 2D character art and the 3D dungeons, which almost look they came from two different games. Fortunately, the game's audio is without complaint. A wonderfully melodic main theme drives Demon Gaze. Players are offering multiple renditions, some highlight by the vocaloid IA's singing. As with most NIS America published titles, voice acting can be heard in Japanese in English with both casts delivering a capable reading.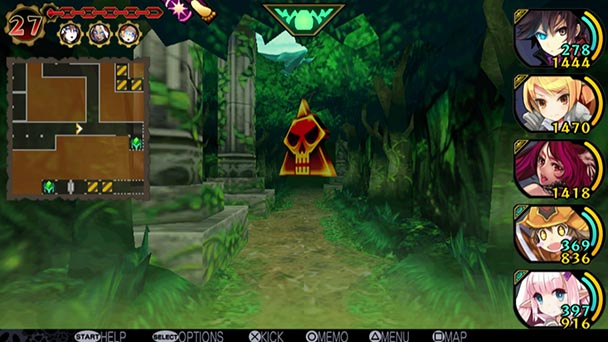 While the title's isn't short on virtue, a few blemishes additional interrupt the otherwise enjoyable forty-hour journey. With underpowered characters, early combat can be difficult- several times my entire party was wiped out by a creature capable of spawning a seemingly endless supply of minions. While the general strategy is to defeat enemies as quickly as possible (lest they heal, summon, or devastate), this can be rather difficult without a bit of level boosting by way of random encounter. Likewise, the game's later boss fights can be brutal, with foes wiping out multiple party members with a single strike. Obviously, the old dungeon crawl adage of "save early, save often" applies here.
With the release of Mind Zero next month, it seems as if first-person dungeon crawls have crept back into fashion. While Demon Gaze carries over a number of the genre's reoccurring impediments, the title also ushers in enough commendable new mechanics to make warrant a purchase by most JRPG fans.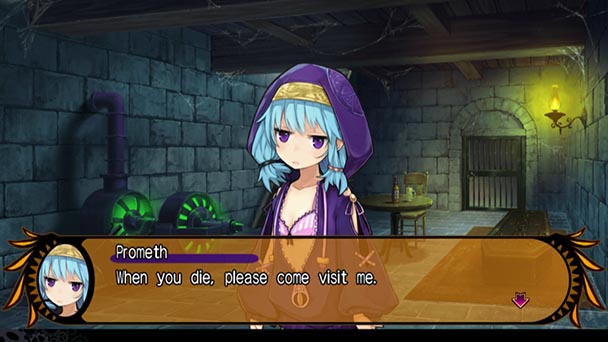 Demon Gaze was played on the PS Vita with review code provided by the publisher.
Review Overview
Summary : While Demon Gaze's scantily-clad characters may catch a player's eye, it's the engrossing dungeon skulking that will keep players eyes locked on the PS Vita's screen for a forty-hour span.