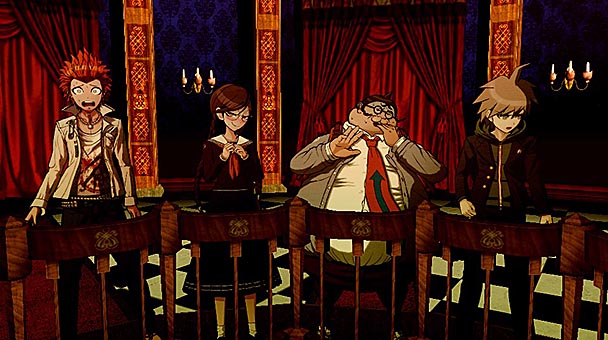 While Japanese gamers have enjoyed the virtues of visual novels for over thirty years (purportedly 1983's Hito de Nashi no Rakuin ~Fukei Kankin Inukan Choukyou~ is the medium's inaugural entry), the genre has only recently began to gain traction in other territories. Thanks to the localization of Capcom's Ace Attorney series, Aksys Games' Zero Escape: Virtue's Last Reward and XSEED's Corpse Party franchise, stateside players have been able to experience a handful of exceptional titles. With the release of the Spike Chunsoft-developed Danganronpa: Trigger Happy Havoc on the PS Vita, genre enthusiasts have an another essential entry to enjoy. Delivering a plotline which fitfully shifts between the distressing and the downright comical, the NIS America-published title is poised to enthrall players pursuing an atypical adventure.
The game's prologue escorts gamers to the pristine hallways of Hope's Peak Academy- a school comprised of "Ultimate" students- those who have reached the peak of various fields of study. Players assume the role of Makoto Naegi, a protagonist who doesn't match the academy's student archetype. Instead, the teenager is a seemingly ordinary pupil whose performance and interests are more closely aligned with the average. As such, identification with Makoto is easy; he's a congenial, thoughtful character that anyone who has ever felt out of place will empathize with.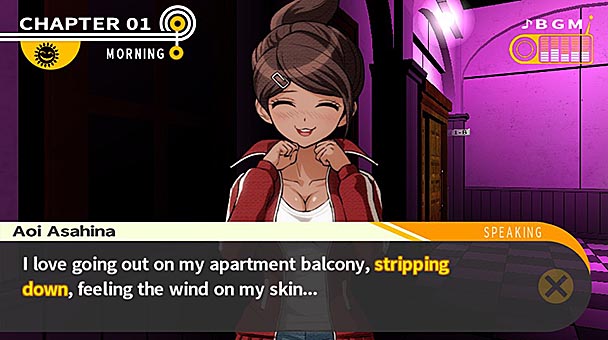 Soon after arriving at Hope's Peak, Makoto begins doubting his ability to match the abilities of his classmates and suddenly passes out. Upon awakening, he finds himself locked inside the school along with fourteen peers. Following a bit of introductory banter, the group heads into the gym, where an announcement is made by a psychopathic, robotic bear named Monokuma. The asymmetrical android reveals to the students that they are trapped in the school for the remainder of their lives. The only chance for escape occurs if students murder one of their colleagues in a manner which avoids detection, thereby setting the stage for an engaging storyline.
Initially, Makoto's cohorts appear to be an inventory of anime/manga tropes. Ultimate Swimming Pro Aoi Asahina seems like the conventional athlete whose athletic prowess and good looks overshadow her cognitive capabilities, while portly Hifumi Yamada is the prototypical otaku- not only obsessed with crafting dōjin manga, but he's also a prolific fanfic writer. Yet, as players venture through Danganronpa's murderous chapters, they'll discover that the game's characters fail to follow their expected trajectories. Offensive students demonstrate sympathetic deeds, while ostensibly innocuous characters divulge unexpected traits. Ultimately, Spike Chunsoft implores players to be suspicious of first impressions, endowing the title with an unanticipated, but admirable moral message.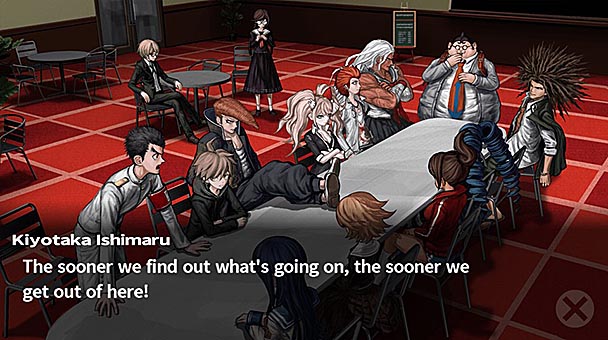 At its core, Trigger Happy Havoc is a visual novel, which means that players will be reading an ample amount of dialog. Mercifully, the interchanges are often witty and habitually succinct, with NISA's localization doing an admirable job of making each conversation engrossing. Supplementing these exchanges are a number of interactive activities, which help to avoid tedium for setting in. Most commonly, players will be examining locales for clues. Thanks to Danganronpa's slick (and optionally, touch sensitive) interface this activity rarely feels like a chore. Whereas the endeavor could have easily become a discouraging pixel hunt, Trigger Happy Havoc's cursor hones in on key environmental elements. Hitting a standstill is prohibited by a press of the triangle button, which briefly divulges the location of every examinable object in a location. Essentially, the development team wanted players to enjoy the story and not become frustrated, so failure in Danganronpa is rare. Even when they botch an entire section, there isn't a punitive amount of backtracking.
Beyond scouring the school for clues, Trigger Happy Havoc also delivers a number of additional activities during the class trial phase of each chapter. Here, the title offers its most game-like components, as players participate in timed debates where collected evidence is used to refute the statements of your accused peers. Further mini-games challenge players to shoot letters in an effort to spell out a clue, engage in a rhythm-based debate, and rearrange manga-styled panels to establish the events of murder, offering agreeable reprieves from Danganronpa's verbal banter. Since each of these events is scored, there's an incentive to perform well. Further replay is stimulated through an unlockable mode which changes the storyline as well as a number of the game's tenets.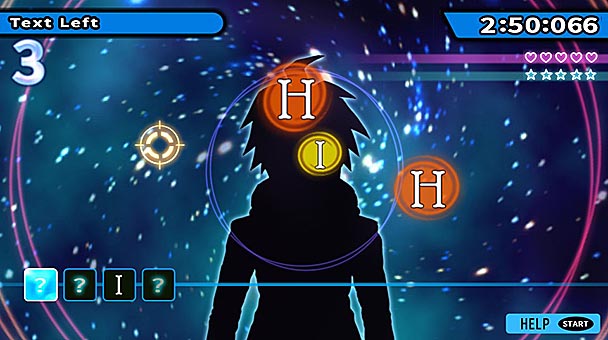 Amazingly, Danganronpa discloses little of its PSP origins, exhibiting a visual output which looks like it was crafted from the ground up for the Sony's second-generation handheld.  The title's creatively-hued locations are thoroughly rendered, and while the characters are 2D cutouts- each of Rui Komatsuzaki's designs are drawn with a pleasing amount of graphical detail. Sonically, Trigger Happy Havoc draws inspiration from a wide variety of styles, formulating a signature motif by combining bubbly piano melodies and synth washes over a jazzy drum cadence. Kudos should be given to the game's optional English dub, which provides a praiseworthy interpretation of the F-bomb dropping dialog.
As with most visual novels, Danganronpa: Trigger Happy Havoc's worst transgression is its linearity. Throughout the journey, players are led down a fairly narrow path. Although this technique allows the title to deliver an oft-absorbing storyline, it also means that their time at Hope's Peak Academy feels a bit too directed, with few instances of autonomy. Beyond that caveat, Danganronpa is a altogether enjoyable experience, elevated by an absorbing plotline, superior writing, and a several notable mini-games.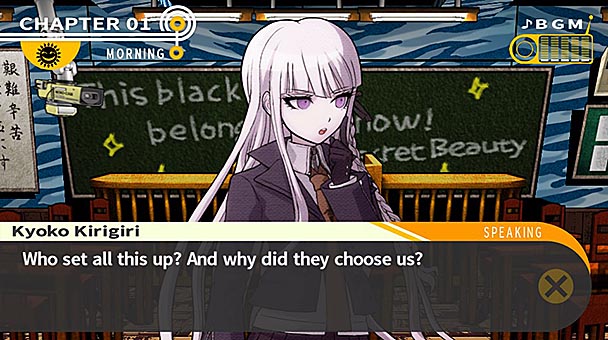 Review Overview
Summary : Fans of 999: Nine Hours, Nine Persons, Nine Doors or Zero Escape: Virtue's Last Reward will relish every bit of Danganronpa: Trigger Happy Havoc's protacted playtime.