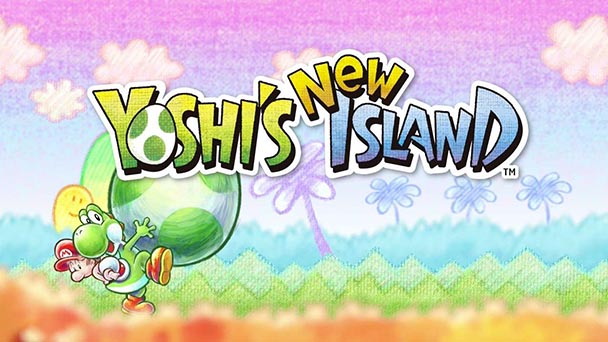 Over the last few years few companies have been stoking the flames of nostalgia as feverishly as Nintendo. From offering compilations of beloved IPs by way of the Kirby's Dream Collection and the Metroid Prime Trilogy, crafting portable ports of StarFox 64 and The Legend of Zelda: Ocarina of Time, and renovating respected franchises such as Kid Icarus, Pokémon, and Luigi's Mansion, their output is often rooted in legacy.
The most effective of these stratagems is when one of Nintendo's development teams conscientiously reworks a franchise- fusing the familiar with the fresh. While New Super Mario Bros. U was an undeniably entertaining experience, the title treaded the same Koopa-crammed grounds as New Super Mario Bros. Wii. Conversely, Super Mario 3D World often felt innovative, thanks to EAD Toyko endowing nearly every stage with some new nuance or sly twist on Mario tenet.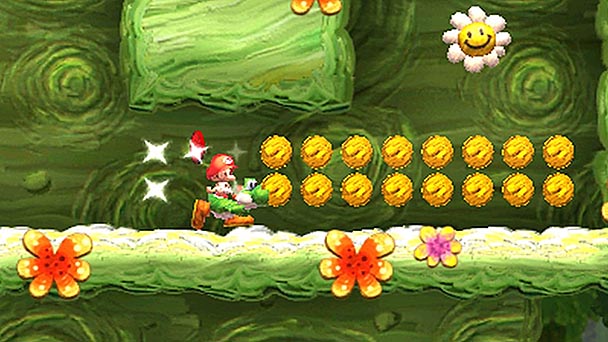 Regretfully, the team at Arzest (who've provided assistance on Wii Play: Motion and the 3DS's Mii Plaza) erred on the conservative in their creation of Yoshi's New Island. While the title is an immensely enjoyable platformer, its potential is stifled by a reluctance to tamper with tradition. Although there are moments when the game deviates from its source material- 1995's Super Mario World 2: Yoshi's Island, these divergences feel more like small tweaks rather the type of mechanics which eventually become franchise canon. That said, newcomers who've never played the Super Nintendo-based version or successive Game Boy Advance port are destined to appreciate New Island's coddling charms.
Most importantly, New Island nails the nuances of the original games. Yoshi's famous flutter jump feels spot on, allowing players to hoover across extended gaps or glide past a procession of antagonists. Although Arzest could have mapped egg throwing to the Circle Pad, the developers elected to maintain the oscillating aiming system, preserving the satisfaction of timing a ricochet shot to grab a remote collectable. Most importantly, each stage's trifecta of thirty stars, twenty red coins, and five flowers remains intact. Those seeking a quick fix can spring through a stage without a stifling sense of adversity, while completionists will be able to spend hours scouring every last recess for obscured collectable. New Island does make this group work a bit harder- concealing many of its trinkets until players poke around each suspect recess with a tossed egg.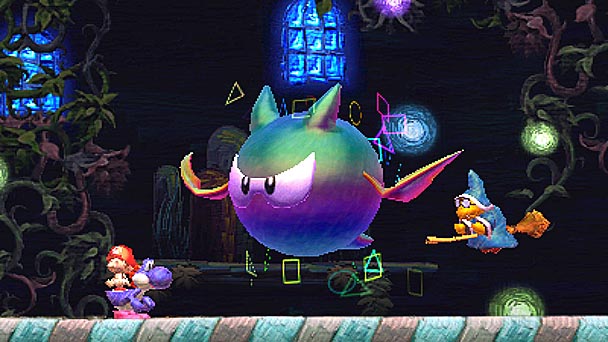 Nintendo's laudable approach to player assistance works well for the title. Succumb several times in the same zone and New Island will extend a pair of wings so that a Yoshi can circumvent the trickier platforming segments. Struggle even more and the game will give you a pair of golden wings which endow the character with invincibility. Combined the aforementioned collectable gathering challenge, Yoshi's New Island offers a scalable level of challenge that feels more organic than selectable difficulty settings.
Less successful are the title's new elements. Giant eggs, a rift on the Mega Mushrooms found in New Super Mario Bros., break through sections of the playfield, gathering coins in their wake. But beyond the initial spectacle, their integration within New Island hardly feels essential. Periodically, players will stumble across a pair of binoculars which allows players to use the gyroscopic functionality of the 3DS to scan each sprawling stage. Woefully, the device isn't used often for players to adapt to its capabilities, and the view doesn't give any insight into the location of red coins or stars. Yoshi's Island's original mini-games make a return, morphing the dinosaur into a mechanical device which is also controlled by tilting the hardware. Woefully, a sense of urgency is removed when many of these divergences can repeated without player penalty.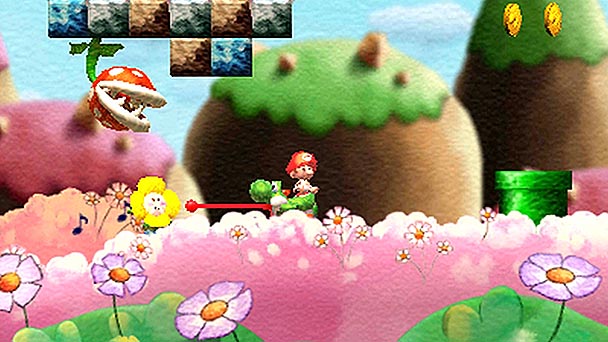 Visually, New Island shirks the awkward twin-screen presentation of 2006's Yoshi's Island DS– a design decision which made aiming eggs unnecessarily cumbersome. With gameplay constrained to the top screen, the bottom display tracks collectables, eliminating clutter on the play playfield. Although New Island graphics still exert an undeniable charm when the 3DS's depth slider is turned off, with the three-dimensional effect turned on, the title comes alive- resembling a vibrantly colored diorama. Augmented by animated, parallax-infused backdrops, New Island is a visual and technical delight, with a hand-drawn aesthetic that doesn't impair the game's fluid framerate. Sonically, the game's trademark sound effects- a wailing Baby Mario or Yoshi's determined grunt at the peak of his jump, are all intact- supplemented by a musical score which offers a number of admirable remixes of familiar melodies.
Yoshi veterans will undoubtedly yearn for original enemies, new gameplay mechanics and a three-dimensional homage to Super Mario World 2's hallucinogenic  "Touch Fuzzy, get Dizzy" stage. While Yoshi's New Island doesn't provide elements, it does provide a proficient, if markedly derivative journey. Considering that this is Nintendo's third adaption of the SNES classic, returning players might want more. However, if you've never played any of the original, GBA, or DS iterations, New Island is a recommended purchase for fans of the platforming genre.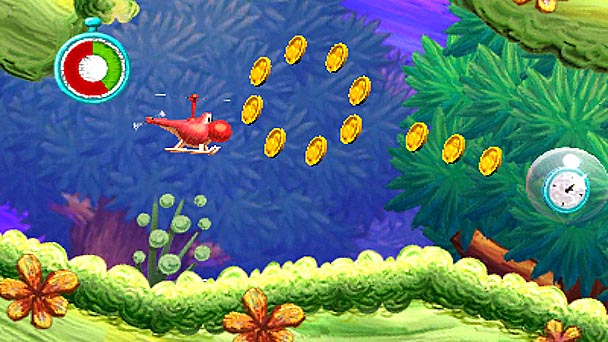 Yoshi's New Island was played on the 3DS with review code provided by the publisher.
Review Overview
Summary : The adage "if it ain't broke, don't fix it" seems to be the axiom which drove the development of Yoshi's New Island. While new elements are few, there's no denying that the game retains its status as a top-tier platformer.