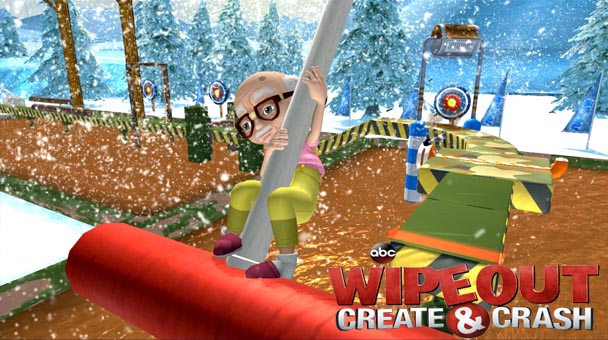 Wipeout just isn't the name of ABC's popular television program- the moniker is also an apt description of the 2011 tie-in game. As a game, Wipeout: In the Zone for the Xbox 360 was a nothing short of a  flagrant failure, due to its reliance on Microsoft's Kinect peripheral. While the idea of mimicking the physicality of the show was conceptually sound, the device couldn't identify gestures with the required amount of speed or accuracy. Habitually, two-second intervals would exist between player movement and reaction by the on-screen avatar- making navigation of a complex obstacle course nearly impossible.
Undeniably, developer Behaviour Interactive (formally known as Artificial Mind and Movement) listened to consumer outcry, as the recent release of Wipeout: Create & Crash transitions from a requirement of the device to an equitable (if not dubious) "Better With Kinect" specification. Hoping to minimize interaction with the oft-bumbling motion-sensing hardware, we reviewed the Wii U iteration. Mercifully, this version doesn't shoehorn any needless functionality. Beyond outputting its image to the gamepad, the title evades frivolities like gyroscopic control and camera integration.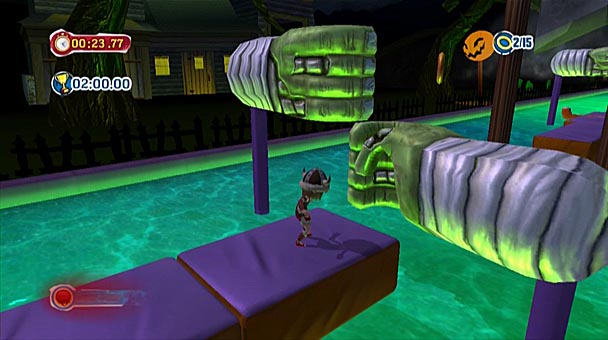 Jumping into the game's single-player arenas give players a multiple of options. Episodes grants access to a dozen uniquely-themed locates, each providing a quartet of courses. Although the components of each course use familiar Wipeout devices such as zip lines, big balls, and Sucker Punches, the milieus are just as creative as the "Deck the Balls Christmas Special". Zombie Halloween reimagines climbing nets as spider webs, while Wipeouts Ahoy! transforms rotating cogs as spinning starfish. Beyond trying to best the completion times of largely concealed CPU competitors, courses also task players with collecting both gold rings as well as smallsy- the diminutive red ball who is traditionally tucked away in a hard to reach spot.  Competitive challenges mirror the second round competitions of the show and offer an agreeable reprieve from the traditional courses.
Wipeout extends two challenge levels toward players. The default setting advances contestants to the next checkpoint after three failed attempts. Black and Blue forces players to master each section of a course, which inevitable reveals Create & Crash's blemishes. Jumping for instance, doesn't interpret analog control to determine distance. As such, it's too easy to over-jump short platforms. Other times, it's difficult to judge the trajectory and position of spinning or shifting objects, making falls nearly inevitable. Platforming off the tops of Big Balls or Trampoline Hurtles feels obstinate as well- too often it's hard to gauge where you'll land. Unexpectedly, the best segments use QTEs, prompting button presses to contort avatar so they'll fit through or slide across obstacles.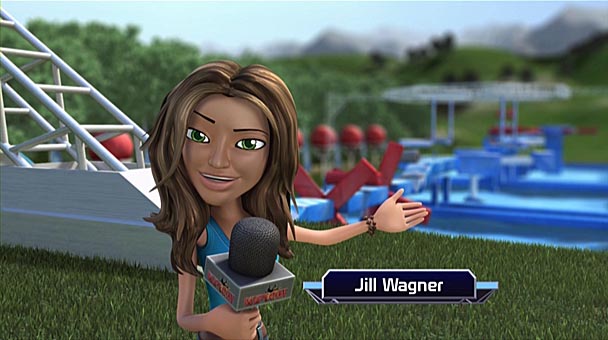 Some of these problems stems from the game's perspective, which places the camera right behind players. Dorito's Crash Course, Behaviour's thematically similar (and free) Xbox 360 game used a side scrolling viewpoint. Although the detached angle didn't convey the sense of immediacy that Create & Crash exhibits, it was far better for gauging the position and path of objects. Ideally, any additional interactive interpretations of Wipeout would allow players to pick their perspective for the action, or at the very least make obstacle shadows more perceptible.
Complementing the game's single player components, Create & Crash provide parties with competitive possibilities. Wipeout Party hosts matches for up to four players. Although contestants navigate the courses simultaneously, they are prohibited from impeding with one another. Trap Attack is a bit more interesting, placing players in control of specific obstructions. To keep competitions fair, trap staff has to obey cool down timers. At the end of each round, they'll receive a rating based on their effectiveness.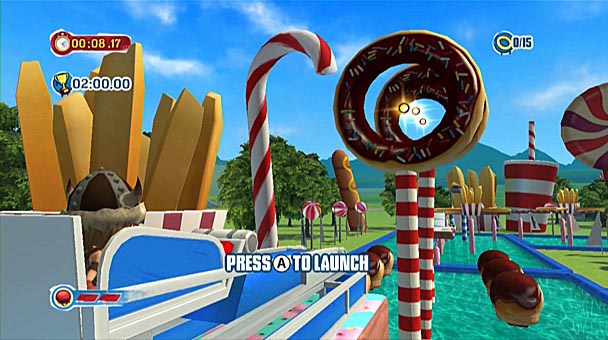 Success in each contest rewards players with in-game currency which can be used to buy additional characters, and customized gloves, boots, and helmets. Although it's an earnest effort, greater personalization would have been welcome. As it stands, gamers are subjected to random victory poses and quotes; having control over these elements would have been advantageous. Still, the ability to run courses as a tiny squirrel in a human-sized robot costume is likely to captivate Create & Crash's target demographic.
At the title implies, Wipeout: Create & Crash also provides a course construction element. Evidence of the component's capabilities are evident across both single and multiplayer games, which allow participants to race across randomized venues. Leftover Ballsy Bucks can be used to purchase course themes, layouts, or a multitude of hurdles. Building a succession of obstacles is a wonderfully easy process- boiling down to the selecting premade pieces for each part of the path. Elements like elevation and course contour are handling automatically, allowing Wipeout's younger fans to effortlessly fabricate their own designs.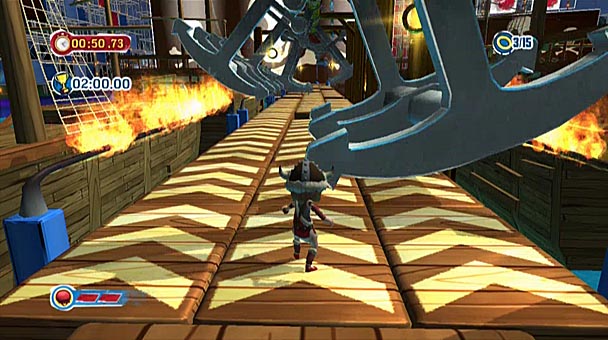 Create & Crash's visuals do a commendable job of recreating the show's selection of Topple Towers, Sucker Punches, and Donut Swings. Echoing the source material, replays flaunt Wipeout's endless succession of flubs. Although the ragdoll physics are sporadically suspect, they often do a fine job of mimicking the comical, cringe-inducing spills of the show. Save for a slight flutter when two players share the screen in multiplayer, Wipeout's framerate is usually solid. Although commentary supplied by John Henson, John Anderson, and Jill Wagner lends the game a bit of authenticity, repetitive sound samples are bound to test the patience of those within earshot.
Wipeout: Create & Crash is a substantial improvement over previous series iterations. Abandoning the requirement of motion control and the inclusion of a course editor contribute to the title's playability and longevity. Now, if Behaviour could just work out the remaining control kinks, they'd have a stellar adaptation of the show. As it stands, Create & Crash is enjoyable, but like so many Wipeout contestants, falters before crossing the finish line.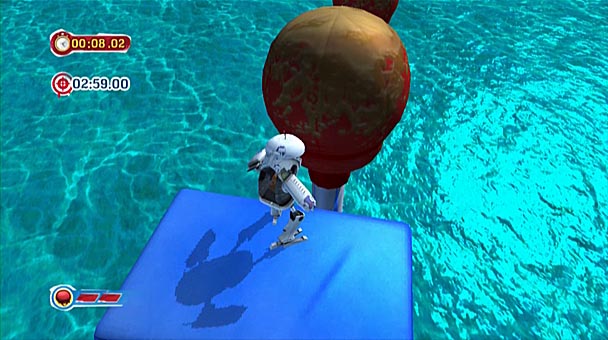 Review Overview
Summary : Wipeout is enjoyable because it blends pure athleticism with comical pratfalls. This interaction adaptation strives to capture both elements, occasionally stumbling in the process.