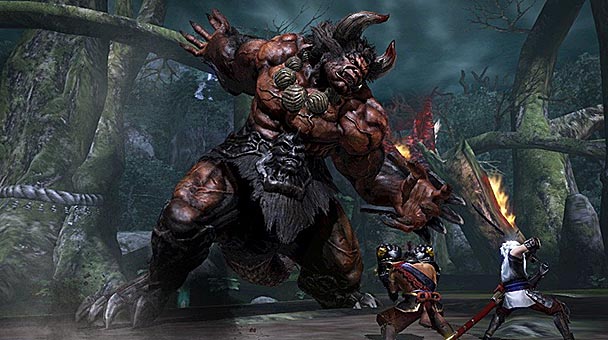 Although the PlayStation Vita library lacks an original Monster Hunter game, stalk-and-slay supporters have been able to take solace in several viable alternatives. From Soul Sacrifice to Ragnarok Odyssey, a number of developers have adeptly aped Capcom's formula- each adding their own distinctive deviations. The latest title to follow this trajectory arrives from Dynasty Warriors-developer Omega Force- who unsurprisingly, injects some of their time-honored hack-and-slash mechanics into the genre. While this might raise a flag for the musou-intolerant, in execution, if players can look past a bit of repetition, they'll find that Toukiden: The Age of Demons makes a number of additional adjustments to the beast-busting blueprint.
Characteristically, Monster Hunter permits players to jump immediately into the action, offering only a skeletal story set-up. Toukiden works similarly, articulating the perils of a village in peril, before sending players out to slaughter wandering imps. But the game articulates a more accomplished context, weaving in elements of Japanese mythology and endowing NPCs with a pleasing dose of personality. Most of the game's narrative fabric is crafted in the title's cinematics, which are exquisitely detailed and sinuously animated, echoing Omega Force's output across the Dynasty Warriors series.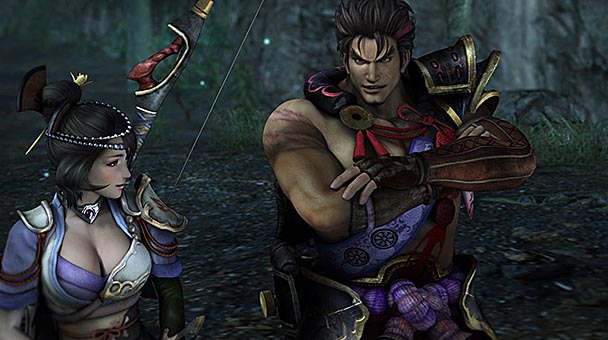 Players assume the role of a Slayer- tasked with keeping Utakata Village from being overrun by an a mounting force of Oni. The onslaught has overwhelmed other hamlets, making this stand a critical battle against the nefarious hordes. Following the naming and visual customization of the player's avatar, the silent protagonist is called into action to dispatch the demons, following an obligatory bit of recordkeeping at the village's registration counter.
Assignments in Age of Demons typically take three forms: collecting items, hunting down gangs of weaker Oni, and battling resilient boss characters. The former is accomplished by excavating glimmering specks which dot the battlefield, using a pet to pursue elements or through purification- where corpses bestow the slayers with a variety of sundries.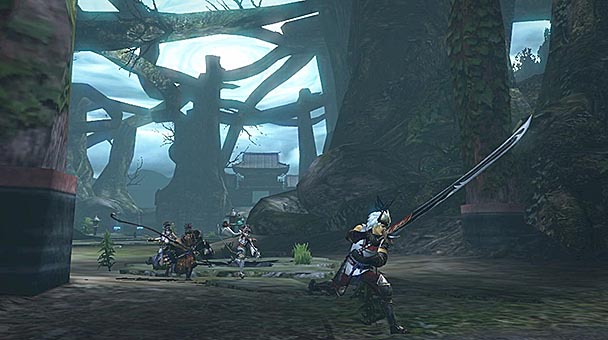 Whereas Monster Hunter's combat requires players to watch for enemy tells before committing to a drawn-out strike, Toukiden's ordinary battles are more spontaneous- built around combinations of weak and heavy strikes. Gratifyingly, each of the game's six weapon types- gauntlets, kusarigama, long bow, long sword, and spear- has its own repertoire of attacks. For solitary players, this arsenal offers a nice variety of techniques which await mastery. With co-operative teams, the toolset supplies a number of complementary possibilities for hunting parties.
Toukiden's boss battles are undoubtedly the game's most remarkable set pieces, putting both player resolve as well the Vita's battery life to a consummate test. These missions require gamers to lob off the limbs of mammoth beasts and purify these dismembered parts into rare items- lest the beast will grow back appendages, undoing any player progress. Pleasingly, both forms and attack patterns can alter as bosses persist, extending these fights for periods up to an hour in length. Yet the energy of these encounters is undermined by Toukiden's tendency to reuse monsters. Before the story concludes, players will have fought one boss four times. Likewise, palette swapping is used to boost The Age of Demons' bestiary, exacerbating the title's often homogenous mission structure.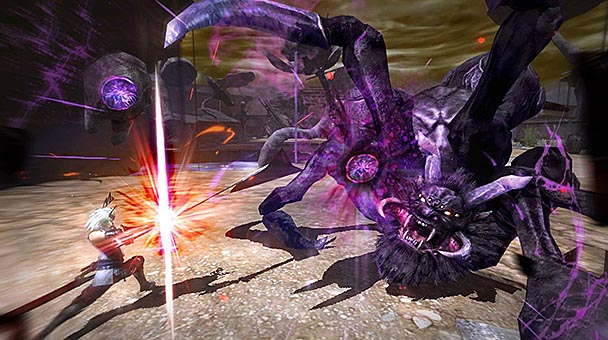 That said, variety can be found in the game's Mitama mechanic, as players recover the souls of fallen warriors from slain oni. When Mitama are attached to a weapon, they not only give the protagonist a passive stat boost, but provide an additional skill set to players. Available by holding down the right trigger and pressing a face button, the two hundred Mitama in the game can endow players with a variety of remarkable abilities, from summoning restorative enclosures, demon-damaging traps, and even teleporting players around the playfield. While a seemingly simple component, Mitama extend a nice dose of flexibility, allowing gamers to find a method which matches their playstyle.
With the West geographical expanses Monster Hunter's adherence to ad-hoc multiplayer might have impaired its prospects. That isn't the case with The Age of Demons– with the game seamlessly transitioning between AI assistants and real-world online partners. Although drop-in/drop-out functionality would have been a blessing for cooperative demon hunting, the game's lobby system allow a bit of flexibility in construction matches. Up to four local or online players can unite via Toukiden's matchmaking system, optionally joining password-protecting groups. Nicely, all a players' handiwork, from weapons upgrades to carried items carries over across each mode.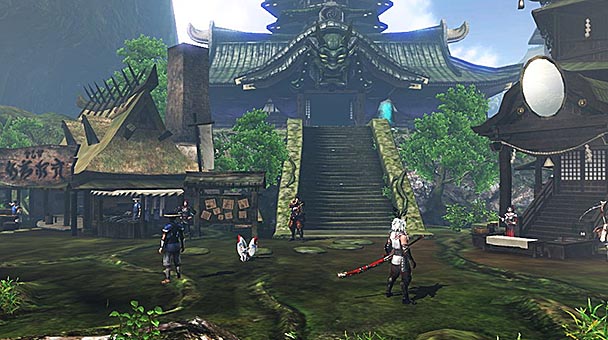 Those who prefer to play individually will be pleased by Toukiden's artificial intelligence. Not only do CPU-controlled partners not require babysitting, but they prove to be quite useful- healing the protagonist and purifying carcasses without provocation. Likewise the title's lower on-screen enemy count means that The Age of Demons' adversaries are much more aggressive that the typical Dynasty Warriors bo-staff fodder.
Although Toukiden has a limited number of environments, each locale looks absolutely stunning and is elevated by a dependably fluid framerate. From the splendor of cherry blossom trees and rushing waterfalls in one milieu to a snow-dusted setting in another, each of the game's backdrops are sumptuous. Character models are equally as adept, with many monsters and bosses flaunting fastidious texture work. Sonically, the game's musical arrangements and Japanese voice-work are skillful, mirroring the archetypal quality of the Omega Force team.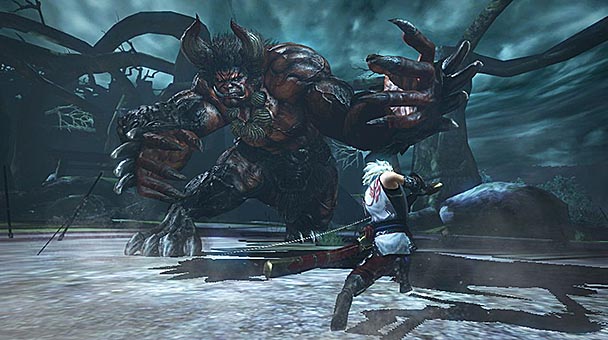 Save for the menace of repetition, Toukiden: The Age of Demons' journey is a largely enjoyable one. While the title make lack the depth and longevity of Capcom's famed franchise, Toukiden's combat benefits from accessibility and a nice selection of customization option through the game's Mitama mechanic. For PS Vita's craving an extending stalk-and-slay expedition, The Age of Demons ranks   alongside Soul Sacrifice at the portable's best, a situation unlikely to change unless Monster Hunter miraculously emerges on Sony's system.
Toukiden: The Age of Demons was played on the PS Vita with review code supplied by the publisher.
Review Overview
Summary : Toukiden: The Age of Demons is a kinder, gentler Monster Hunter. If you appreciate the concept of Capcom's game but can't commit to the learning investment, you'll want to give the demo a try.