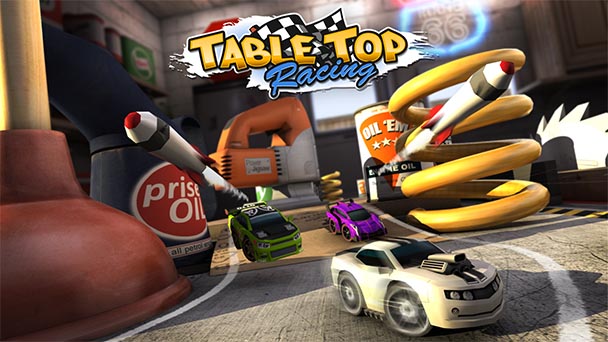 At present, the racing genre is led by titles which lean toward simulation, with franchises such as Need For Speed, Forza Motorsport, and Gran Turismo dominating the sales podium. But that wasn't always the case for consoles. Not too long ago, toy cars were the vehicular conduit of choice, as gamers snaked around household and backyard environments in games like R.C. Pro-Am, Micro Machines, and Revolt. Recent PS Vita release Table Top Racing may not be the first Vita-based title to revert back to scaled-down competitions (2012's MotorStorm RC takes that honor), but the game does deliver a delightful reminder of the joys associated with driving a diminutive hot rod.
Or, at the commencement of Table Top Racing, a supped-up ice cream truck.Following the completion of the 493 MB download, players must perform a single-lap time trial as the determined Popsicle peddler. Fortunately, this peculiar test is just a small sample of what the title has it store for gamers. Subsequent competitions usher in a convoy of AI opponents, offensive weapons, drift competitions, pursuit challenges, elimination heats, as well as a multitude of unlockable cars and upgrades.  In execution, Table Top Racing deftly demonstrates how a game should dole out rewards,persistently dangling incentives to maintain a player's interest.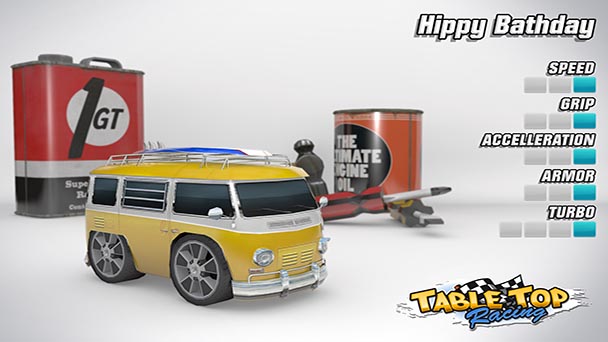 Similarly, the game does a proficient job at gradually elevating the level of challenge. Forsaking any type of tutorial or even informing players of the button bindings, the title's introductory period steadily adds each aforementioned wrinkle without a break for instruction. Likewise, the game's navigational tests could also be plotted on a subdued, elevated grade. At first, driving with the introductory selection of cars allows players to steer without releasing the throttle button. But as players persevere, not only will they need to ease up on the gas, but occasionally a tap of the break button will be needed to keep their car from careening right off the course. Although, Table Top Racing initial hour will likely be marked by cushy first-place finishes, before long the game reveals a proper level of difficulty.
Yet, even when the title raises its level of difficulty, Table Top Racing stays true to its roots, demanding an increased amount of precision while not overcomplicating game mechanics. Beating the preset scores in the game's drift challenges requires meticulousness steering and mastery of the game's courses. Thankfully, the event retains the same control scheme, with a loss of rear traction automatically initiated by a sharp turn. The downside to this approach is that these events lack long-term replayability; combos that escalated scoring multipliers might have made these stages even more appealing.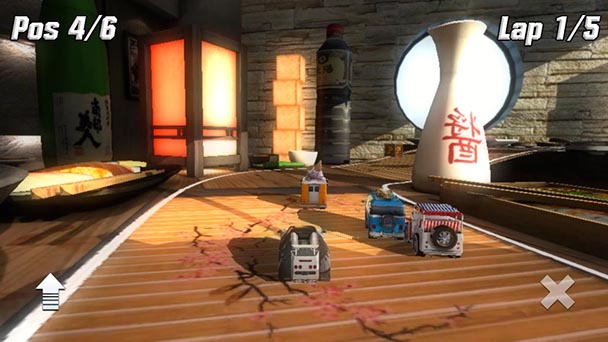 A few minor tweaks elsewhere could have propelled Table Top Racing into must-play status. While weapon pick-ups add variety to races, the perks feel uninspired- extending the archetypal selection of boosts, forward-firing rockets, mines, and EMP blasts. Given the game's awkward sound mix, players will likely tire of the crackle of your car mounted pyrotechnics which overpowers the in-game soundtrack. While Table Top Racing's handling and physics modeling is fairly faultless, the inability to turn off a backtouch initiated rear-view perspective is bound to draw the ire of players with larger hands.
Undoubtedly, Table Top Racing's in-app purchases could have easily been another blemish on the otherwise solid racer. But enough adjustments were made in the transition from the free-to-play mobile versions, to effectively nullify the need to purchase any in-game cash. Not only does the digital download bestow five million credits to players, but an ample amount of currency is earned after each race. As such, if you follow the title's campaign trajectory, there's little problem in unlocking the fleet of sixteen additional vehicles, as well as buying power-ups for each vehicle.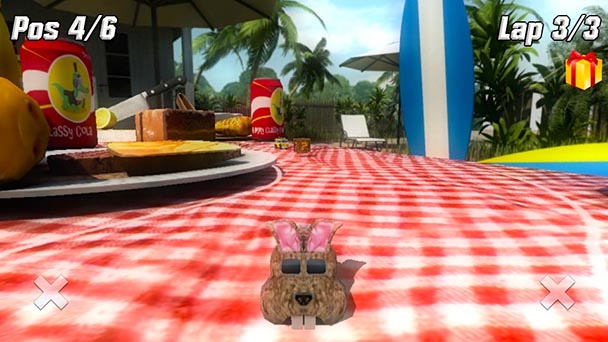 Although Table Top Racing's muted racing music is a bit disappointing, the game's visual output is poised to please players. Whether players select from one of the two low-slung, behind the bumper viewpoints or a top-down, Micro Machine-style perspective, the game delivers a sinuous sixty frame-per second output. Both camera options help to show the title's magnificent track design and texturing. From a contest situated in a Teppanyaki restaurant to a race through a plaything-filled kid's room, each of the game's eight environments are remarkably well rendered, tempting drivers to notice environmental elements like sake bottles and Matryoshka dolls.
Beyond the game's single-player campaign and selection of quick race challenges, Table Top Racing also offers a robust multiplier component. With the ability to hold competitions in either ad-hoc or online contexts, those seeking competitive races have a few options. While the game's servers are a bit barren at launch, when gamers do find rivals, they can expect races to execute with only a minimum of lag and slowdown.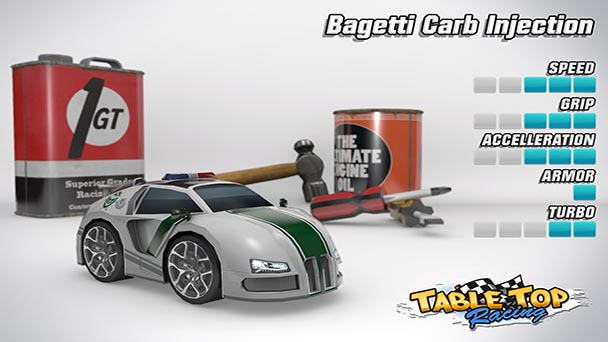 Although Table Top Racing has a few flaws, none of them are strong enough to detract from the enjoyment of rocketing around paint cans and plungers in a slovenly garage. After spending the last few years shaving seconds off of lap times in far more serious racers, it's gratifying to be able to play a title that shuns much of the intricacy associated with the genre. For anyone who's longed for update to Micro Machines or Revolt, Table Top Racing's sprints are well worth the eight dollar asking price.
Table Top Racing was played on the PS Vita with review code provided by the publisher.
Table Top Racing
Platform: 

PS Vita


Publisher: Playrise Digital
Release date: 

August 5th, 2014


Price: 

$7.99 On PSN, $6.29 for PS+ Subscribers


Language(s): 

English text
Review Overview
Summary : Forget the licensed cars, tracks, and drivers, Table Top Racing reminds us that steering toy vehicles across imaginative milieus can be fun as those grandiose super-car simulations.