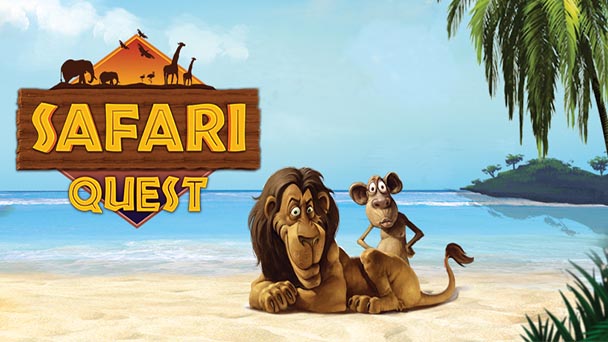 After years of nondescript tile-swapping puzzlers on consoles, PCs, and mobile devices, players might assume that the match-three game has long grown dormant. After all, there's been little modernization in the genre as of late. Although last April's release of Atlantic Quest for the Nintendo 3DS didn't introduce any new innovations, the title did prevail over its peers by offering an assortment of popular mechanics which gelled together in a gratifying manner. Collectively, these different elements helped feign the feeling of freshness, making Atlantic a practical purchase for match-three devotees.
Distressingly, Gernsheim, Germany-based developer Rokapublish has succumbed to the same stagnancy that has afflicted the genre, with the release of Safari Quest for the Nintendo 3DS exhibiting near-identical play to its predecessor. Save for swapping a sub-aquatic setting for an ersatz African context, Safari Quest is little more than a clone, extending the same type of tile-clearing mechanics and power-ups. While that means the game might still be a functional diversion for newcomers, dedicated players who have played one of Rokapublish's previously released Quest titles should prepare to be underwhelmed.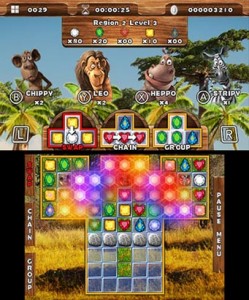 Whereas Atlantic Quest was tied together with an environmentally-conscious narrative about an effort to clean up an oceanic oil spill, Safari doesn't deliver the same sense of urgency. At best, the storyline is succinct, with a premise that deliver a few text screens before sending players on a pursuit to photograph an elusive and exotic white lion. Fortunately, for those who'd rather shift play title that follow plotlines, Safari Quest's narrative can be bypasses with a few button presses.
Success in each of Safari's one hundred levels is a two-pronged undertaking. Player must not only remove certain amount of each type of tile, but they also have to eliminate the sections of grass which appear behind the icon of each tile. Over time, things get gradually thornier, with the title increasing the variety of tile types as well as delivering playfields that have the tendency to trap pieces.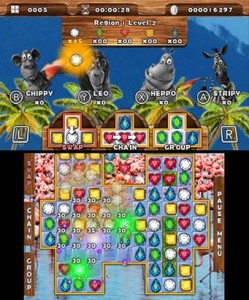 Match-three deviations have used a variety of techniques to remove pieces from the game board. Bejeweled required gamers to swap two adjacent pieces, while titles like Azkend tasked gamers with drawing a line through equivalent pieces. Other games like Collapse! have been built around a more nimble approach- permitting players to remove entire groups of equivalent icons through a single touch.
Safari Quest incorporates all three of these methods, with gamers switching between the system with either the shoulder buttons or by tapping icons which line the far left side of the touchscreen. Initially, it can be a bit overwhelming and players might find themselves sticking to one technique. Once the number of icon types increase and the layout of levels become more intricate, gamers are goaded into using every tool at their disposal.
Beyond this trifecta of tile eliminating approaches, Safari Quest also gives gamers additional assistance. By allowing different animal icons to hit the bottom of the playfield, players earn power-ups that are activated with a press of one of the 3DS' four face buttons. Capable of changing a specific tile, removing grass from grid squares, or producing icon-clearing explosion, these elements will undoubtedly help gamers deal with the scourge of rocks and other immovable elements that litter the playfield.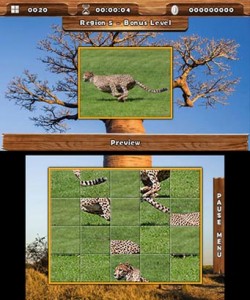 While all of these mechanics will be familiar to those who played the previous title, a number of omissions might be surprising for returning players. A trophy system awarded players visual rewards for feats such as clearing chains on nine or more tiles or eliminating a hundred stones during play. Sadly, trophies has been excised from Safari Quest.
Additionally, the quantity of levels had dropped in this follow-up, with twenty fewer stages for gamers to work their way through. Thankfully, the jigsaw puzzle bonus levels remain, punctuating each cluster of stages with an unassuming activity that helps avert tedium.
Aesthetically, Safari Quest is competent, exhibiting dissimilarity in tiles through both hue and shape (permitting color-blind gamers to play). While the game's four assistive animals are rendered nicely, vaguely resembling the creature-cast of Madagascar; they are still portraits which occasionally blink. Ideally, they would have been given animation routines to cheer players on and embed the game with a bit of enthusiasm. Sonically, the title's tune may offer clarity, but there's little cohesion- tracks ranging from guitar-driven blues numbers to songs which sound like a generic royalty-free pieces.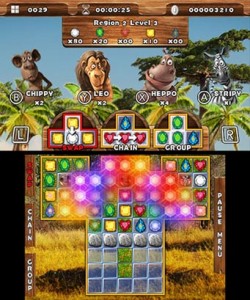 Recommending Safari Quest over its superior predecessor is impossible. Currently priced two dollars cheaper than the current title, Atlantic Quest also boasts twenty additional levels and a trophy system. As such, the only reason to purchase Safari is if you are unshakable, match-three maniac craving more of Rokapublish's amalgam of tile removal mechanics.
Safari Quest was played on the 3DS with review code provided by the publisher.
Safari Quest
Platform: 3DS
Developer: Rokapublish GmbH
Publisher: Maximum Games
Release date: November 11th, 2014
Price: $4.99


Safari Quest review
Review Overview
Gameplay - 65%
Controls - 70%
Aesthetics - 70%
Content - 75%
Accessibility - 70%
70
70%
OK
Summary : Customarily, sequels are supposed to improve on their precursors. Safari Quest offers the identical play mechanics with a bit less content.

User Rating:

3.77 ( 3 votes)