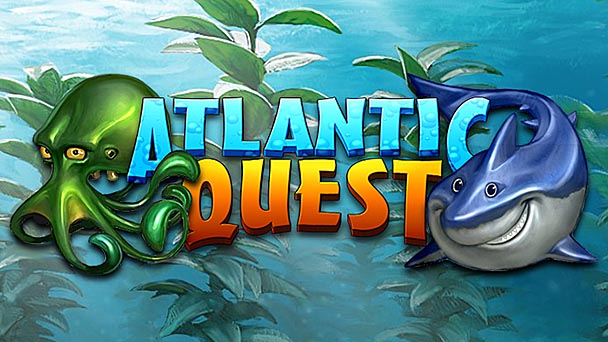 Having captivated players for nearly three decades, one might assume that the match-three puzzler must be gallantly swapping its last play pieces. Seemingly every possible variant has been inserted into the genre, from Fishdom's goal of assembling a tranquil aquarium to Puzzle Quest: Challenge of the Warlords' amalgam of tile-trading and light role-playing elements. As such, it would be easy to overlook the recent eShop release of Atlantic Quest. After all, between the libraries of DS, 3DS, and digitally download titles, Nintendo's portable already has a large assortment of competent match-three games. What's more, the game's screenshots don't exactly convey exceptionality, with images making the title seem like a subaquatic Cradle of Rome.
Indeed, there's accuracy in that first impression as Atlantic Quest doesn't usher in a single new idea. But writing off the Rokapublish-developed title would be a bit imprudent. In execution, the title dexterously interweaves a myriad of match-three tenets into a cohesive whole, creating a concoction that might not feel entirely fresh, but is remarkably fun to play. If you haven't reached your saturation point with the genre, diving into Atlantic Quest might prove to be a worthwhile expedition.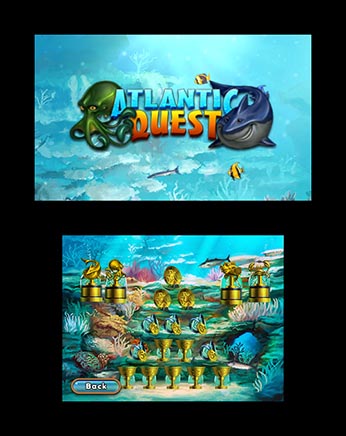 Storylines in the match-three domain are universally disposable, allowing impatient gamers to skip the insubstantial plot and jump right into piece shifting. While Atlantic Quest has no aspirations to elevate this approach, it offers the best conceivable solution- extending an impetus that's both concise and compassionate. A series of static screens articulate a disaster which sends an outpouring of oil into an aquatic habitat. It's up to the players to remove the toxicity from a series of 120 stages by not only removing crude deposits in the environment but also rescuing an increasing amount of sea life on each level. In execution, that means either eliminating a group of symbols which corresponds to an bubble encasing some innocent sea creature or removing a cluster of titles to scrub away a patch of liquid petroleum from the playfield.
Deviations have used a variety of techniques to remove pieces from the game board. Bejeweled required gamers to swap two adjacent pieces, while titles like Azkend tasked gamers with drawing a line through equivalent pieces. Other games like Collapse! have been built around a more nimble approach- permitting players to remove entire groups of equivalent icons through a single touch. Atlantic Quest incorporates all three of these methods, with gamers switching between the system with either the shoulder buttons or by tapping icons which line the far left side of the touchscreen.Initially, it can be a bit overwhelming and players might find themselves sticking to one technique. Before long, the number of icon types increase and the layout of levels become more intricate, goading gamers into using all of the tools at their disposal.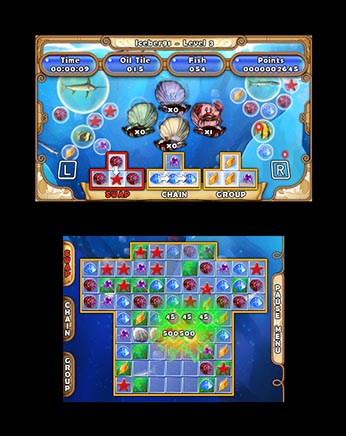 Beyond this trifecta of tile eliminating approaches, Atlantic Quest also gives gamers additional assistance. By collecting power-ups and tapping on the 3DS's face buttons, players can set off icon-clearing expositions, remove a specific title, wipe out several oil-logged tiles, or even fill the board with new pieces. Undoubtedly, gamers will need the aid, as obstacles such as rocks and pearls stymie tile movement. On the upside, the latter can provide players with supplementary benefits if it is escorted to the bottom of the playfield.
Ports of PC titles often fail to take advantage of Nintendo's dual-screen functionality, but Atlantic Quest reveals a talented transition.  The top display keeps racks on smaller details such as the number of titles tainted with oil or the types of icons which need to be matched to free a fish. With these elements confined to upper half of the 3DS, the touchscreen is allowed to exhibit an unobstructed, full-sized playfield. The decision to maximize the scale of the game board helps to ensure that title swapping, chaining, and removal is handled with precision.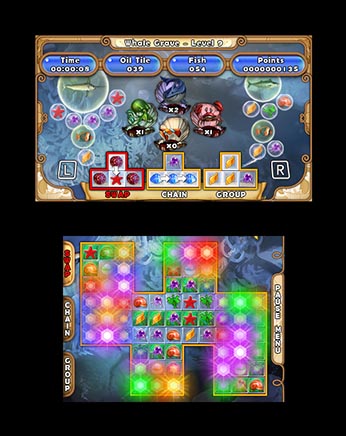 Periodically, Atlantic Quest pauses its tile swapping for another diversion- rewarding players with a jigsaw-style challenge every ten stages. With the inclusion isn't revolutionary, it doesn't help to break up the task of searching for icon sets and possible combos. Further fulfillment can be found in the title's trophy system, which bestows a bit of visual commendation for completing specific actions.
Some might argue that match-three titles have passed critical mass and is destined for a deterioration in popularity unless some ingenious new idea reinvigorates the genre. Without any real innovative elements, Atlantic Quest isn't tile-shifting savior- but the game's combination of many proven mechanics does make for an enjoyable ten-hour excursion, which easily warrants its $5 price from match-three maniacs.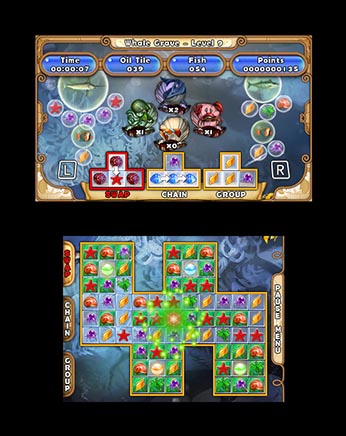 Atlantic Quest was played on the Nintendo 3DS with review code provided by the publisher.
Review Overview
Summary : Inclusionary rather that revolutionary, Atlantic Quest blends nearly every popular match-three mechanic into proficient puzzler.