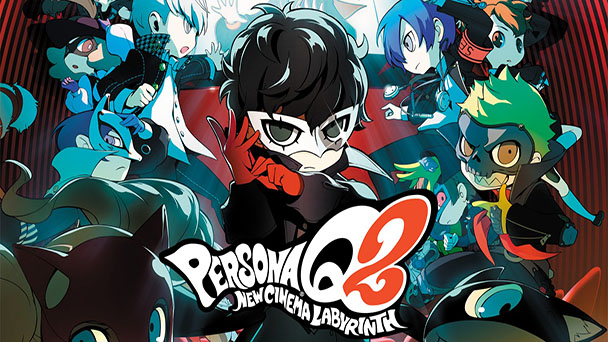 Critics and players often advocate for creative autonomy, a climate where developers can craft games with a minimal amount of audience involvement. Inversely, attentively listening to an enthusiastic fanbase can often reveal issues that studios might not have foreseen. The release of Persona Q2: New Cinema Labyrinth for the Nintendo 3DS shows developer and publisher Atlus finding a delicate balance between these two approaches.
The reaction to 2014's Persona Q: Shadow of the Labyrinth was undoubtedly a bit mixed. Many players appreciated the crossover between characters from Persona 3 and 4 and how they mixed in with the dungeon exploration of the Etrian Odyssey series. But the game's often unflinching difficulty all too often decimated penniless parties, introducing frustration into an otherwise clever fusion of franchises.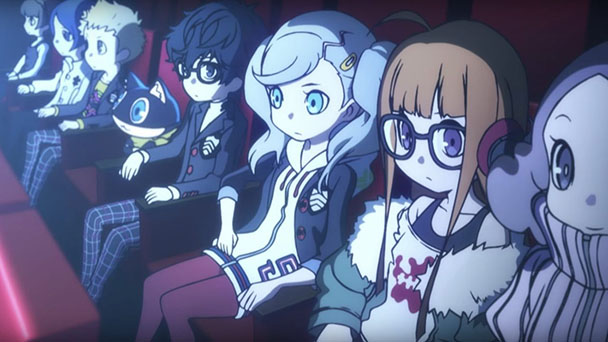 The Gangs All Here
Persona Q2 expands on the social interactions that put the united casts in pleasing, often celebratory situations. The focus here is decidedly on Persona 5's Joker and the rest of the Phantom Thieves, however members of P3 and P4 crews are also on hand. Naturally, that means that New Cinema Labyrinth will delight dedicated Persona fans, with characters from different entries building bonds over shared interests. If the thought of Ann Takamaki and Chie Satonaka becoming easy acquaintances interests you in the least, Q2's dialog pays indulgent dividends. I particularly enjoyed the interactions between less likely duos, with conversations which often referenced past events. This often made the well-written characters that much more believable and nuanced.
If you're not as acquainted with the different Persona casts, you might miss these clever nods. But you'll still be able to keep up with Persona Q2's plotline. The game goes out of its way to introduce characters, and while the first half-hour is filled with a lot of succinct summaries and encapsulations, the explanations pauses before new personalities are added in, quite a few hours later.
Please Exit the Theatre in an Orderly Fashion
With the P5 team cruising in the Morgana mobile, abnormality strikes when the vehicle loses control, acting like it's operated by some unseen force. After a hasty exit, the team thinks they might be in Mementos, but the presence of odd-looking foes suggests they may be somewhere else. Seeking shelter from the adversity of this strange place, the Phantom Thieves find a movie theatre. Here, they'll encounter two new characters, a girl named Hikari, and Nagi, a theatre manager. With key member missing and no open doors, the remaining group seeks a way out of this ensnarement.
While the banter between characters will gratify, New Cinema Labyrinth's thematic elements are a bit redundant. Far too much time is spent preaching about the ills of conformity. Later, the game delves into issues like depression, but it's a foray that feels a bit too fleeting. Persona has always been best at tackling adolescent angst, and you might wish this was a bit more common in Q2.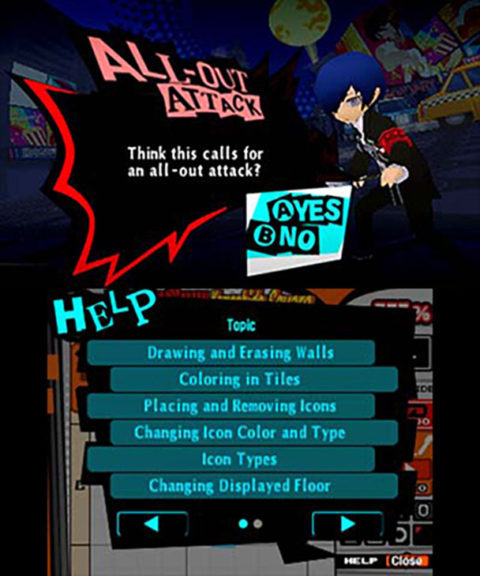 Screen Time
Unsurprisingly, escaping the theatre is accomplished by gathering collectables, which are found within a succession of dream-like cinemascapes. This set-up permits teams to delve into a number of notable film genres, from rebellious teen fantasy, Jurassic Park-esque science gone awry, and even bleak futurism. Additionally, these cinematic contexts are revisited for the game's forty Special Screenings. These optional quests are a cut above the typical side missions. Here, Atlus demonstrates their awareness that item hunts can feel like playtime filler. Tackle a screening with a predetermined team and not only will you receive the conventional perks, but you'll also be privy to some interesting interchanges between characters.
Building on Etrian Odyssey's solid foundations, New Cinema Labyrinth's explorations remain entertaining. Although players can opt for auto-mapping, forging the convenience proves compelling, as you use the touchscreen to sketch halls, walls, treasures, and the ever-increasing objects that makes reconnaissance an engaging undertaking.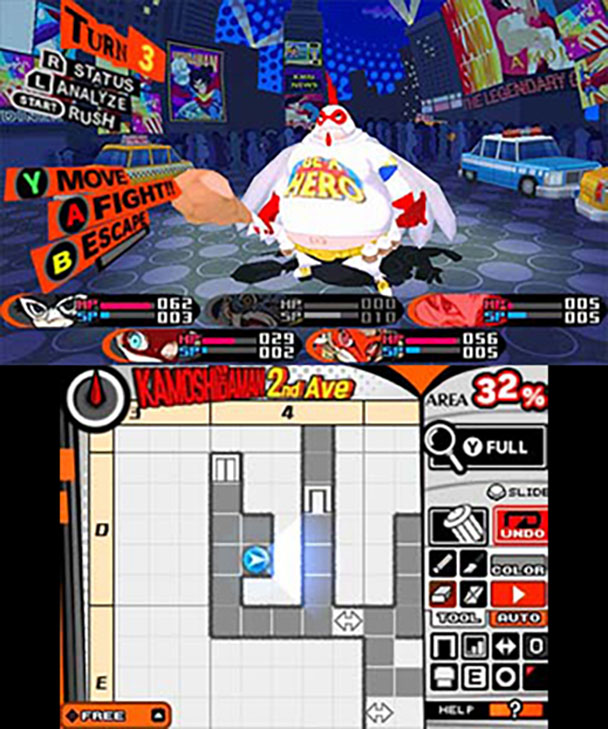 Friends and F.O.E.s
Navigation involves more than just basic cartography. You'll also have to be aware of random foes who are likely to appear when a gauge depletes. Additionally, there are immensely powerful opponents called F.O.E.s (Field on Enemies), who patrol along regular routes. Taking one on prematurely is deadly, so you'll want to keep careful track of their movement patterns.
Shadow of the Labyrinth had a merciless approach to dungeon runs, making progress difficult. Leaving, replenishing health and items, and returning wasn't easy, due to protections to make the process thorny. New Cinema Labyrinth adopts a decidedly more relaxed approach, which reduces the intensity of battered escape, but also diminishes the infuriation. Listening to players, the game's environments don't feel like prickly puzzles. Now, they require a bit of critical thinking as you trigger switches or are blown across chasms, but they're not so difficult that players will need to consult a FAQ/playthrough video.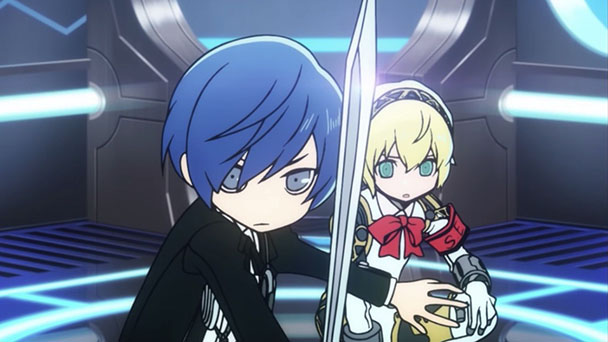 Welcome to the Velvet Room
Unsurprisingly, turn-based combat draws from both Etrian Odyssey and Persona. The former is found in party formations, with three members on the front lines while a pair of teammates serve in the back. Squads are also augmented by up to two support characters, who can provide both active and passive bonuses, like healing as you walk around each location. Persona's influence is found in All-Out Attacks. Here, if you're able to incapacitate foes, your party can team up for a strike so brutal it produces a giant plume of smoke. Only the toughest of adversaries are likely to survive. Another ability is Boost Status, which is activated when you land a critical. When in this mode, you'll be able to use specials without draining your SP pool and have augmented attack power. Just don't get hit before Boost builds on the next turn, or you'll lose the benefit.
Character customization is available in the Velvet Room, where players can equip secondary, subordinate Personas in an effort to take on more formidable foes. Pleasingly, Persona Q2 provides a good deal of flexibility, and you're able to combine two Persona into a new one, with the result often having characteristics of both manifestations. Yet, with random Motivations that enhance the stats and critical rare of characters, you'll also be tempted to keep your party remember in rotation.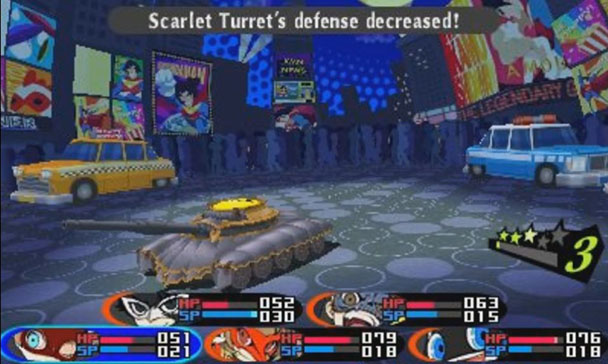 A Fitting Farewell
Likely the 3DS's last physical release (Shovel Knight's King of Cards expansion is due for digital), Persona Q2: New Cinema Labyrinth is a suitable swan song for Nintendo's dual screen portable. While the title might shirk the handheld's stereoscopic functionality, it's a role-playing tour-de-force that unites three different Persona series into a sub-series that upholds the greatness of the source material. Hopefully, Atlus' future crossovers will be as inspired as this one.
Persona Q2: New Cinema Labyrinth was played on the
Nintendo 3DS with review code provided by the publisher
Review Overview
Summary : Persona Q2: New Cinema Labyrinth retains the charming blend of multiple casts and absorbing adventuring. An emphasis on conversational camaraderie and easing the overbearing difficulty of the original Persona Q, make this an experience you shouldn't miss.