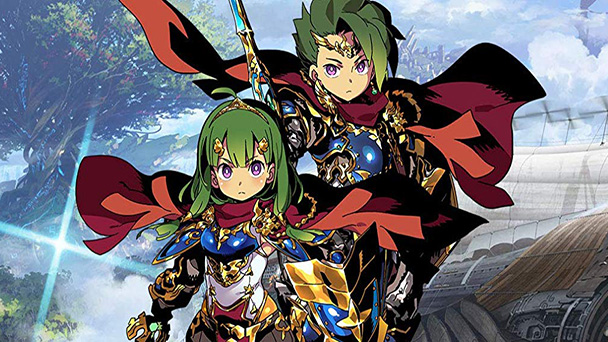 Always a Tough Act to Follow
Technology is often used to automate simple tasks. It's engineered to remove tedium, so users can focus on more interesting elements. But 2007's Etrian Odyssey cleverly challenged this assumption. Whereas most role-playing games of the era employed auto-mapping to ease navigation, the DS title returned to the genre's table-top roots. Gratification, the developers reminded us, wasn't just rooted in the tensions of turn-based battles. It was also engrained in the methodical exploration of dungeons, as players served as budding cartographers. Mapping the title's monster-infested lairs proved just as rewarding as exterminating a tough boss, with fulfillment arising from reconnoitering and plotting every last alcove.
It was such a solid inaugural effort that developer Atlus (with occasional assistance from Lancarse) undoubtedly grappled with the obligatory improvements needed for sequelization. Over time, a richer storyline would be integrated into the franchise's two remakes, 2013's Etrian Odyssey Untold: The Millennium Girl and 2015's Etrian Odyssey Untold: The Fafnir Knight. But other that content additions like new classes and components like the traversable overworld added to Etrian Odyssey IV: Legends of the Titan, it was undoubtedly difficult to improve such a well-realized concept.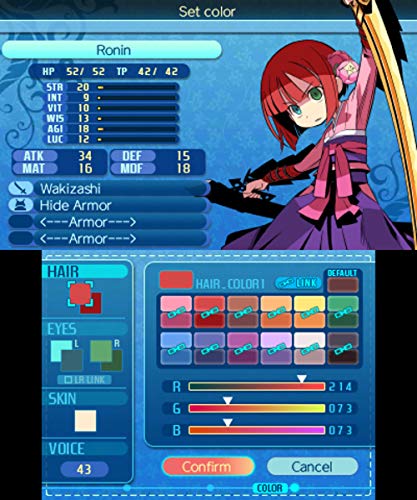 With the release of Etrian Odyssey Nexus, Atlus' exertion subtly shows. The game's assortment of nineteen character classes are culled from five previous entries, alongside a solitary new role, called Hero. The typical trek through a half-dozen labyrinths has been doubled, although elements like milieu, monsters, and music have also been recycled from previous outings. Yet, despite the reuse of assets, this isn't one of those tawdry cash-grabs the industry offers all too frequently. No, Nexus feels like a victory lap, a concluding celebration for what's unquestionably one of the best dungeon-crawling RPGs around. It's both a farewell of a dear friend and a hopeful harbinger of the series shift to a newer platform. Certainly, series stalwarts won't want to miss it.
No Pre-made Parties Here
In keeping with table-top and franchise tradition, Nexus gives players a wealth of autonomy in the creation of your adventuring party. While you'll undoubtedly have to think about party synergy on the game's higher difficulty levels, there's a generous amount of freedom in the lower two (of four) settings. Initially, you'll create five teammate and hopefully a few reservists. Being able to select their name, class, appearance, and voice permits players to customize their membership, potentially generating a sense of concern for your customized ensemble of adventures.
Enjoyment stems from discovering and augmenting the abilities of your characters. With the new Hero class, you're able to use skill named Afterimage, creating a single-turn doppelganger who can double-up on the distribution of damage. Like previous Etrian Odyssey titles, your party will form a two-row formation. As such, you'll want to recruit some ranged characters if you're hoping for extra offensive punch. Alternatively, platers can bring a Sovereign to rise team morale, or even a Farmer to scythe through your enemies. While the labyrinths lose a bit of their appeal once you've seen their diversions, replay is encouraged through different party compositions.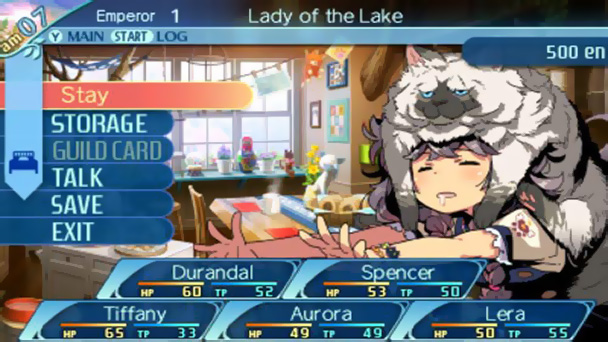 Etrian Odyssey 3 and 4's subclassing returns, replacing 5's race-based system. Once unlocked this allows you to tailor your party member even further, as you specialize. Another callback is found in the reinvigoration of The Fafnir Knight's Force Boosts and Breaks. Much like Limit Breaks in Final Fantasy, you'll gradually fill a meter during battle. With the gauge primed, menu selections permit players to select commands from a particularly potent skillset.
Light on Plot, But Packed with Play
It's somewhat disheartening that we won't see an Untold-style remake of Etrian Odyssey III: The Drowned City, since sea quests, balancing, and a few boss fights could have used revision. But as the series' swan song on the dual screen portables, Nexus celebratory aspirations are commendable. Essentially, there's a careful curated inventory of elements from previous entries as well as enough new material to ensure novelty.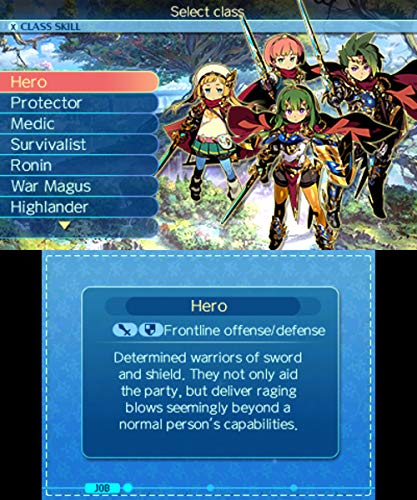 The story which centers around Princess Persephone's call for adventures to gather on floating city of Maginia before exploring up the tendrils of the mighty Yggdrasil Tree. Pleasingly, there's just enough exposition to provide an impetus without under-burdening adventures eager to get into labyrinth mapping. For franchise fans, there's several cameos, and meeting with Etrian Odyssey 3's Napier is smile inducing. Pleasingly, she's not the only familiar face.
Compelling Cartography and Combat
Although a number of labyrinths appropriate environments from previous games, exploration of Nexus' multitude of areas remains compelling. Layouts are altered of course and there are new navigational gimmicks, so each area feel fresh. Of course, if you dislike mapping duties, you can opt to have the game do most of the work for you. You'll still have to add details like where doors are, but it's a streamlined experience.
FOEs, the series trademark oversized, wandering enemies have been substituted too. Discovering their patterns and preparing to take them down is as tense as ever. Of course, combat with each dungeon's conventional denizens are entertaining. Encounter frequencies are tied to a circular gauge in the bottom of the screen, offering a bit of warning, so player can prepare for battle. While there are a few spikes in difficulty (such as an early back-to-back boss fight), Nexus favors challenging but not insufferable boss fights. Well, that's the case until some of the post-game content, which up the ante significantly.
If Looks (and Sounds) Could Kill…
Even if you're a power-miser who uses their 3DS with autostereoscopic functionality permanently turned off, you'll want to shift the slider for Nexus. Series artist Yuji Himukai draws distinction for crafting colorful, perpetually cute assets that are far removed from the stoic, and drab visual design of most dungeon crawlers. Here, he's established a new watermark with some of the more sumptuous designs to ever grace a 3DS screen.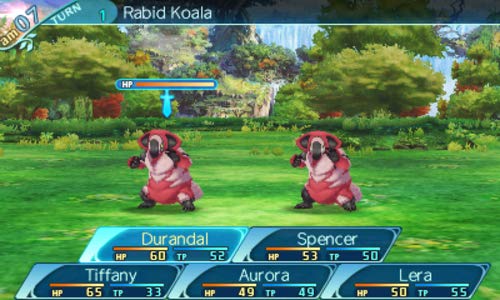 Largely, Yuzo Koshiro's soundtrack keep pace with the visuals, offering a multitude of tracks that use live instrumentalization. When he employs distorted, searing guitar licks to communicate tension, you'll want to use a set of headphones to appreciate the work here; the tiny 3DS speakers do no justice. While the game's Japanese voice-work receives a largely competent localization, occasionally some phrases won't receive a subtitle. It's possible to infer meaning through context, but it's an uncharacteristic oversight from Atlus.
Harnessing the Dual-Screen Abilities One Last Time
Typically, media that blends pre-existing and new content can be awkward, failing to generate the gratification of a wholly new work. Carefully, Etrian Odyssey Nexus evades this ensnarement. There's just enough reuse to stir up nostalgia without making the journey feel too derivative. While newcomers might not be able to reminisce, they should appreciate an extended entry that brings quite a few quality-of-life additions.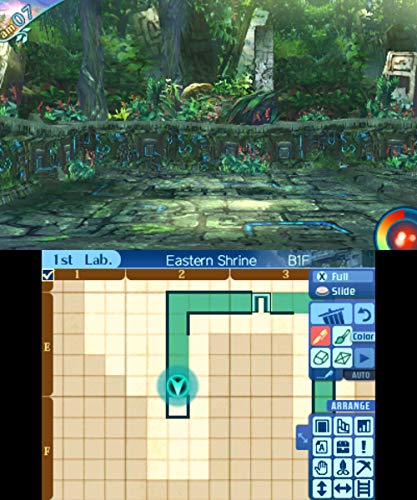 Etrian Odyssey Nexus was played on the Nintendo 3DS
with review code provided by the publisher.
Review Overview
Summary : Parting is difficult, Etrian Odyssey Nexus. But your dual-screen departure could hardly have been performed any better. Carefully, incorporating the best elements from the best dungeon crawler around, this is a commemoration not to be missed.