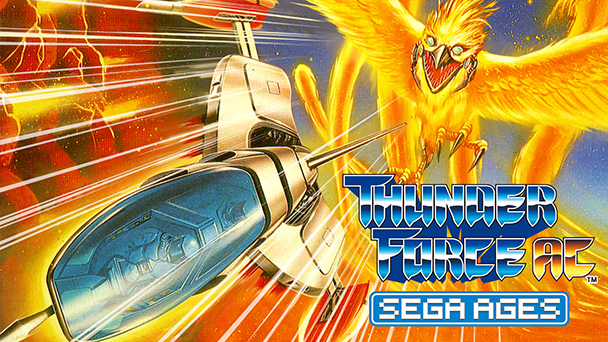 The 1991 coin-op arrives on Switch screens with most of the customary supplements of the SEGA Ages line. If you're a fan of first-class retro shooters, this entry deserves a space in your collection.
SEGA AGES Thunder Force AC
Platform:
Switch
Developer:
M2
Publisher:
SEGA
Release date:
May 28th, 2020
Price:
$7.99 via physical and digital download
Availability:
Nintendo
eShop
Although Nintendo's inaugural console had a number of shooters, there were often obvious differences between the NES/Famicom port and the original arcade cabinet. But by the time the SEGA Genesis/Mega Drive released a few years later, the gap was closing. Sure, Toaplan's adaptations- Truxton, Fire Shark, Hellfire, and Twin Hawk, weren't pixel perfect. But they did a respectable job at capturing the spirit of the source material, as did other cartridges such as Raiden Trad, Vapor Trail, and Insector X.
In 1990, Technosoft released Thunder Force III, which finalized the shift from free scrolling, top-down perspective to a horizontally scrolling one similar to Gradius. Thunder Force II had added a few side-scrolling stages, and these were largely considered the best parts of the game. So, third iteration doubled-down on these, and it proved to be a proficient design decision. Upon release, gaming magazines almost universally commended the title. Later that decade, Electronic Gaming Monthly would name it as the single best shooter on the console. Unsurprisingly, players on both sides of the Pacific provided praise, spurring three sequels across the next eighteen years.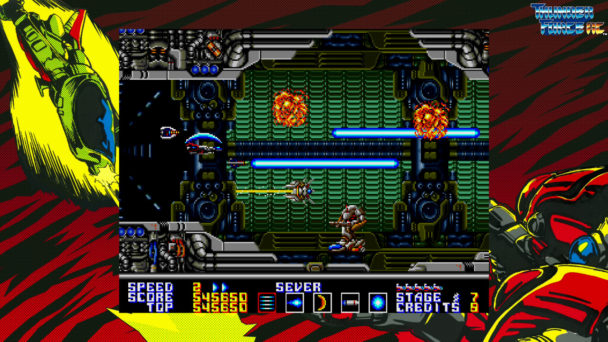 From Console to Arcade and Back to Console
Soon after the game's release, the title made the rare jump from console to arcade, resulting in 1991's Thunder Force AC. Later, the game would arrive on the SNES, rechristened as Thunder Spirits and even end up on the Saturn by way of Thunder Force Gold Pack 2. But AC wasn't just a simple coin-ingesting rehash of Thunder Force III. Instead, Technosoft tinkered with the game, using the larger color palette afforded by the System C-2 arcade board (which also powered Columns, Puyo Puyo, and Puyo Puyo 2). But that wasn't the only adjustment.
Thunder Force III allowing players to select their own path through five planets. After conquering Ellis, Gorgon, Haides, Hydra, and Seiren, there was a trio of stages that propelled them through ORN headquarters toward a concluding showdown. AC scrapped the ability stage select and replaced Ellis and Haides with new levels. Ellis is replaced with a space stage filled with asteroids and a walker bot showdown. Haides' stand-in revisits Thunder Force II's eight level, while recycling Ellis' original boss. Moreover, enemy placements, environmental perils, and a slight uptick in difficulty mark AC's differences.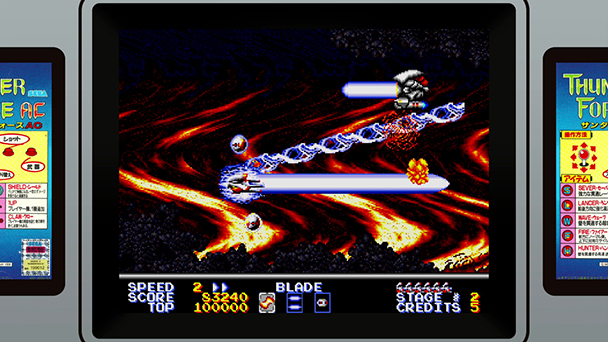 Layers of Depth
Revisiting SEGA AGES Thunder Force AC demonstrates a shooter that would define many of the genre's rudiments. Layers of the environment whizz by in what's called parallax scrolling, offering an illusion of depth. Sure, it had been done in arcade games like Moon Patrol and Jungle Hunt. But Thunder Force III/AC's multiple layers, which your ship moves in front of, and occasionally behind, remains eye-catching. Gorgon's stage with its erupting geysers and trippy sprite swaying effect must have represented the apex of shooter visuals during the early 90s. Likewise, a searing soundtrack from Technosoft regulars Toshiharu Yamanishi and Tomomi Otani establishing expectations for driving shooter rhythms. AC might not rock quite as hard as the original Thunder Force III, but it's certainly no slouch. Cuts like "The Wind Blew All Day Long", the blistering drum fills of "His Behavior Inspired Us with Distrust" and "Back to the Fire" are iconic. Even the name entry music can elevate pulses.
Then there's the game's weapon system that would reappear across Thunder Force sequels. Like Thunder Force II, your ship is always equipped with a twin shot and backfire, which are quite powerful as stand issue arms go. These can be upgraded by collecting one of the capital letter-codes (S)ever or L(ancer) icons that add laser fire to your forward-facing and aft guns. Additionally, (F)ire drops a barrage of surface-to-ground missiles, (H)unter emits a steam of blue homing orbs, while the (W)ave gun is capable of clearing a wide path. Beside a Shield icon, your ship can be augmented by two options that multiply your offensive output. Interestingly, when you lose a ship, you forfeit the weapon you're using, unless it's the default gun.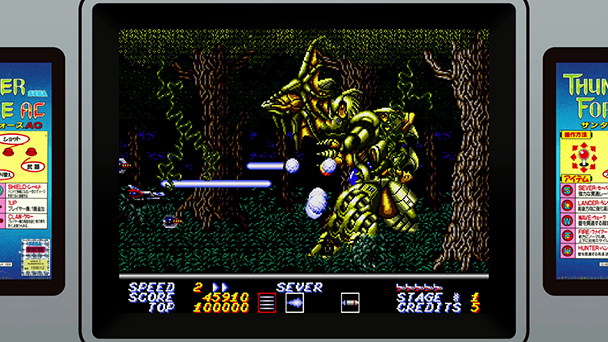 One for the AGES?
In keeping with precedent, the SEGA AGES remake adds a few amenities to Thunder Force AC. There's a trio of unlockable ships from subsequent Thunder Force titles. Taking out Thunder Force's flagship Fire LEO-04 "Rynex" or the Fire LEO-03 "STYX" MP adds just enough fuel to justify repeat playthroughs. For those who might have misplaced their reflexes in the new millennia, the 76MB download also offers a Kid's Mode that elevates your offensive output, making boss battles quite a bit shorter and not confiscating any perks upon death.
You'll also be privy to ten replay slots, leaderboards, and the original Japanese or "New" international version. But what you won't find any different iterations of the game. I'm sure collectors would have swooned over the inclusion of Thunder Force III and probably not minded seeing Thunder Spirits. But sadly, neither are to be found. I know I'm starting to nag here, but It would be great to read a 'making of' interview of even see a few pictures of production models. But the closest you'll get to that is a mode that shirks the screen, making it look like you're playing AC in an immaculate arcade.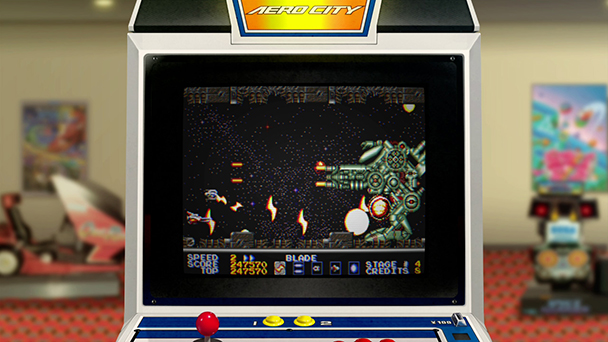 Conclusion
Sure, Thunder Force AC isn't perfect. There are a few sections where enemies unexpectedly lunge toward you and environmental elements that can crush you until you memorize the stages. But these feel inconsequential against what the game does right. With a weapon system that will have you cycling through your loadout to find your best offensive measures, AC forged distinction. That coupled with one of the better 16-bit shooter soundtracks, makes this recommended for retro fans.
SEGA AGES Thunder Force AC was played on
Switch with review code provided by the publisher. 
Review Overview
Summary : SEGA AGES Thunder Force AC is another of M2's proficient ports. Not only is the original arcade game meticulously recreated, but there's also a handful of worthwhile modernizations. The only thing that's missing are more historical materials.