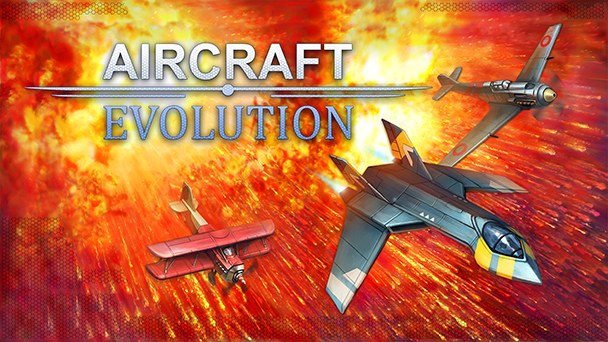 On PC, Aircraft Evolution was a mildly entertaining and accessible title where players dropped explosives across four different eras. While the airborne action has made the jump to the Switch, a haphazard port means you'll witness more than a few crashes.
Aircraft Evolution
Platform:
Switch, PlayStation 4, Xbox One, previously on PC
Developer:
Satur Entertainment
Publisher:
Sometimes You
Release date:
July 22nd, 2020
Price:
$9.99 via digital download, launch price of $7.99
Availability:
Nintendo eShop
A multitude of games demonstrate the thrill of the dogfight. Maneuvering a plane to sneak behind an enemy and firing guns or missiles to obliterate a rival craft is undoubtedly stimulating. But all too often, the other offensive component of aerial warfare is overlooked. Growing up, I always appreciated a game that let me bomb enemies. While air-to-air combat was reflex-driven and fast paced, evading flak guns to release a massive payload that would hit its target several seconds later was a true test of precision.
Mercifully, you'll be doing a lot of bombing in the Switch port of Aircraft Evolution. Like the previous released PC version, forty stages will push players across enemy-controlled territory. These zones, about four to five screens in width are perilous. Each is filled with infantry, anti-air guns, and other military tools trying to put you out of existence. Linger too long in an area, and they'll gradually get a bead on you.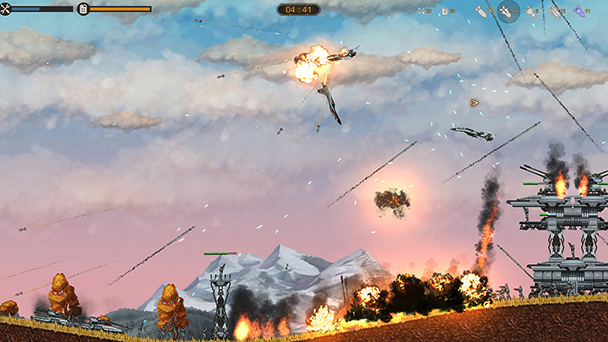 Navigating a Minefield
Aircraft Evolution employs a side-scrolling perspective and a simplified confront scheme. Without worrying about taking off or landing, levels are built around four main tasks. In some stages, you'll have to destroy every building. In others, you'll need to annihilate every on-screen enemy. Then there's the occasional time trial where you'll have to race across screens filled with airborne mines. Finally, each area has a bonus round that you get to access once, picking up free supplies and munitions. Save for timed navigational challenges, stages are mostly enjoyable, although you'll encounter a few faults.
Your selected craft flies forward with little intervention. To adjust elevation, you'll point the left analog stick in a direction, permitting you to evade fire as well as loop, and turn around. Beyond being able to speed up your plane, you'll also be able to fire your guns, (as well as rockets later) and drop a multitude of different bombs. If you've ever played Time Pilot (1982), they you'll be ready to step into Evolution's cockpit and take to the skies.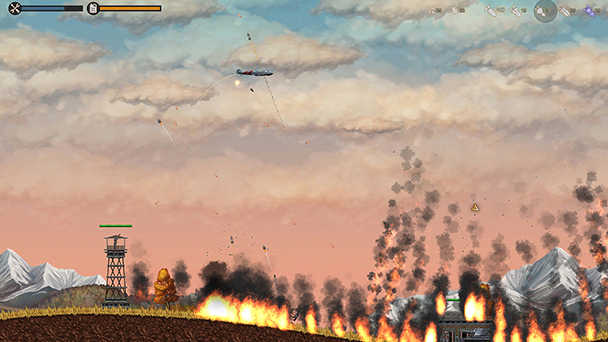 The Evolutionary Process
Like Konami's arcade hit, Aircraft Evolution covers quite a bit of flying history. You'll begin the game in a wooden World War I-era plane. As with most preliminary vessels, it's slow, modestly armed, and not all that maneuverable. Success in each stage rewards players with currency that can be used to upgrade your humble aircraft. But soon, level caps and escalating enemy technologies will make your old bird obsolete.
To keep the fight balanced, you'll eventually have to purchase newer craft of your own. Naturally, these cost a great deal of money and require players to attainment certain experience levels. You'll notice that Aircraft Evolution is a rather grindy game, always goading you into the next purchase or upgrade. When you can advance to the next tier of aircraft, expect the inevitable slight setback, with your finances likley unable to cover any augmentation.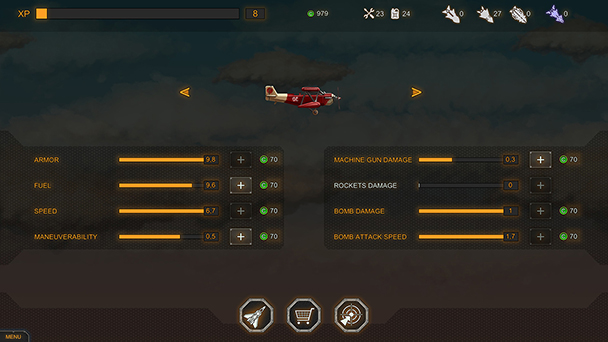 Bomb Balance?
But money isn't just used for aircraft. Save the most basic bombs, you'll have to purchase any elevated ammo for yourself, as well as repair kits, and fuel containers. But woefully, there's some balancing issues to be found. While the Super Heavy Bomb is devastating, it's also a hundred times as expensive as the Cluster Bomb. Although you'll need the extra firepower in some of the game's last levels, and it's rousing to fill the screen with vast amounts of explosives, investing in Super Heavy Bombs will inevitably slow your progress through the game's campaign.
Quite likely, you'll have to replay stages to earn a bit of currency to finance your war efforts. Play as a spendthrift, using only the free but infinite normal bombs and stages will stretch out into tedium, as well. Although there's the semblance of player autonomy with players moving into epochs at their own speed, you'll face a war of attrition if you don't play by Evolution's unspoken rules.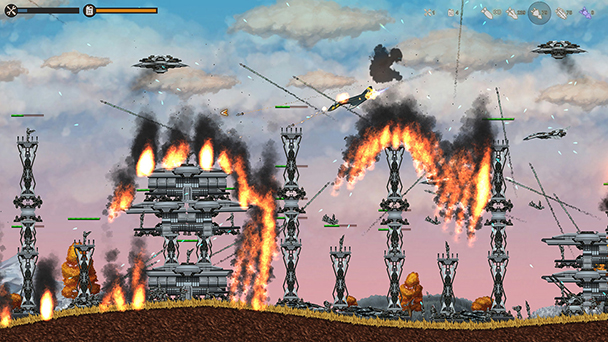 A Disappointing Port
But these issues are trivial when compared to the quality of the Switch port. On the upside, Aircraft Evolution runs relatively solidly, even when your carpet bombing an area. But that's largely where the praise ends. Across ten hours of play, the game crashed three times. More common was a bug where the playfield shifted, and seemingly two planes were on-screen. It's evident that not a lot of effort was put into the conversation from PC. Not only is the user interface clunky, but item selection can be quite difficult to discern.
If Aircraft Evolution's bombing runs interest you, seek the game out on PC. Not only will the title likely be cheaper, but you won't have to deal several sloppy issues in the Switch port. Evolution isn't revolutionary and can feel like a Flash-based games at times. But outside of those time trials, there's thrills to be found when eliminating perky enemies and toppling over their structures.
Aircraft Evolution was played on Switch
with review code provided by the publisher. 
Review Overview
Summary : Bombing runs range from boisterous to downright boring across Aircraft Evolution's forty stages and four eras. There are some good ideas here, but tragically several are grounded by a sloppy conversation to the Switch.