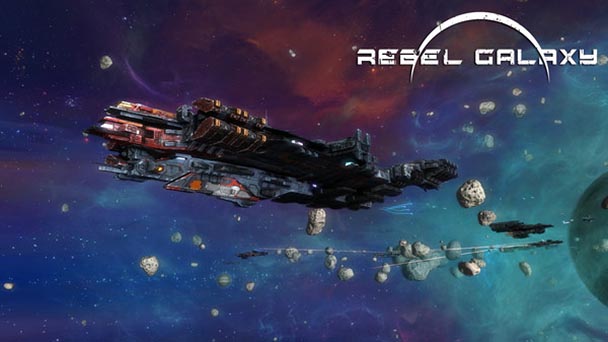 One of the downsides of a risk-adverse game industry is that developers often stick with proven concepts instead of trying out new ideas. Generally, this approach could be used to retrace the careers of Erich Schaefer and Travis Baldree, the duo responsible for Torchlight and its sequel when working together at Runic Games. Previously, each had worked on number of preceding hack-and-slash titles- with Schaefer having a hand in the creation Diablo 1 and 2 while Baldree labored on Mythos and Fate. Review the resumes of each developer, and the notable deviation you'll find is Schaefer's involvement in Hellgate: London, the ill-fated action-role playing game that tried to transpose the loot-and-lumber formula into a first-person perspective.
With the release of Rebel Galaxy, the two-man team tackle a completely different genre, offering an involved space-sim that adeptly balances accessibility with intricacy. While the PC title might not have the complexity to woo players seeking an excessively complicated simulation, those looking for an open-world excursion may want to ease into the threadbare upholstery of the captain's chair.  Commandeering a succession of increasingly powerful vessels, you'll assume the role of either trader or trader as you pursue economic success in a star-scape teeming with sycophantic scoundrels.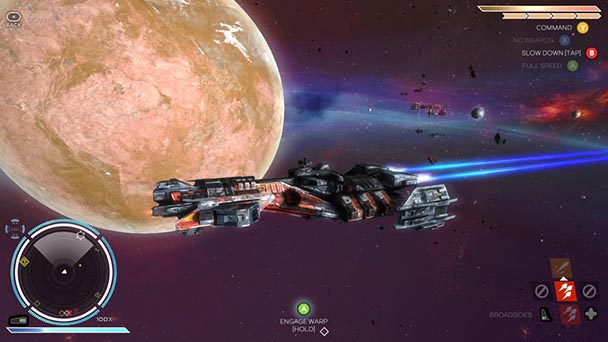 A brief cinematic sequence imparts a skeletal setup, as players are tasked with tracking down their missing aunt. Initially, her bequeathed second-hand vessel offers only basic functionality, compelling players to complete errands from one of the game's alien slimeballs, who look and sounds like they're still fuming from the gentrification of the Mos Eisley cantina. Initially, the game pokes fun at its own set of archetypal missions. While the joke might be amusing, the first ninety minutes of Rebel Galaxy coasts along at a leisurely rate, as you play the role of carrier for hire to move the plot along. Stick with it and the game begins to open up- offering autonomy, vocational variance, additional exposition, and even a bit of plot branching. While the main campaign can be completed in a twenty-five hour spans, the duo of developers at Double Damage wisely allow pilots to persist their entrepreneurialism is a post-game situation.
Rebel Galaxy's cutback of complication allows the title to procced with a minimal amount of tutorial interruption. Credit should be given to the game's deft eradication of z-axis maneuvering. Visually, the game has the visual opulence that's essential for a contemporary space trading sim, with three-dimensional, eye-catching outposts, spinning asteroids, and battlecraft that lack the unrealistic sheen so common in science-fiction. Without having to constantly adjust the pitch of your ship, players are permitted to supervise multiple roles.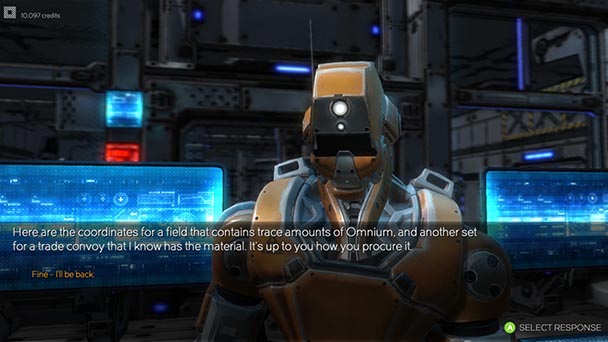 Undeniably, combat is game's paramount virtue, allowing the game to derivate from the traditional dog-fighting approach to conflict. Drawing from that engaging naval battles of Assassin's Creed III and IV, Galaxy allows you to commandeer Broadside weapons, which send out a volley of deadly fire from each side of your ship. Emulating the cannon trajectories of classic pirate vessels would have been problematic in three-dimensions, but here combat is invigorating, with players able to poke around asteroids to launch a barrage of luminous fury from their flanks. Pleasingly, gamers can zoom in, with Galaxy offering a translucent trajectory that shows exactly where your space cannons will fire. With that perspective engaged, you can even adjust precision, with a pause or a second or two resulting in a tighter grouping of ordnance.
While Broadsides are capable of delivering the hurt to capital ships, their deliberate speed in no match for nimble fighter ships. To eliminate these threats, players can install a variety of turret-based weapons, which offer a satisfying flexibility not found in most forward-firing flight games. If Broadsides are Rebel Galaxy's take on naval combat, turrets pay homage to tank warfare, allowing fire and flak in fields around your ship. While players can slip into these positions, gunning away at darting foes, they can also assign functionality. Here a button press pauses the action, allowing you to lock onto a specific target or give the order to deploy flak at any encroaching craft.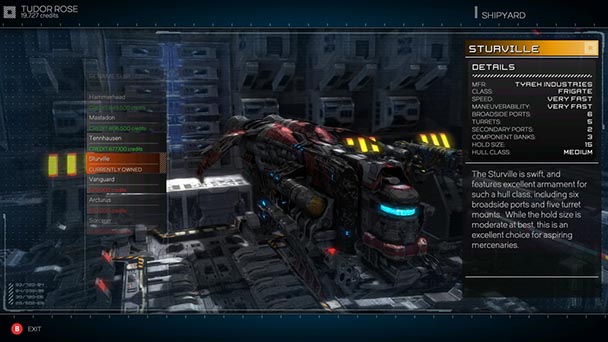 Defensively, players can purchase and deploy Deflector Shields which prove invaluable against an incoming salvo of missiles. During battles with formable vessels, prudent captains will want to keep a finger on the action button, which instants shelters your shield with a glowing aura. But Deflectors are only one small part of ship construction, with gamers able to outfit their craft with different types of scatter guns, rockets, and particle lasers. Naturally, your loadout will likely reflect your playing style, so those driven by mineral collection will likely want mining lasers, which only offer short-range offensive abilities while budding space pirates might want to invest in leech rockets that can cripple propulsion systems.
The offensive variety can be used as a barometer to measure Rebel Galaxy's versatility. Satisfyingly, the game offers an equitable balance, offering a range of moral positions. Following the game's succession of story missions offers the benefit of few devastating difficulty spikes. But for players with an impish streak, there's plenty of opportunities for malicious money-making. It's here where the game truly shines, alerting players to say- a crisis on a far-flung region. While do-gooders can offer their own assistance, space tycoon might want to make a quick buck by beating aides with their own overpriced selection of goods. Outer-space outlaws can of course intercept the service convoys, selling assistance items on the black market.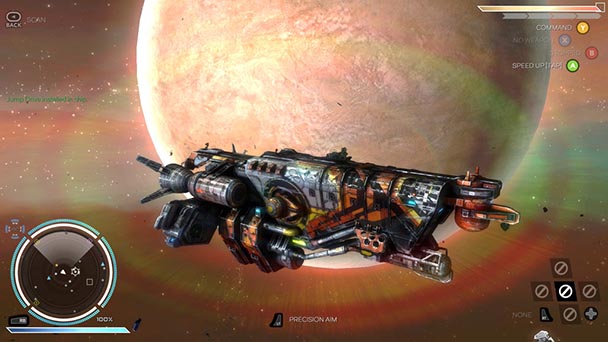 While it's easy to predict the profit when hawking stolen wares, making a living via honest trading isn't quite as effortless. Sure, Rebel Galaxy offers current and an average market price across the game fourteen sectors. But, it could be a little more forthright in telling dealers how much of a personal profit or loss is incurred with each transition. Likewise, other niggles are awaiting to be patched out of Galaxy. Encounter rates during warps are sometimes too low, leading to two minute-long journeys without much excitement. Naturally, NPC (and occasionally enemy AI) could be improved. Too often, mercantile ships would not budge on speed or trajectory, triggering needless collisions, while foes doesn't actively avoid lethal broadsides. Fortunately, these are minor quibbles, and the team has demonstrated the ability to listen to criticism and adapt Galaxy accordingly.
Whatever gameplay quirks still exist in the space sandbox, there's little reason to grumble about the game's graphical output. With a robust rig and all the tick boxes checked, Rebel Galaxy is triumph, offering vibrant nebulas, weathered warships, and more lens flare than J. J. Abrams entire oeuvre. Agreeably, players can cut back on the superfluities offered in the game's launcher and get the game to run on even low-end laptops. Regardless of the power of your PC, you'll want to play Galaxy with a suitable input method. Not only does the game's control scheme work flawlessly on an Xbox 360 (or PS4 with an option for proper button prompts) controller, but a significant amount of haptic vibration allows combat to feel remarkably visceral. Pleasingly, the game's soundtrack shirks nonspecific melodies for a musical vibe that matches the game's morally-challenged characters.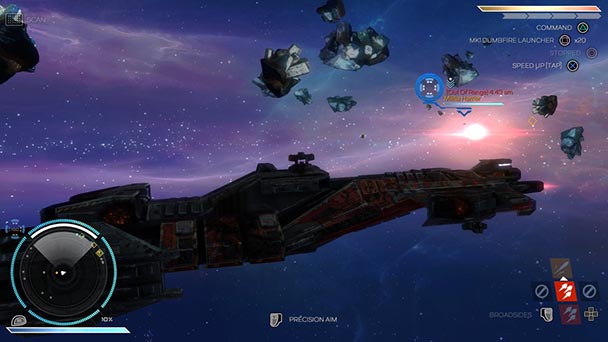 Rebel Galaxy is indie gaming at its best. Removed from the burden to kowtow to crowdsourced backers and the type of focus testing that's ubiquitous for larger publishers, the title lets two auteurs chase their ambitions. While some might be content with seeing Schaefer and Baldree continue Torchlight until the fun and funds began to whither, Rebel Galaxy feel like a project that's driven by passion, with the duo (and a handful of contractors) building the game that they would want to play. It's good enough to make you wonder what other wunderkind and hampered by the lure of design conformity.
Rebel Galaxy was played on the PC with review code provided by the publisher.
Rebel Galaxy
Platform: 
PC
Developer:
Double Damage Games
Publisher: 
Double Damage Games
Release date:
 October 20th, 2015
Price: $19.99 via 
Steam
Review Overview
Summary : Until Stardock makes good on their Star Control reboot, this is the open-world, antagonistic galaxy you'll want to trade, fly, and fight in. The latter is especially strong, with Rebel Galaxy's combat outshining most space skirmishes of the last decade.