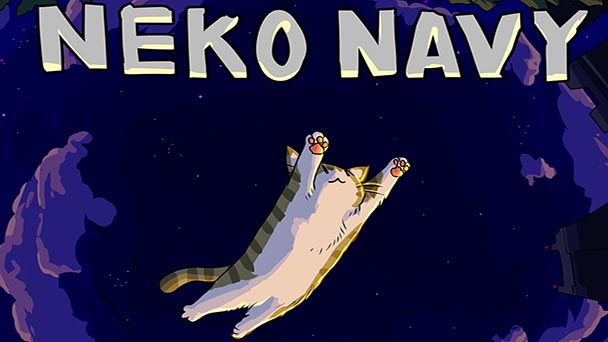 In a perfect world, cute-'em-ups would be released with regular frequency. But save for two Deathsmiles titles, the disappointing Otomedius, and QP Shooting – Dangerous!!, the last decade has delivered a discouraging number of adorable shooters. Fortunately, QP Shooting's Western publisher, Fruitbat Factory seems to recognize this shortage. With Neko Navy, the Finland-based firms brings a number of lovable felines onto Steam, each tasked with bringing down a cavalcade of foes across seven horizontally scrolling stages.
Initially, players select from one of the three difficulty levels that range from Easy, Hard, and Death; each only offering a slight underestimation of the challenge ahead. Next, you'll choose from Chiyoko who sends out a wide beam of firepower, Mugi's most modest spray of weaponry, or Miracle, who sends out a single beam along with a revolving corkscrew of enemy-eliminating projectiles. Later, you'll even unlock an additional neko, providing that you're bullet dodging skills are up to snuff.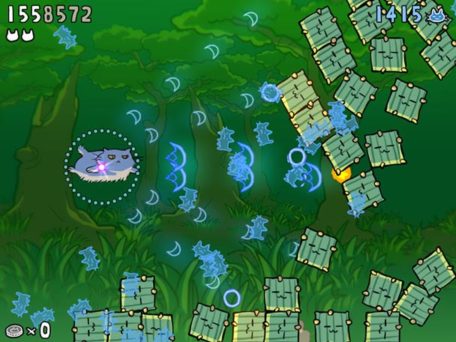 As with any respectable STG, players aren't stuck with a default loadout. Destroying one of the game's larger enemies can leave a clearly marked power-up on the playfield, giving a slight augmentation to your arsenal. While these do offer a slight increase to your projectile-pumping output, Neko Navy's offensive buffs won't radically improve your loadout- giving a slight boost to your feline's potency. Besides different movement speeds and weapon traits, each kitty has their own distinctive special attack. From an avocado-colored cloud that assaults anything in its vicinity to a searing flamethrower attack, your secondaries are ideal for when things become exceedingly tough.
More importantly, specials are also used during the moments when Neko Navy's emits a plethora of projectiles. By activating the assault, players are granted a few seconds of invulnerability, which are vital when the game's tosses the occasional cavalcade of foes that stretch across the screen. Like a handful of other shooters, timing the offensive is essential. Not only can a precisely-timed defense save one of your lives, but the attacks convert enemy bullets into orange cubes, which can be picked up for substantial amounts of points. Aa such, score-chasers will probably use Neko Navy's specials regularity to acquire a place of the game's online or local leaderboards.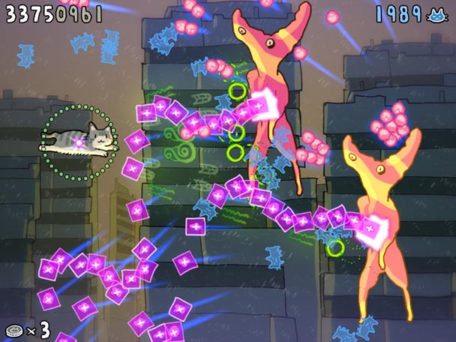 As with most STGs, Neko Navy's stages are static, with enemies exhibiting no adjustments to player behavior. Thematically, the game's levels convey whimsy, ranging from flora-filled wilds, topsy-turvy cities and a delicatessen adorned with hanging sausages. Similarly, bosses are just as zany, with players tackling flowers with shifting buds and even a maniacal meat-man. While these showdowns don't depart from genre convention, they do offer an elevated level of challenge that are enjoyable without being overpowering. Stages largely play the same, with only slight variants like a diagonally-scrolling section to add a bit of divergence to the proceedings.
Running in Unity 5, the latest version of Neko Navy offers either a windowed or fullscreen output, extending a decent amount of resolutions. When playing in widescreen the game is letterboxed, with about twenty-percent of the screen bordered with black bars on both sides of the screen. Aesthetically, the title is adept with delightful looking enemies as well as a soundtrack and vocal samples that should please most ears.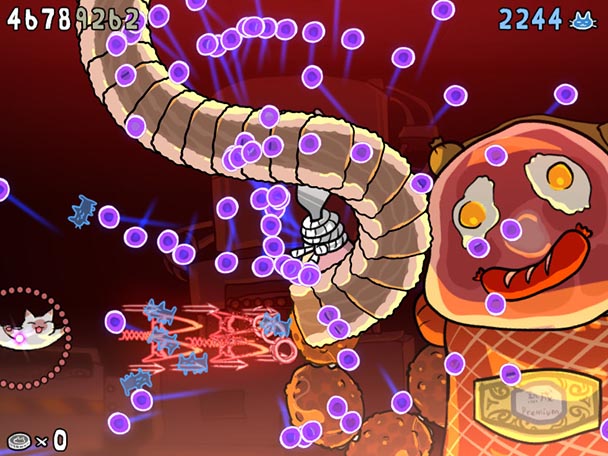 While Neko Navy might lack a bit of distinction, genre aficionados might appreciate its adorable approach to the shoot-'em-up and the game's procession of silly enemies. Save for the title's marginally elevated MSRP and a slight lack of distinction, there's little to prohibit players from enjoying themselves with DeathMofuMofu's otherwise delightful doujin STG.
Neko Navy was played on the PC with review code provided by the publisher. 
Neko Navy


Platform:
 PC
Developer:
 DeathMofuMofu
Publisher:
 Fruitbat Factory
Release date:
 June 14th, 2017
Price at release:
 $10.99 via
Steam
, currently on sale for $9.89
Review Overview
Summary : While not quite purr-fect, enlisting in the Neko Navy offers a few perks, sending a pack of kitties in seven horizontally scrolling environments that aren't quite as difficult as most shmups.