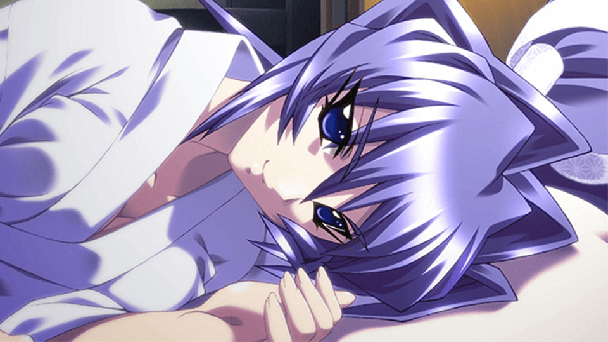 Delve into the recent Vita release of Muv-Luv and you won't immediately understand why the 2003 visual novel is often considered one of the medium's most prodigious efforts. Split into two distinct arcs, Muv-Luv Extra and Muv-Luv Unlimited, the property has spurned serialized manga, volumes of light novels, two different anime, as well as a sequel (Muv-Luv Alternative) that's being simultaneously release.
Jumping into Extra reveals a competent high-school rom-com centering around Takeru Shirogane and his close friend since pre-school, Sumika Kagami. Unsurprisingly, the two are implicitly romantic, with Sumika unable to imagine life without her constant companion, and Takeru accidently brushing up against his acquaintance's breasts during a gaming session. Like most teens, they also engage in the occasional bit of puckish pummeling when the boundaries of respect are fractured.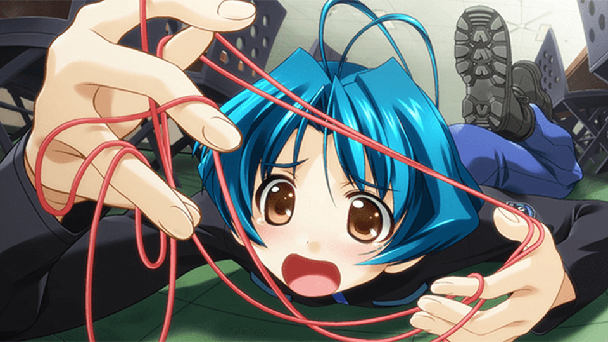 Predictably, the peacefulness of oblique attraction soon gets tested. When Sumika bursts into Takeru's room one morning, she finds an attractive girl in her friend's bed. After an admonishment, the two head off together to school, only to find that the mysterious, sword-carrying interloper is now a now transfer student. And so goes Extra, following dating sim convention, with player decision directing Takera toward either the bubbly Sumika, or his nocturnal interloper, who turns out to be a heiress to weathly family.
Like many VNs, Extra's cast is fashioned from trope, with each girl immediately adhering to a distinct convention. But like any virtuous novel, Muv-Luv ventures into fascinating territories when exploring each love interest's backstory. Here, the favored method is to provide a seemingly insignificant piece of information, like Sumika's plush backpack accessory- and much later reveal its true significance. While formulaic under analysis, it's consistently effective in execution, making Extra a solid, if somewhat unadventurous experience.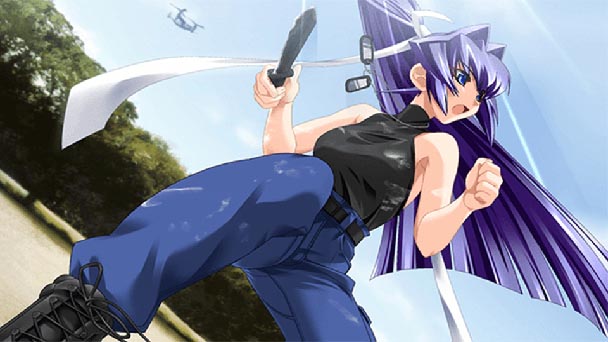 Then Muv-Luv makes an unexpected shift for Unlimited. Without sinking into spoiler territory, the second arc moves the context to an alternate universe. Although this kind of plot device receives sporadic use, it's often devolves in pseudo-philosophical spectacle. But, Muv-Luv mines the set-up for maximum emotional effect, creating a haunting impasse for Takeru. While Unlimited isn't as consistently bleak as it should be, it is a persistently thought-provoking effort that transforms Extra's limited ambitions into something great. Quite likely, it's affecting enough to have you contemplate several qualities of your own life, especially the people around you.
Given the novel's fifteen-year old age, readers might have retrained visual expectations, especially those accustomed to E-mote/Emofuri and Live2D's capabilities. However, Muv-Luv is a kinetic pleaser, persistently pushing at the stasis of the medium. From eye-catching character portraits that reveal a range of emotions and movements to camera effects that help to generate a sense of energy, Muv-Luv's variety of visual effects help it stand strong against any contemporary peers.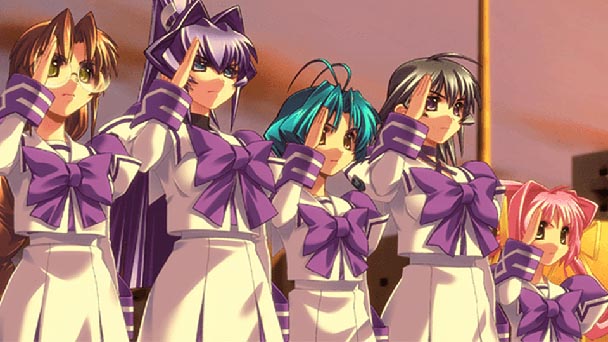 The only possible graphical impediment is the art style, which with the '90s era aesthetics (including the occasional instance of geometric hair), might turn-off those accustomed to more modern character design. Pleasingly, the voyage to the Vita has been dexterously handled. Font size is large enough to not induce eye strain, while discreet enough to not distract from CGs. Pleasingly, the game's digital footprint, is about two and a half gigabytes, allowing for a permanent place on your memory card.
Aurally, the voice work is flawless, while the music quality increases in quality with every arc. For readers who remember Muv-Luv's spotty fan-sub, know that the localization here is near flawless. Save for an awkward phrasing or two, you'd be hard-pressed to find any grammatical gaffes, which is a minor miracle considering the amount of text contained in this thirty-five hour+ epic. While the interface doesn't allow you to review bypassed text, the integration of auto-saving is appreciated.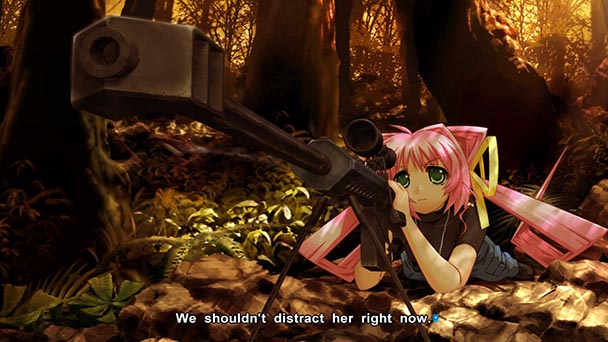 Which brings up Muv-Luv's biggest caveat. Although this purchase is certainly worth the asking price, extending a storyline that rivals Tolkien's The Lord of the Rings trilogy in sheer word length, you're virtually obligated to purchase the sequel, Alternative. Although Extra and Ultimate technically function as stand-alone experiences, they are also part of the character- and world-building that delivers such an amazing payoff for the third story arc. As such, you'll want to squirrel away a bit of money for Alternative, as it transforms an admirable story into one that warrants a place in the pantheon of written fiction.
Muv-Luv was played on the Vita with
review code provided by the publisher.
Muv-Luv
Platform:
 Vita, previously on PC
Developer:
 âge/ixtl
Publisher:
PQube LTD
Release Date:
 June 14th, 2018
Price:
$39.99 via
PlayStation Network
Review Overview
Summary : If you're a fan of visual novels then Muv-Luv undeniably deserves a place in your collection. With the first story arc might initially seem inconsequential, expect a redemption that repays your reading investment tenfold.