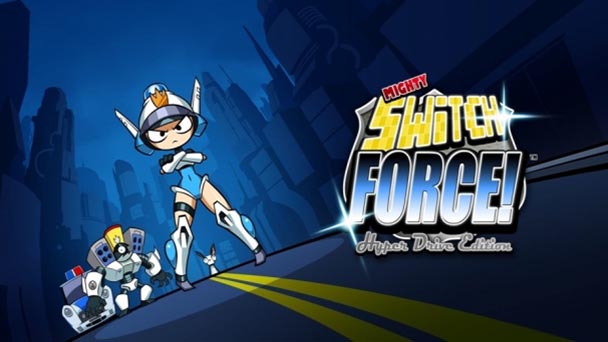 WayForward has made a name for itself as one of the premiere developers for 2D platformers. In a time when proper side-scroller physics and level design seem like a lost art for software houses, titles like Shantae and Contra 4 shiny brightly among their peers, reminding us these classic formulas are fondly remembered for a reason.
Mighty Switch Force is something of a departure from WayForward's usual fare, providing a short, fast-paced puzzle platformer instead of their typical 16-bit inspired fare. Originally launched as a Nintendo 3DS eShop exclusive, this late PC port foregoes the retro-pixelated look in favor of redrawn, HD graphics. Additional features include additional levels and remixed stages, however, this is still a short game that can be finished in just over an hour.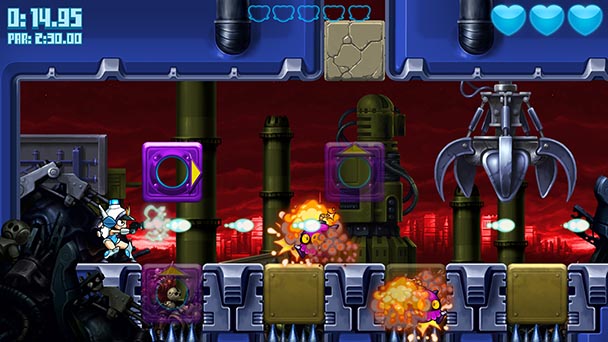 Taking control of Patricia Wagon, players are tasked with capturing five escaped convicts per level. Our heroine possesses the quintessential jumping skills and a pellet gun reminiscent of Capcom's Megaman. Unlike our beloved Blue Bomber, she may also switch the position of certain blocks between the background and gameplay area, allowing her to reach previously unattainable locations.
Initially, a simple set of platform moves are enough to capture all felons, but soon new gameplay mechanics introduced. These range from blocks which propel Patricia through the air to breakable spots. Moreover, it's not long before the puzzle portions set in, as players must learn to use enemies to their own advantage. Early on, Ms. Wagon has to propel exploding enemies against fragile walls or lead foes to helpful locations.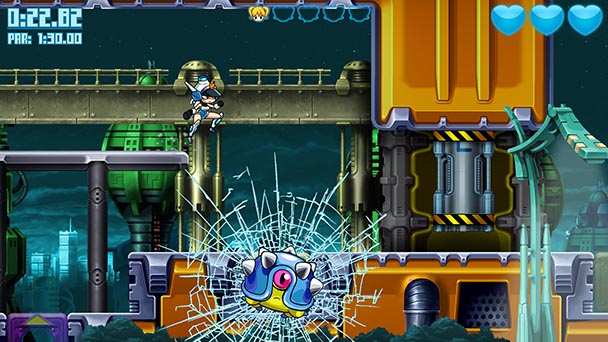 Unlike most puzzle platformers, Mighty Switch Force moves at a swift pace. While most sections can be completed with ease, the true objective is to speedrun through them under an allotted par time. Considering how prohibitively short these are, players seeking to accomplish courses in a brisk manner will depend on trial-and-error, memorization and fast reflexes.
Much like its levels, the game itself carries a short length. Featuring 20 courses to run through which are then remixed and made harder upon completion. Regardless, experienced gamers are likely to blow through it in record time.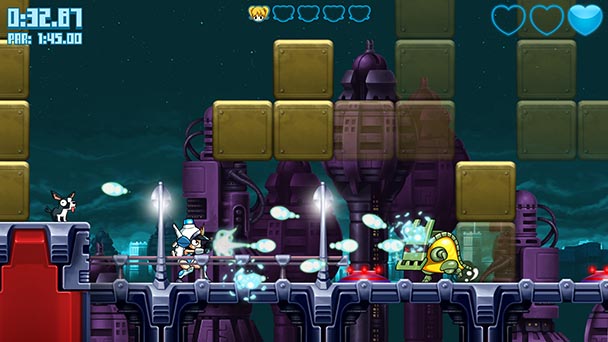 Graphically, the redrawn sprites and locations look vastly improved over its original release. I generally tend to prefer WayForward's pixelated visuals, but smooth animations, impressive effects and plenty of parallax scrolling provides further proof evidence of the studio's commitment to its 2D roots. These are then complimented by Jake Kaufman's upbeat chiptunes. The soundtrack alone may be Mighty Switch Force's greatest asset, with tunes that grip you right from the first menu screen.
The price may be this game's greatest issue, a $9.99 price tag would be paltry were it not for Mighty Switch Force's brevity. Moreover, the original Nintendo 3DS release launched 4 years ago at nearly half the cost.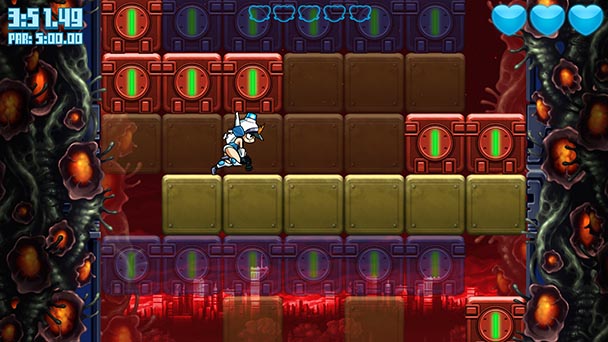 Mighty Switch Force: Hyperdrive Edition was played on the PC with review code provided by the publisher.
Mighty Switch Force: Hyperdrive Edition

Platform: PC, previously released on 3DS, Wii U


Developer:

 WayForward Technologies

Publisher:

 WayForward Technologies

Release date:

 June 25th, 2015

Price:

 $9.99 via

Steam

Mighty Switch Force: Hyperdrive Edition (PC) review
Review Overview
Gameplay - 80%
Controls - 80%
Aesthetics - 90%
Content - 60%
78
78%
GOOD
Summary : Mighty Switch Force: Hyperdrive Edition is a fast paced puzzle platformer with charming visuals and a dazzling soundtrack. Sadly, it's burdened by a brief length.

User Rating:

3.75 ( 4 votes)