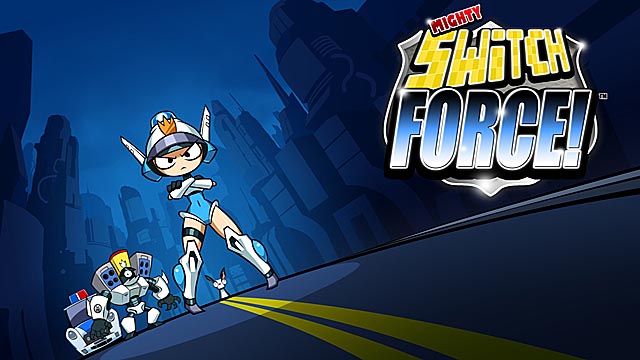 With a library teeming with smartphone ports and simplistic original diversions, the 3DS's eShop has been a bit underwhelming. If not for the Ambassador Program games and a sporadic Gameboy title, players could be forgiven for not investigating its meager archives. Yet, with the forthcoming unveilings of VVVVVV, Dillon's Rolling Western, as well as the release of Mighty Switch Force, Nintendo's downloadable service is starting to gather momentum.
Propelled by the enchanting sprite-based artistry and clever stage design which have become hallmarks of WayForward Technology's output, Mighty Switch Force is a prototypical model for future eShop titles. Succinct, stylish, and satisfying, the title merges elements from the developer's past successes into a pleasing puzzler which recalls the blissful charm of the 16-bit era, albeit highlighted by a dazzling three-dimensional sheen.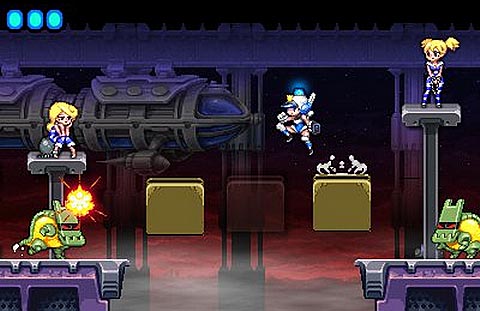 Each of the game's sixteen stages compel the cyber-suit clad Officer Patricia Wagon to round up a quintet of scattered criminals. Although the leggy law enforcer has a pellet gun to blast impeding enemies and obstructions, her most useful tool is a siren mounted on top of her helmet. Pressing either the "A" button or the portable's triggers initiates a phase shift, which transposes the position of certain blocks. Yet, platforms alternating from background and foreground positions are just the beginning of Mighty Switch Force's puzzle-set. Other blocks function like the barrels in Donkey Kong Country, sending Ms. Wagon or foes flying through the air. Of course, shifting does carry a sense of menace- any creature caught against an anterior block will be smashed into oblivion- resulting in a stylish shattered glass effect on the top 3DS screen.
Gratification stems from the title's increasingly complex set of conundrums. Early levels require players to carefully maintain a rhythm between consecutive midjump swaps, with later stages requiring precise timing as Patricia is propelled between multiple launch blocks. Fortunately, the bottom screen of the 3DS functions as a radar, indicating the location of the nearest convict, saving players from haphazardly scouring each recess of the often labyrinthine levels.  Yet, even with the locator, gamers aren't going to beat the title's prohibitive par times during their first (or likely even their tenth) run.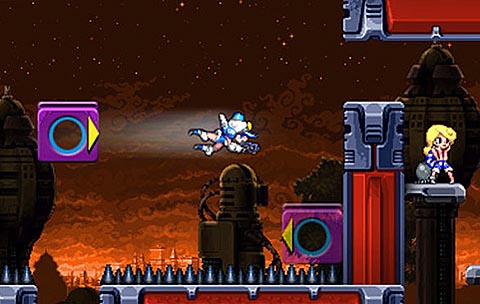 Once the game's puzzles are been scrutinized and solved, Mighty Switch Force reveals its other identity- a concourse for speed runs. For the obsessive, each of the game's stages conceal countless opportunities for shaving milliseconds off a player's completion time. Whereas the game's environments could be traversed safely when employed a restrained pace- reckless speed is also possible, accompanied by an elevated sense of risk, of course. The downside is that gamers not preoccupied with precision will wonder why the title's run and gun mechanics seem so subordinate.
Likely both groups will appreciate Might Switch Force's delivery. From the protagonist's forward-flip stage entry, comical convict animations, and adorable end-of-level drawing, the title upholds WayForward's status as guardians of sprite-based grandeur. When supplemented by the higher screen resolution and three-dimensional abilities of the 3DS, the game's translucent effects and parallax backgrounds are irrefutably dazzling; hopefully the developer will confer a cartridge-based title. However, Jake Kaufman's soaring chiptune soundtrack may be the game's greatest virtue, delivering a driving set of upbeat tunes, which ranks among the best music to emanate from the portable's speakers.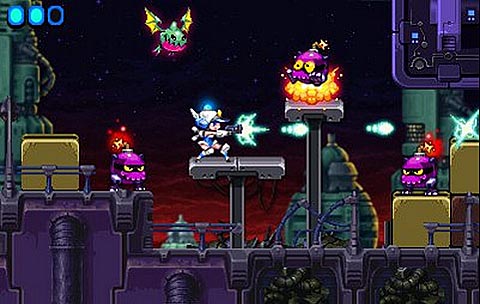 Mighty Switch Force is a no-brainer for platforming speed runners, who will relish the game's spotless controls and inspired stage design. Although others may find the convict-capturing trek a bit too transitory, the title's $5.99/€6/£5.40 price and joyful aesthetics helps offset any burden of brevity.

A copy of Mighty Switch Force for the 3DS was provided by the publisher for review.