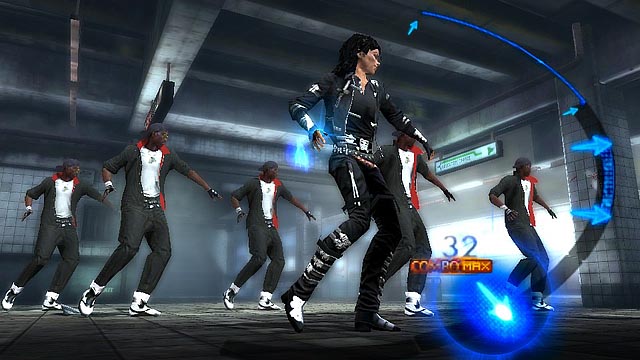 Let's start by setting aside the notion that I'm reviewing a Michael Jackson game. We'll gloss over the discussion about exploiting a dead celebrity or the any allegations of misconduct that may make the game's title character seem inappropriate. Let's pretend I'm just a guy that picked up a Vita and wants to play a rhythm game that isn't Lumines. So am I happy in this theoretical scenario? Well, it's complicated, but I'm more happy than you'd think.
Michael Jackson: The Experience HD is essentially a port of the iPad game of the same name. Players can choose from a play-list of 15  Michael Jackson chart-toppers to jam out to, each with 3 difficulty settings. Unlike the original iPad version, there are no in-app purchases, so all content is either available from the get-go, or can be unlocked by playing through the stages and levelling up. The frustrating part is that everything, other than the stages themselves, is an unlockable. Outfits? Unlockable. Normal difficulty? Unlockable. The ability to score "Perfect" on a dance move?! Un.lock.able. The end result is that you'll spend the first hour or so unlocking the basic tools that make the game feel complete.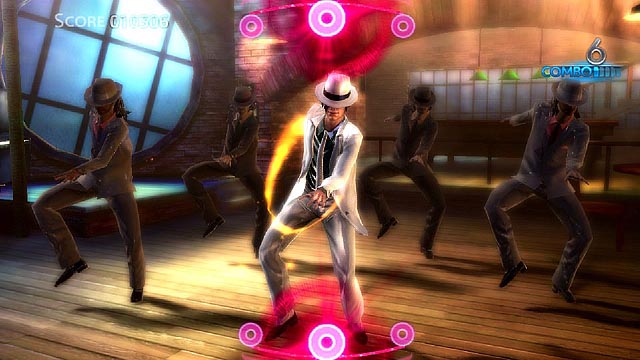 The game looks decent. The art-style won't win any awards, but it certainly isn't offensive to look at. The executive decision was obviously made to use the Thriller era Michael as the game's avatar, and I can agree that it was a good choice over HIStory era emaciated Michael. Each stage recreates settings from Jackson's iconic music videos, and aside from a few outliers like Thriller, they do a pretty good job of capturing the tone of each piece (although the toddler rap scene in Black or White is one of the most embarrassing moments for both music and video games). The music is also mixed fairly well, although some tracks do sound a bit hollow – Thriller sticks out in my mind again – which is a shame given the crystal clear audio that the Vita provides.
If you strip away all of the Michael Jacksonism from the title and take a hard look at the basic gameplay, what you are left with is a surprisingly compelling and challenging rhythm game. Michael dances in the center of the screen, and gesture prompts create a circular HUD around him. Rather than tapping or pulling a specific area or button like Elite Beat Agents, players can make the gestures at any point on the screen, regardless of where the prompts originate. Each gesture corresponds to a dance move, but users only take direct control of Michael during specific points in each song. During these "freestyle" moments, you have the opportunity to bust out signature moves from memory in order to earn bonus points and unlock stage-specific special effects. The rest of the time is spent following along with the canned animation. The plus side is that the dance always looks smooth unless you are freestyling, but it also means that there is very little feedback as to how well you are doing. There is also no failure, so there is very little incentive to shape up once you've dropped a few steps.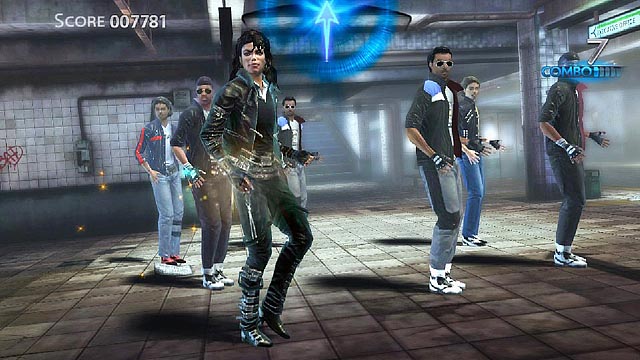 The game is a far cry from perfect, but I was surprised how much I enjoyed it. The gesture choreography is a lot of fun, and can be very challenging. It could have used a better tutorial, and really needs a better method of feedback, but I found myself replaying stages over and over again to clear challenges and unlock special gloves and statues, which isn't something I normally do – especially for what should be, by all accounts, licensed shovelware. As a consumer activist, it's my duty to let people know that this game is flawed, but it's been a long time since I've had this much fun playing a rhythm game. I hope that we'll see this choreography system used again in a less-Jackson-centric release in the future. Until then, I'll just say that if you like MJ, and aren't already worn out by the other 8 versions of The Experience, this one might be worth a second look.