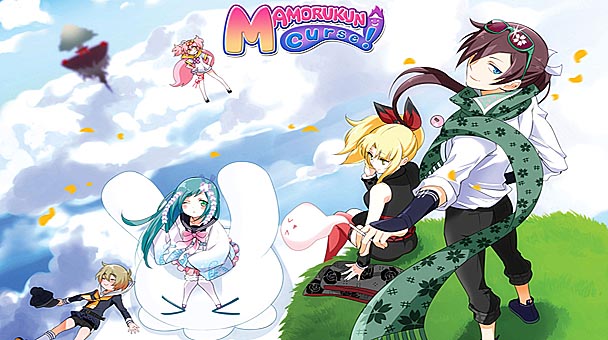 What is the concept? Savvy shmup enthusiasts might be familiar with Mamoru-kun wa Norowarete Shimatta! (direct translation Mamoru-kun Has Been Cursed!). Originally a NAOMI-based arcade coin-op, the game was ported onto Japanese consoles with an Xbox 360 version and subsequently- a PlayStation 3 adaption which provided widescreen output and bundled DLC supplements. Until now, the only way for stateside gamers to enjoy Mamoru-kun's moe-drenched shooter was via an exorbitant import. With UFO Interactive's recent localization of the game, now Western gamers have the opportunity to download the moderately priced, 1.3 GB title, redubbed Mamorukun Curse!
Upon booting up the title, players will discover a variety of play modes. Jumping into the Arcade option provides players with a brief tutorial, divulging the title's fundamentals as well as the multiple functions of the Curse Shot, Mamorukun's signature mechanic. Beyond providing a frothy narrative, Story Mode offers a noteworthy variant. Whereas other play choices task players from choosing from one of the game's offensively- divergent personalities, Story Mode requires players to determine turn order for their squad of characters. Once a teammate is defeated, they are lost, and replaced with the next character on the roster, making the arrangement of your squad crucial. Beyond practice modes also offers robust local and online leaderboards to satisfy scorechasers.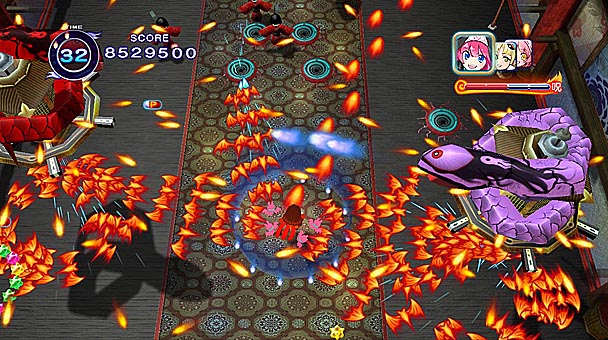 What are the game's strengths? Mirroring developer G. rev's previous efforts such as Ikaruga, Under Defeat HD, and Kokuga, Mamorukun Curse! feels distinct thanks to the Curse Shot. A charged shot engulfs adversaries in a violet ring, slowing them down, dealing damage, and diluting their production of deadly projectiles. Alternatively, a quick press sends out a sphere, which players can fly into. Once they penetrated the periphery of the ring, the protagonist's arsenal is greatly upgraded, converting larger enemies into vulnerable targets. While the hook isn't as compelling as Treasure's Radiant Silvergun or G. rev's own Ikaruga, is does endow Mamorukun Curse! with a sense of individuality- especially when coupled with the game's twin stick-shooting option and vertically free-scrolling design decisions. One of the game's best qualities is the gratification for learning when to use each function of the Curse Shot; especially against the game's screen-engulfing bosses.
Mamorukun Curse's other distinguishing trait is its visual style. From the anime-inspired appearance of the title's protagonists to settings situated in lush cherry blossom-lined regions and archipelagos of floating temples, each stage is visually divergent and memorably rendered. Imaginative enemies such at giant koi, industrious rabbits, and wind-up geisha dolls abound. For those that appreciate the game's graphical style, a substantial gallery assembles a collection of unlockables. From character portraits, developmental sketches, and even the original arcade instructions, the title's auxiliaries are bountiful.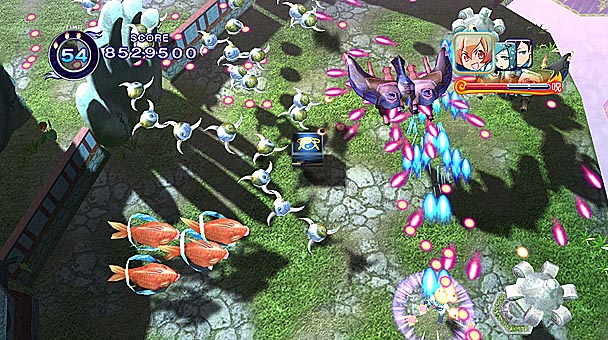 What are the game's weaknesses? Regretfully, a number of minor blemishes sully Mamorukun Curse's other virtues. Although the game's UI is attractive, isn't not also functional; occasionally players are forced to use the start button to proceed. Players who enjoy a collaborative challenge will be disappointed that the title only supports a single player. Meanwhile, staunch shmup aficionados will take issue with the game's decision to include slowdown with bullet clouds rain down their perilous projectiles on players.
Similarly, Mamorukun Curse's design, which allows players to push the playfield along, presents trouble for competitive-minded games. While leaderboards track both playtime and scoring, the later players to move through each slow as slow as possible, eliminating masses of respawning enemies. Ideally, the game would have offered a more lucrative end of level bonus for residual time to devalue this tedious playstyle.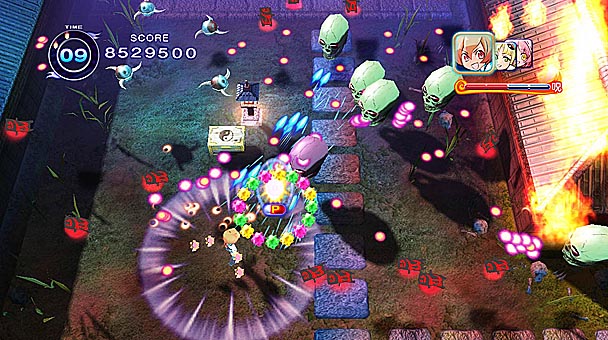 Is it worth the price? As a $19.99 USD download, Mamorukun Curse! isn't exorbitantly expensive, and compares well against the current $80+ price for the import version. While the game's appeal won't exceed beyond genre stalwarts, shmup fans will appreciate Mamorukun Curse's lofty level of challenge- a difficulty that rarely skirts into the threshold of unreasonableness. With CAVE's departure into social/online gaming, quality shoot-'em-ups are becoming increasingly atypical. While Mamorukun Curse! isn't a top-tier exemplar, it's a fine shmup that devotees will want to add to their collection. 
Review Overview
Summary : Like G. rev.'s Under Defeat HD, Mamorukun Curse! feels like a mix of traditional shmup and twin-stick shooter, albeit with healthy dose of moe.