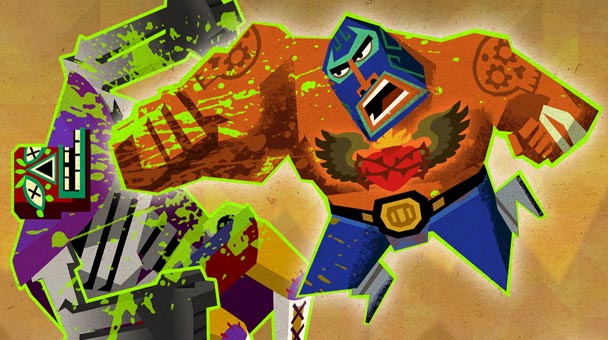 In 2011, Sony announced the Pub Fund, a $20 million initiative that not only provided financing for budding developers, but also removed many of the barriers of entry smaller studios faced when bringing a title onto the PS3 and PS Vita platforms. While the first crop of games- Okabu, Payday, Eufloria, and Papo & Yo, have all been ambitious, the program has yet to produce the type of breakout hit that has the potential to spawn copycat projects. With the release of DrinkBox Studios' Guacamelee!, the fruits of Pub Fund's labor have finally bloomed. Combining the exploration and boss battles of the Metroidvania template with a number of contemporary play mechanics, Guacamelee! is a near-faultless dish destined to stoke the appetite of any ardent action gamer.
Narratively, the title's impetus verges on trope. When good-willed agave farmer Juan witnesses the capture of El Presidente's daughter by a skeletal figure known as Carlos Calaca, the hero follows video game tradition, and attempts to liberate the lovely maiden. Regrettably, the villain's is too powerful, and a devastating blow sends Juan into the afterworld. Here, the protagonist stumbles upon a luchador's mask, instigating a journey to journey to vanquish Calaca and his army of undead minions. As clichéd as the 'save the princess' plotline is, Guacamelee! engages not from its impetus but from the title's inspired sense of place.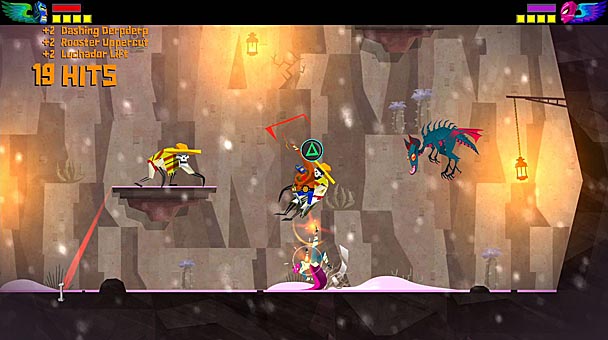 With a multitude of whimsical landmarks inspired by both Mexican folklore and game industry reverence, the title sends players dashing across adobe-tiled casas and past churches adorned with stained-glass windows that reference The Legend of Zelda. Soon, gamers are scrapping their way through two contrasting settings: one filled with the vibrant hues and quaint haciendas, while another drenches the milieu in a spirited Dia de los Muertos aesthetic. Naturally, a certain amount of gating guides player's expedition.  As they travel past plateaus, they'll notice tell-tale apertures to new areas, such as red block that can be splintered with an screw attack-like uppercut or yellow slabs that crumble under the force of a head-butt. A reference to Metroid's morph ball (or Symphony of the Night's mist conversions and low slides) even exists, where the protagonist transforms into a chicken capable of entering constricted spaces.
Yes, despite having a handful of familiar maneuvers, Guacamelee!'s combat model draws influence from vigorous brawlers rather than more subdued, side-scrolling exploration titles. The core of Juan's arsenal is found in a three punch combo along with the ability to fling punch-drunk foes. Shrewdly, tossing enemies is more than just a reminder of the protagonist's lucha libre prowess, but a key survival skill since the move topples other adversaries like bowling pins. Later, the aforementioned uppercuts and head-butts become the keys to opening up enemies- as opponents flaunt colored-colored aura shields that need to be broken before physical damage can be inflicted. Guacamelee!'s polemic worlds of the Living and Dead contribute an additional wrinkle, as players shift between realms to ravage rivals. Effectively, the title's combat becomes a test of metal mettle rather than razor-sharp reflexes, as players have to analyze and prioritize threats. This becomes increasing crucial during the game's challenging side quests, which propose opportunities for players who have mastered every aspect of Juan's arsenal.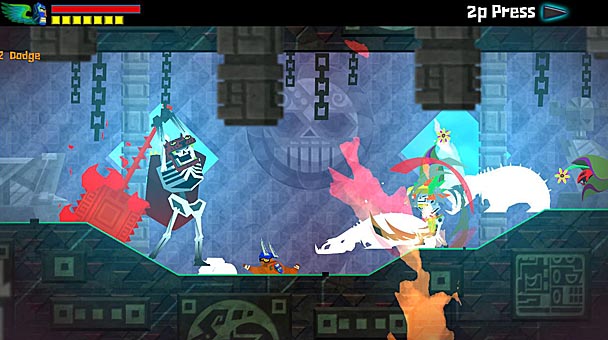 While other developers have dabbled with PS3/Vita connectivity, DrinkBox Studios sets the new standard. For a $14.99 USD purchase ($11.99 for PS+ subscribers), players receive both the console and portable versions of the title. Remarkably, the PS Vita port is surprisingly adept, only forsaking the local co-op aspect on the PlayStation 3 iteration. Beyond cloud-based saving sharing between the two platforms, owners of both pieces of hardware may use the Vita to display the game map, flaunting a second screen ability that rivals Wii U functionality.
While some might take issue with the brevity of Guacamelee!'s six-hour campaign, know that the duration never succumbs to tedium. Checkpoints are exceedingly fair, gently pushing players toward mastery. Likewise, the title's varying undertakings offset monotony- providing absorbing platforming, combat, and exploratory elements which persistently goad gamers along. While the Metroidvania game seems like a straightforward template, few are able to blend the key components together in a satisfying manner. Adeptly, Guacamelee! blends its main ingredients into a delectable dish that shouldn't be overlooked by PlayStation owners.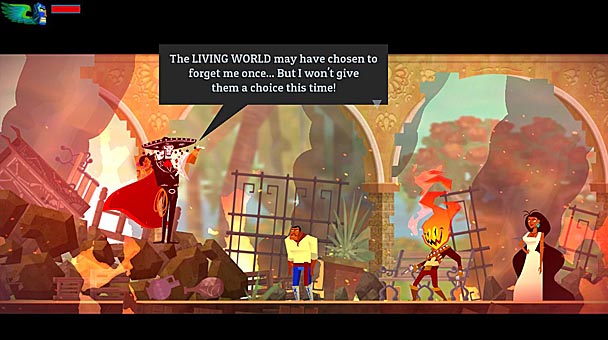 Review Overview
Summary : Like a plateful or carnitas and an ice-cold cerveza, Guacamelee!'s exploration and engaging combat in an enchanting amalgam, tempting players to dig in.