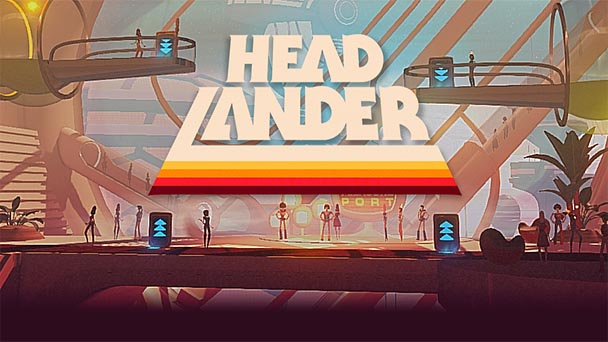 Across the last few years, a deluge of capable efforts such as Guacamelee!, Axiom Verge, Shantae and the Pirate's Curse, Chronicles of Teddy: Harmony of Exidus,  Xeodrifter, and Ori and the Blind Forest have offered their own subtle variations on Medroidvania mechanics. But each time the genre gains a new entry, the lingering threat of stagnation increases. Ultimately, success hinges by evolving the established blend of exploration and action, allowing the experience to reinvigorate the feeling of wonder and exhilaration that's dwindled after dozens of duplicates.
Certainly, Headlander's cranium is in the right place. In Double Fine's latest title, players assume the role of a what might be organic civilization's last hope, after the entire populace has chased longevity by uploading their minds into machines, forgoing the frailty of the human body. Unsurprisingly, uploading your entire existence to the cloud turns out to be a bad idea, a crisis that becomes clear when the digital rulers decide to constrain thought. In summary, the plot might seem rooted in Philip K. Dick-like digital existentialism but largely Headlander skirts contemplation, preferring to find humor in the occasional pelvis thrust or phallic spaceship. As such, the bulk of exposition is handled by the game's aesthetics and the sporadic one-liner delivered by a NPC.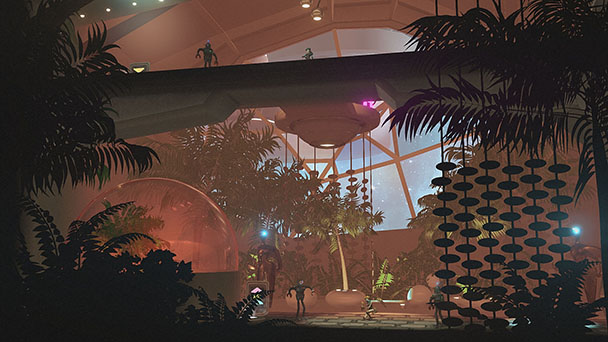 Opening with an extreme close-up of the space-helmeted protagonist, Headlander draws obvious inspiration from late '70s/early 80's sci-fi. While the game trades Queen's anthemic soundtrack for a brooding synth score, it's obvious that 1980's Flash Gordon is one of the game's visual muses. Stages are rendered in flashy hues, interrupted by hints of psychedelic ship exhausts and the brilliant flash of Day-Glo laser fire. As the game's camera zooms out on your male or female avatar, the game's quirky moniker begins to makes sense, as you realize that you're little more than a disembodied skull.
When your head is detached from a robotic body, zipping around feels like a quarter-munching, classic arcade game. During the seven- to eight-hour campaign, you'll amputate often, buzzing around as you dodge ballistics- or in true Metroid spirit, use your compact form to navigate narrow ducts. Soon, you'll earn an important power-up that adds suction, allowing you to tear off the restraints from computer terminals or passageways which in turn, grant access to new areas.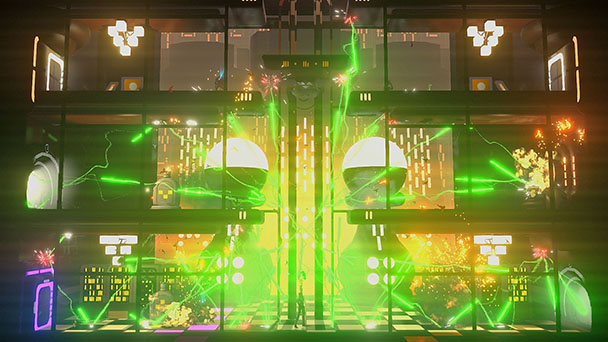 More likely you'll use the ability to vacuum the heads from opponents, before touching down and taking control of your newly purloined body. Naturally, re-commandeering robots is the route for progress, with players able to open color-coded doors when they steal the body of a coordinating automaton. Interesting, your lasers are hierarchical, allowing say, beams from the violet part of the spectrum to open ingresses with lower clearance levels.  One the upside, that means you probably won't meet the classic Metroidvania wall, where you're not quite sure what ability is needed to pass a secured gate. On the downside, that means a bit of backtracking, as green robots rarely seem to guard green doorways.
Blasters aren't just for opening doors. Sentry robots are correspondingly armed, as begin to fire as players enter the screen. Offensively, there are a number of options. You can use a combination of the right stick and right trigger to fire back or bring up an aiming sight that shows the trajectory of your shot, which often rebounds two or three times. In execution, Headlander's main action component feels underdeveloped. While it's gratifying to bank a laser blast to bean a foe, aiming can be fiddly, and you're fated to absorb a few shots in the process. From-the-hip firing removes the feeling of outthinking your opponent, but usually results in a stalemate where both you and your opponents' body is damaged. Since high level weaponry exhibits more rebounding ability, it's far too easy to receive a few hits when you're first reacting to the room layout, and laser fire are coming at you from a variety of vectors. Later, things can even get more stressful when opponents are armed with paralysis-inducing projectiles.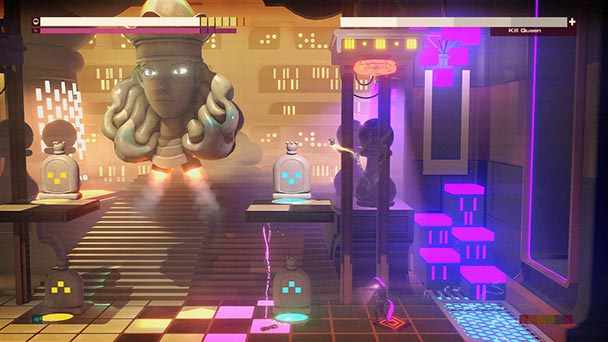 Often you can avoid shootouts almost entirely, extracting the heads off of enemies, before tossing them aside and reappropriating their quivering bodies. While this approach is effective is some sections of the game, it's not entirely satisfying, at its neither wholly pacifistic or pleasing when executed repeatedly. But this is hardly Headlander's worst offense. Instead a chess-piece based sequence is poised to test a player's patience, and the scant duo of boss battles managed to be both nit-picky and unengaging.
On the upside, the conventional tech tree of the genre bestows pleasing perks. Being able to dexterously headbutt a robot and steal its body feel is a tireless treat, while hacking into and commandeering headless minions proves to be remarkably helpful. Upgrade choices extend both essentials like armor and regenerating health as well as the superfluous, allowing for a decent amount of flexibility as well as the alteration of Headlander's level of challenge.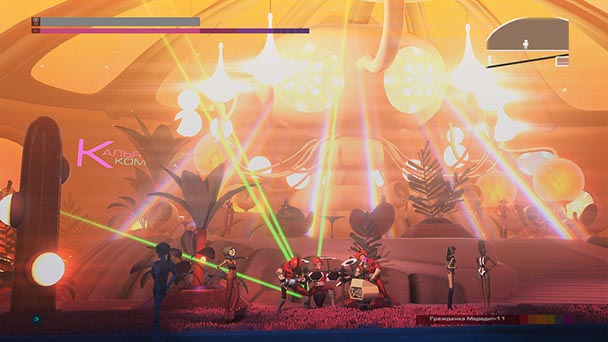 The first half of Headlander extends a games that genuinely ushers in a number of interesting ideas to the Medroidvania genre. But a few hours in, the game coasts on its own cleverness. From mechanics that are relegated to a boss battle to humor that's amusing but rarely laugh inducing, missed opportunities are all too frequent. Players would be wise to use their head with this one, and approach Headlander with tempered expectations. There's fun to be had, but don't be surprised if your noggin is filled with ideas of how the game could be improved.
Headlander was played on the PC with review code provided by the publisher
Review Overview
Summary : Headlander opens with a playful '70s vibe, an ingenious hook, and a premise that's especially promising. Across the next eight hours, a bit of that potential is squandered with a mid-game that feels crafted by Double Fine's B-Team. Fun, but hardly essential.