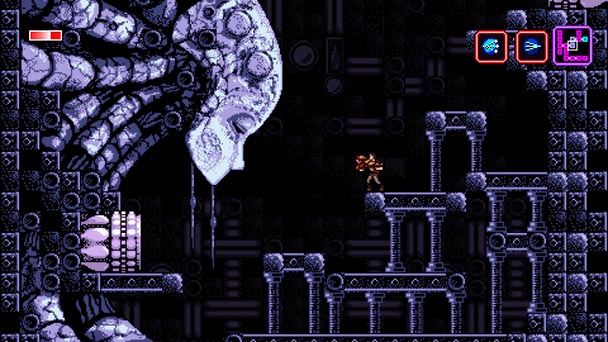 Video games have continuously plumbed the gulf between imitation and inspiration. Ever since the first Space Invader broke formation, giving birth to Galaga, developers have often built upon the ideas of their peers. As such, genres can often feel like a dialog between designers, at least until the conversation is stifled by overly-litigious firms like Atari (who recently bullied Tempest 2000 creator Jeff Minter, claiming that his 2014 title, TxK, was little more than an update without contribution.)
Let's hope that Nintendo takes a nobler approach than the once-prodigious publisher. The recent PlayStation 4/PS Vita release of Axiom Verge pays dutiful homage to the 1986 Nintendo Entertainment System classic, Metroid. Certainly, lone developer Thomas Happ make no attempt to hide his appreciation for Satoru Okada and Gunpei Yokoi's opus. From Axiom's evocative bitmap tiling, its environmental layout, as well as the behavioral patterns of common enemies, the title could easily pass for Metroid's mislaid sequel, uncovered after spending years in a disregarded R&D1 vault.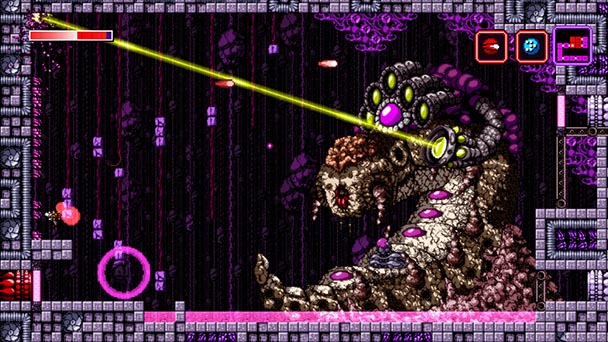 Certainly, the basic tenets are all here. Players are free to move the protagonist, a scientist named Trace through an expansive network of nonlinear areas. Progress is gently guided by the procurement of additional weapons and ability boosts. Once players uncover one of these, they can backtrack to a previous location- allowing for entry into previously gated off areas. Like Nintendo's title, Axiom obliges visual recognition and spatial memorization, tasking players with perceiving any architectural abnormities and remembering their location. As such, the game delivers a gratifying sensation of exploration, as gamers scrutinize each new area.
Recalling 1994's Super Metroid, players are given a no-frills auto-map to guide their expedition. While the cartography can be useful for determining your general location through the game's sprawling channels and interconnected rooms, its small size doesn't divulge a wealth of details. A such, players will have to rely on the environmental elements of their surrounds, looking for patterns of bitmaps, the way actual travelers use organic details to assess their location. Given, the technology of the PS4 and Vita, Happ could have easily provided a surplus of information. Instead, he wisely divulges a modicum of detail, preserving a sense of mystery and discovery.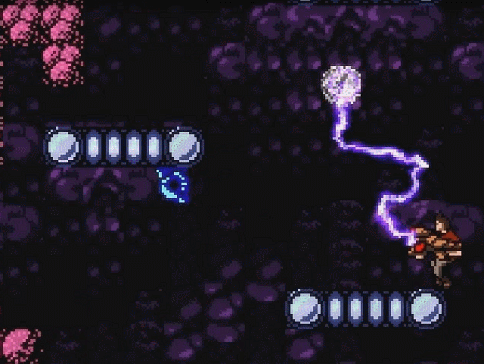 Which isn't to say that the developer limits himself to the technological capacities of eight- and sixteen-bit consoles. The destruction of a boss issues a showcase of particle effects, while bits of health fly toward Trace as if the protagonist were magnetized. Axiom Verge's sound track loosely recalls the chip tune harmonies of old, albeit with enough bass to exhaust a set of Beats headphones. While the title's plotline is told through a mixture of static images and text, the game's vocabulary transcends the naïve descriptions once issued by cartridges, nurturing a subtle ambiance of intrigue and isolation.
Although many of the game's core mechanics channel Metroid, Axiom Verge also diverges from convention. Most notable is the game's comprehensive arsenal, which are far more interesting that the franchise's traditional collection of missiles, bombs, and charged shots. Early on, players will earn a fragmentation shot, where a second press of the fire button produces a cloud of deadly shrapnel and a drill bit that can burrow through rock but also is quite useful against reinforced foes. The ingenuity of items continues with tools like a spider-like drone that allows the protagonist to retrieve objects in compact areas and once an upgrade is grabbed, allows Trace to phase-shift with the diminutive bot. Cleverly, Happ even included a lock button, allowing players to stand in place, as the use the directional pad to target foes.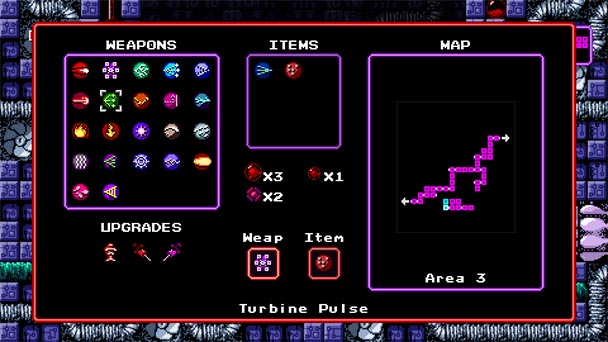 Complementing the satisfying selection of weaponry are intermittent AI routines that will keep the players in a constant state of unease. While Axiom includes the archetypal antagonists that circle around platforms, there are also much more interesting behaviors. Some enemies sense opposition, launching defensive shots when players approach, while an especially inoculant enemy makes a furious charge when it notices the main character. While it might seem like an insignificant distinction, Axiom's intermittent refusal to signal aggression is yet another deft decision, persistently putting the player in a state of unease. While boss battles play close to convention, each confrontation is contenting, expecting players to often use their diverse toolset and environmental elements as digital David takes down a procession of Goliaths.
Undeniably, one of Axiom Verge's most remarkable elements is the game's exploration of glitched code. An item known as the Address Disruptor permits players to push elements of the game into an alternative form. Affected objects behave in unusual ways from slowing down an enemy, allowing the protagonist to slip through walls, or even transforming sprite-flickering areas in traversable platforms. Essentially, it's a callback to the Minus Worlds and nebulous zones that once represented the otherworldly space between deliberate design and coded coincidence. Ultimately, it's a constituent what really sets Axiom Verge apart from its contemporaries, contributing a rumination of how games can serendipitously take on a life of their own.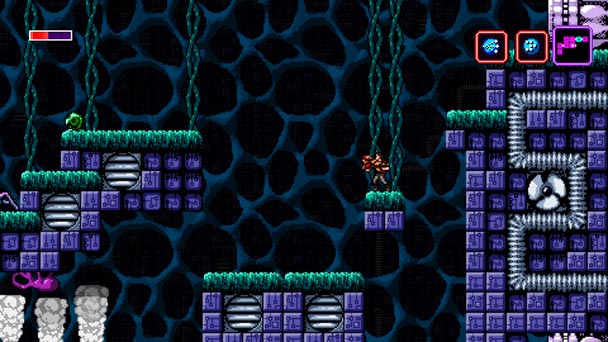 While a cavalcade of console and PC title try to ape the qualities of NES-era games, few truly get it absolutely right. Axiom Verge is that rare exception. Although Thomas Happ's title plays things a bit loose with sound and visuals, the game flawlessly captures the zeitgeist of gaming's golden age. Essentially, it's the best Metroid-inspired game that R&D1 didn't have a hand in.
Axiom Verge was played on the PlayStation 4 with review code provided by the publisher.
Axiom Verge
Platform: PlayStation 4, PS Vita, coming soon for PC
Developer: Tom Happ
Publisher: Thomas Happ games
Release date: March 21st, 2015
Price: $19.99 via PlayStation Store
Review Overview
Summary : Axiom Verge takes basic Metroid tenets and builds on them. At best, the title evokes the feel of the 1986 classic, which incorporating weaponry and puzzle aspects culled from contemporary sources. Not to be missed.