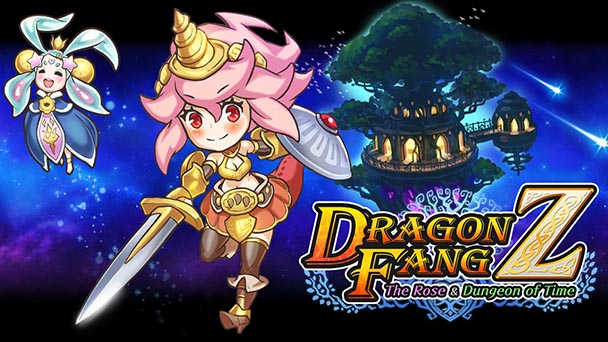 Screenshots of DragonFangZ – The Rose & Dungeon of Time are destined to evoke comparison with Spike Chunsoft's Mystery Dungeon property. The latter has become a blueprint for handheld and console Rogue-likes, with popular properties like Shiren the Wanderer and Pokémon Mystery Dungeon establishing the mechanics for turn-based dungeon crawls where prudent item management is just one of the requisites of survival.
Certainty, DragonFangZ shares several traits with Chunsoft's template. Both invite exploration through procedurally-generated environments, where each floor is fashioned from rooms connected by long hallways. Skulking through each venue shares the same cadence, with every step or slash from players matched by a movement or a strike by the game's monsters. Likewise, each demonstrates an escalation of difficulty in the same way, with each new floor showcasing more powerful and resilient foes, as well as progressively more perilous traps. In fact, knowledge acquired from any Mystery Dungeon title will be helpful here. If you've played any Chunsoft dungeon crawl, you'll undoubtedly understand that being encircles by enemies offers an express trip to the 'game over' screen.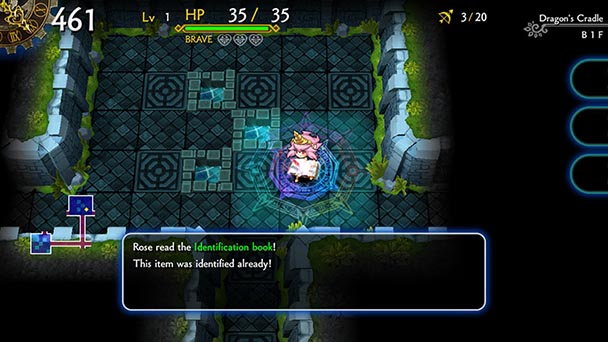 But despite superficial and visual similarities, DragonFangZ is its own experience, with gameplay nurtured across two previous Japan-only predecessors, a mobile and 3DS-based title. The first time you journey through the Dungeon of Time, you'll be provided with a skeletal context, where a wayward magic spell sends 'Dragonewt' protagonist Rose and her fairy companion to an enigmatic underworld filled with strange objects and over two hundred different types of creatures. Naturally, the pair hope to return home, but that feat can only be accomplished with a treasure that's on the bottom floor of the Dungeon of Time. Yes, the plotline is skeletal, and the recently redone localization for the 1.02 update is still is a bit spotty. But since with is a dungeon crawl and not a role-playing game, both transgressions are forgivable.
Like any respectable Rogue-like, you'll be descending down the floors of Dungeon of Time repeatedly, gradually learning how to make the best use of the resources you'll amass. Here, you'll find the traditional new weapons, shields, and potions. Many of these will be of indefinite quality, and you'll either have to try them out or use a tome to identify their worth. But, the game earns distinction through the incorporation of fangs. Dropped by slain antagonists, these can either be sacrificed for a small, but immediate bonus or equipped, thus yielding a less immediate but more dominant dividend. Considerately, players don't have to commit to a decision and are able to unequip a fang to yield an immediate bonus.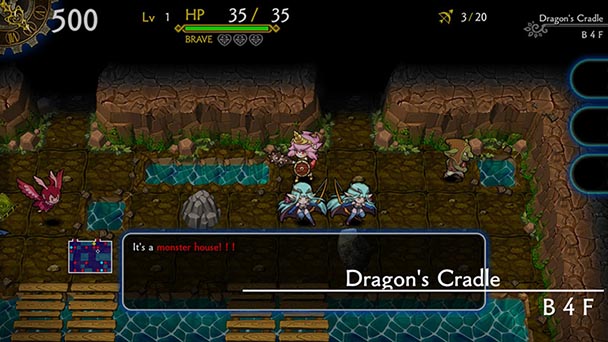 Room often have areas where an aura surrounds players. Attack monsters in these spaces and you'll power up all of your outfitted fangs. Once these have reached capacity, they'll grand additional abilities, like a dominant assault that will push foes back or the ability to heal. Some fangs like the ones dropped by defeated mochi monsters factor into one of DragonFangZ's other mechanics. Unlike some Rogue-likes which requite regular servings of food to offset the need for nourishment, the game employs DragonTime, which counts down with every action. Once this resource depletes, your health will be subtracted, effectively limiting grinding on a particular floor. Naturally, there's a tension is place, and quickly descending through the dungeon will pit the underprepared player against stronger monsters.
Divulging any more of DragonFangZ's nuances would be a disservice; much of the enjoyment stems from discovering how things work and what are the best habits to keep Rose alive. Certainly, developer Toydea hopes that players will dive in and uncover the details on their own. As such, guidance and instructions are in limited supply. While some might consider the level of involvement high, others will delight in learn how the myriad of different systems work. Yet, for those who insist on instruction, there are a series of puzzle-like level, with each imparting an important lesson. Pleasingly, there's a continual delivery of new objects and monsters across the main campaign, compelling players to pay close attention to consequences and effects.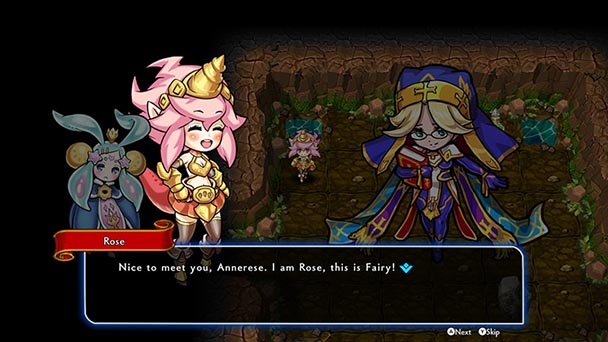 Aesthetically, the game is a consistent charmer. Environments favor simplicity, permitting players to plan routes in order to escape danger (although the inability to travel diagonally around walls might initially confound some). Just as importantly, the floors consistently shift across color palette and style to help offset visual fatigue. Main characters, NPCs, and monsters are all drawn well, and imaginatively crafted. The aforementioned mochi borrows the tri-color scheme of the hanami dango, while it's fortitude-boosting fang signals the stamina needed to make mochiko, a main ingredient. Sonically, the game has a nice selection of melodic tracks, which change every five floors or so.
If Rose & Dungeon of Time has a weakness, it's rooted in the metagame. While players can store found items in boxes of various quality, extracting items and weapons for their next attempt, the feeling of starting from scratch can wear down spirit across long term play. Yes, that's a tenet of the Rogue-like, but it would have been enjoyable for DragonFangZ to offer even a small incentive that rewarded determination across dozens of playthrough. On the upside, the game does an admirable job of keeping track of your journeys, with record-keeping assigning point values, logging distance, and filling entries in the game's bestiary.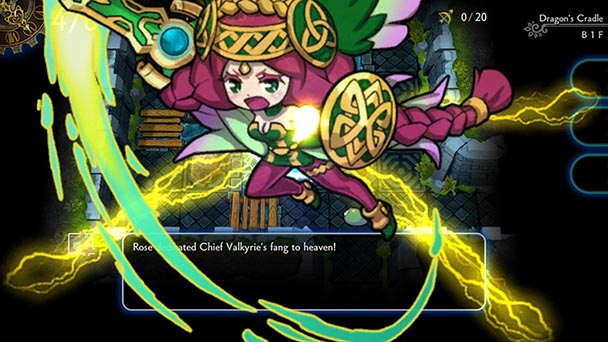 As evidenced by copycats like Gōma Reifu Den Izuna (Izuna: Legend of the Unemployed Ninja) Spike Chunsoft's Mystery Dungeon formula is adept. But there's an undeniably homogeneity that runs through the properties. DragonFangZ – The Rose & Dungeon of Time works because it borrows the core framework while adding a myriad of interesting risk/reward mechanics. If you're a Switch owner and a fan of Rogue-likes, DragonFangZ should be at the top of your wish list.
DragonFangZ – The Rose & Dungeon of Time was played on
the Nintendo Switch with review code provided by the publisher. 
DragonFangZ – The Rose & Dungeon of Time
Platform:
 Nintendo Switch
Developer:
 Toydea Inc.
Publisher:
Toydea
Release date:
 December 19th, 2017
Price:
$24.99 via
Nintendo eShop
Review Overview
Summary : Despite a few lingering localization kinks, DragonFangZ - The Rose & Dungeon of Time is a prodigious addition to the Switch library, offering some nice variations to genre formula.